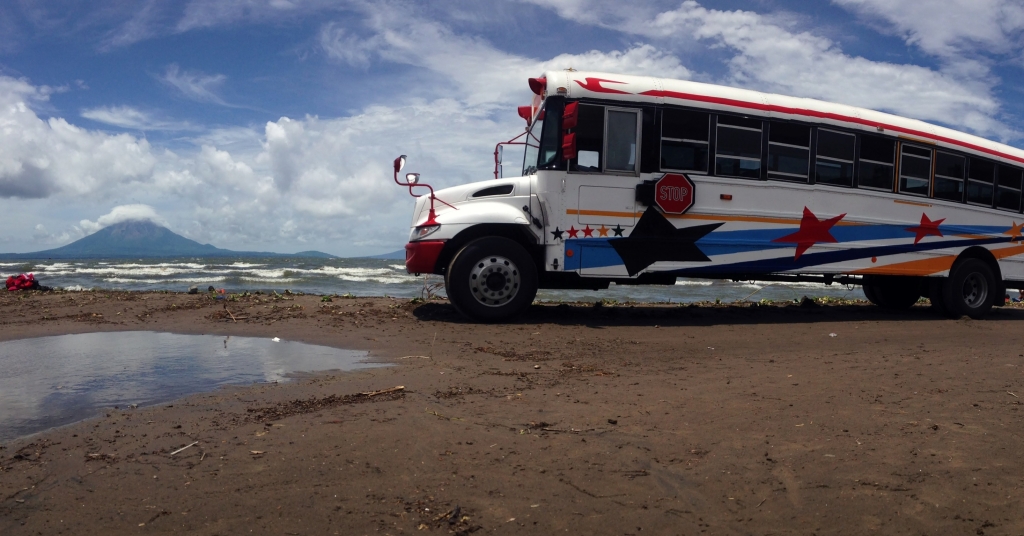 Welcome to all that I learned traveling solo for a month in Nicaragua! I've been vegan for almost 3 years, and have traveled within Canada and the USA, and to Vietnam – but I wasn't sure what to expect in Nicaragua. While it wasn't quite the vegan paradise that Vietnam turned out to be, I was pleasantly surprised that it wasn't a huge headache to eat vegan in Nicaragua.
My journey is laid out in gruesome detail below. In this blog post you'll find (in order):
My top 5 tips for traveling Nicaragua
My budget and cost-saving advice
My 1-month itinerary laid out location-by-location, with vegan food stops along the way
My experience traveling solo as a woman in Nicaragua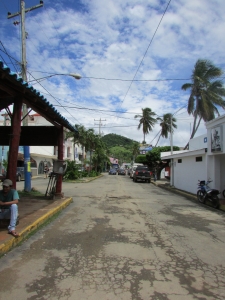 My Top 5 Nicaragua Travel Tips
1) Centro Coasting
The website centrocoasting.com is an absolute lifesaver. The bus stations and schedules in Nicaragua can be pretty confusing, and Centro Coasting has so much useful information on bus travel!
2) Hostel Kitchen – and Backpack Kitchen!
Whenever possible, book a hostel with a kitchen! I found that cooking one or two meals a day at the hostel kitchen was the way to go as a vegan on a budget. As much as there are vegan options out there (aka rice, beans, and plantain), if you want to eat fruits and vegetables like I did, stay in places with kitchens. Aside from gallo pinto, typical Nicaraguan food is big on meat, cheese, and deep-frying. Being able to go to the market and stock up on produce was the best. I'd also come prepared with a travel "kitchen" in your backpack. Bring some Tupperware to pack snacks and lunch, a spoon and a travel knife (for cutting up fruit!).
3) Don't Book in Advance
I'm such a planner – I love to have things organized. It was a strange experience not to have my Nicaragua trip booked in advance, but it was by far the best way to travel. Go with a list of places you want to see, and book your hostels a few days in advance as you go (if you want to stay at nice ones). I was so glad I could listen to recommendations of travellers and adjust my trip to what I felt like doing.
4) Learn Spanish
I booked my trip last minute and knew zero Spanish beforehand. I did some quick studying for the 2 weeks prior, and took two days of Spanish lessons in Nicaragua, but I spent a lot of time wishing I spoke more Spanish. You'll get way more out of your trip if you can interact with locals on a more meaningful basis. As a vegan, make sure you learn how to say all of the foods you don't want – milk, eggs, cheese, etc. Taking Spanish lessons once you arrive is cheap and I'd definitely recommend it! I was surprised by how much Spanish I'd picked up by the end of my trip, just by actively studying, listening, and asking for help along the way.
5) Maps.me
If you are traveling without a sim card, download maps.me on your phone. It lets you download a country map of Nicaragua and look up directions offline, just using your GPS location. Or, buy a sim card with 3GB of data for $25.
Traveling Vegan on a Budget
 Average Daily Budget: 850 Cordobas /$28 US / $36 CAD
1 US dollar = 30 Cordobas
I spent a grand total of $1086 Canadian for my 30-day Nicaragua trip. I was definitely being conscious about my budget, but this amount allowed for decent hostels, eating meals at hostels or street/cheap food, chicken bus transportation, and a bigger ticket item every couple days (a tour, a nice dinner, a surf lesson, etc). I only did tours when there wasn't a DIY option.
I downloaded the free app "Trabee Pocket" which was so useful for keeping track of what I spent! I couldn't recommend it more if you want to have a record of your purchases.
A night in a hostel ranged from $5 US/night to $9 US/night, with one splurge at $12 US/night. Prices varied based on location quite a lot – for example, San Juan del Sur is super touristy and was an expensive spot.
Traveling via chicken bus is ridiculously cheap! It's also a fun adventure. A 1.5 hour bus ride is usually around 30 cordobas ($1), while a longer 2-4 hour journey might be $2 or $3.
Breakfast is a spot you can really eliminate cost. I bought a package of oatmeal and cinnamon when I arrived, and bought bananas as I went. Bananas typically cost about 1 cordoba each (so about 3 cents).
Buy peanut butter and wraps, and make peanut butter banana wraps! This saved my life on many a long bus journey. A lot of the street/vendor food that is cheap is not vegan – so I found it was useful on buses to have my own food. I also packed 18 Clif Bars as backup food. I ended up eating 14 of them – most of which were actually eaten on hikes.
Buy fruit – you can buy a watermelon for $1, dragon fruit for 50 cents, or a pineapple for 40 cents. Mamones are the most delightful and refreshing snack ever.
As mentioned earlier, you can really save by staying in a hostel with a kitchen. I made some delicious meals on the road– although I'll admit that by the end of the month I was a bit sick of my staple "tortilla, bean and veggie" lifestyle.
My Nicaragua "Splurge" Items (in US dollars):
$20 – Tour to Volcan Masaya at night
$20 – Guided hike up Volcan Concepcion
$18 – Scooter rental for one day on Ometepe
$11 – Nice dinner at Buddha's Garden in San Juan del Sur
$24 – Two 2-hour Spanish tutoring sessions in Leon
$55 – Overnight hike up Volcan Telica
$20 – Surf lesson and board rental in Las Penitas
$30 – Somoto Canyon tour and homestay
All of my splurge items were worth it. I just balanced with cheap beach days or city exploring.
My 1-Month Nicaragua Itinerary
I spent 30 days in Nicaragua, which was enough time to really see everything I wanted to, with lots of flexibility. If you stick to the Pacific side like I did, you could comfortably see it all in 3 weeks.
Day 1 – 3 Granada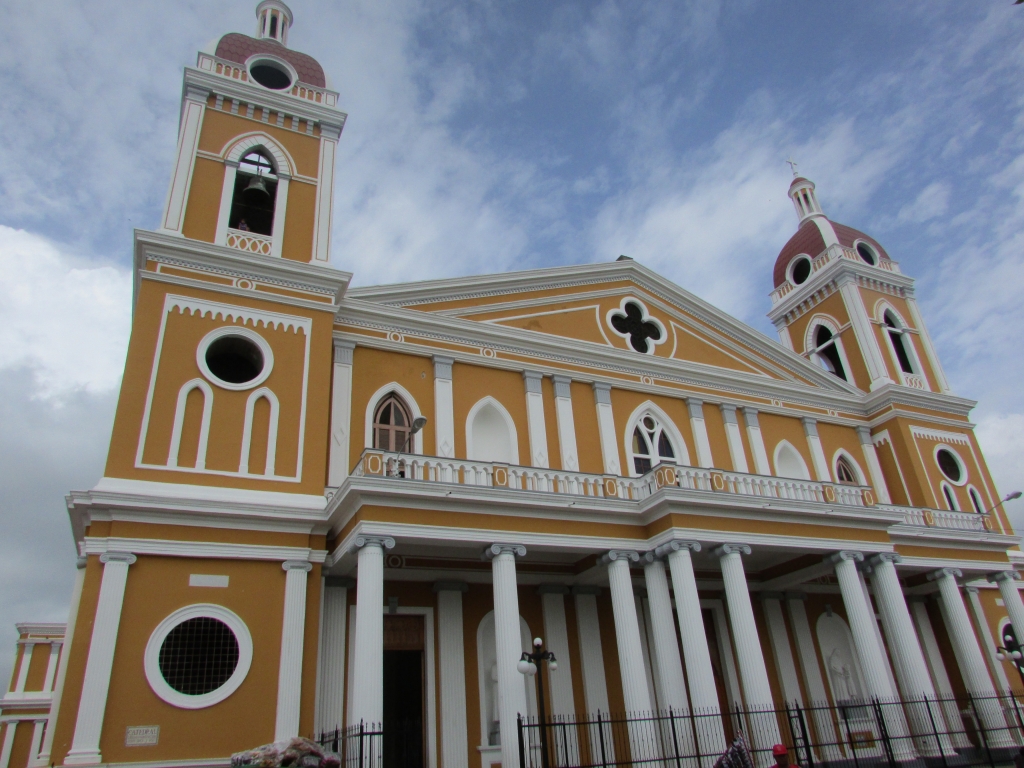 Do yourself a favour and stay at Hostel De Boca en Boca when you go to Granada. This hostel has really nailed down the perfect backpacker vibe and has filtered water and free coffee all day.
Granada is a beautiful colonial city with no shortage of bright buildings to take pictures of. Take the night-time tour to Masaya Volcano if you want to see an active volcano and lava! (No way to escape the $20 tour for this one – a true tourist trap experience, but worth it). Take a day trip to Laguna de Apoyo, a lake in a volcano crater. Go to the public beach by taking the chicken bus instead of a costly day trip through your hostel. If I could have afforded it, I would have paid a visit to Apoyo Lodge– a vegan boutique hotel on Laguna de Apoyo.
There were several restaurants listed on Happy Cow with vegan options. I had a costly but delicious veggie sandwich from the Garden Cafe.
I didn't go to Pita Pita, but they advertised vegan food on their chalk sign!
However, my favourite place to eat was Granada's market and nearby Pali to stock up on fruit and groceries.
Day 4 – 7 Ometepe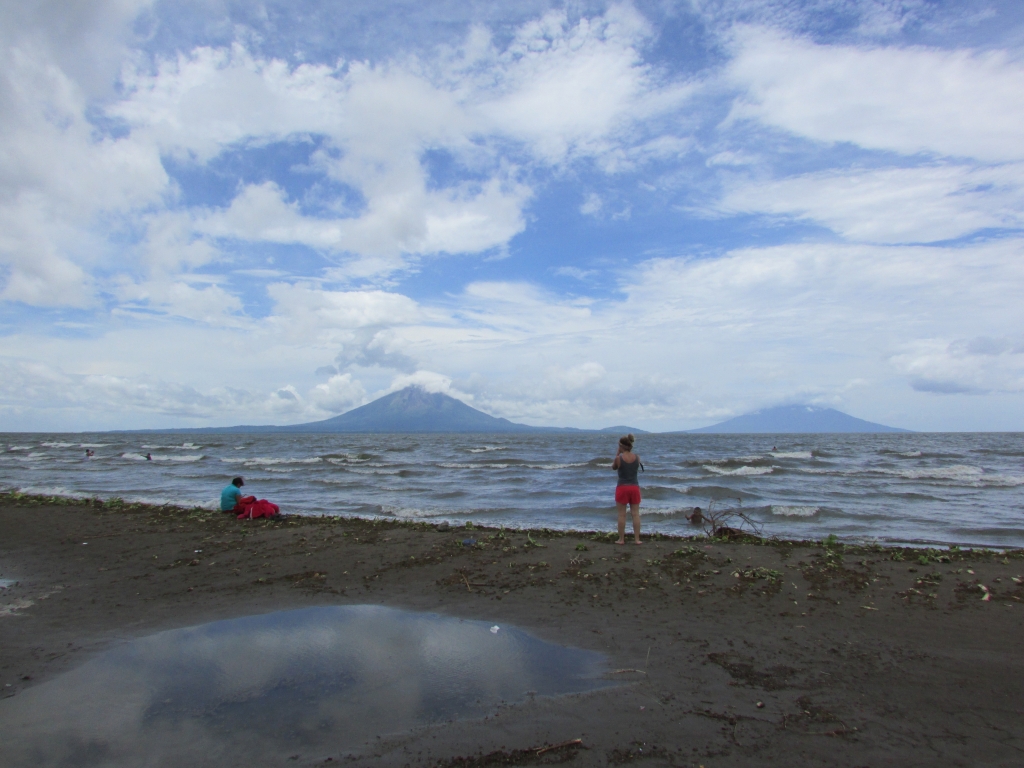 An island made up of two volcanoes in the middle of lake Nicaragua. As if that wasn't enough of a selling point, there are freshwater sharks that live in the lake! You can hike up either Volcan Maderas or Volcan Concepcion – I opted for the taller and active Volcan Concepcion. The 1600m summit was a little anti-climatic since we were hiking up a cloud for the top half of our hike. I might save this one for the dry season – the 45 degree slope and loose, wet rocks on the way down were a nightmare.
The best way to explore the island is to rent a bicycle or a scooter as the buses are slow and infrequent here. I stayed in the town of Moyogalpa, which was convenient as it was walking distance from the ferry – but in retrospect I would have spent a few nights on the other side of the island as well. Stock up on groceries at the Pali in Moyogalpa.
I stayed at Hostel Life is Good, which was a nice spot, but didn't have a kitchen – which was not great for my travel style. However, they have a reasonably priced menu with delicious food, and several vegan options like roasted eggplant and daal.
The Cornerhouse Cafe in Moyogalpa was very catered to Western tourists, but was an adorable café to spend a rainy morning in, drinking actually good coffee and amazing fresh fruit smoothies ($2).
For a dinner option, El Picante Mexican Restaurant had a very friendly owner who suggested veggie fajitas as a vegan meal. Prices were on par with other restaurants in Moyogalpa.
Walking down the street one day we stumbled upon a bakery just outside of town with the most unbelievably delicious and cheap bread! It was called Panaderia Cora, and about a 10 minute walk North of Moyogalpa along the main road on the left hand side. Try and find this spot if you can!
In between Santa Cruz and Balgue, you will find a sign on the street that looks like this:
Inside, you will find a kind a really interesting and friendly woman who brews delicious kombucha and usually has a vegan ice cream option! (Dependent on the ripe banana stash). When we visited she was hoping to open up her own Yoga retreat centre.
Day 8 – 10 San Juan del Sur
First – a note about the Rivas bus station you'll have to catch a bus to San Juan del Sur from. This was the spot that there were the most taxi drivers and shuttle drivers trying to scam me – be ware! I had no less than 4 people tell me there wasn't a bus to San Juan del Sur for 2 hours, when in fact there was one in the terminal at the time. Don't fall for the overprices tourist shuttle! If you're going to/from San Jorge to catch the ferry to Ometepe, there is actually a chicken bus you can take instead of a taxi like everyone says you have to take – but you'll have to search for it.
San Juan del Sur is an interesting town that is slowly being taken over by expats… While it didn't have much of an authentic Nicaraguan feel, it did have that beach town vibe that is hard to top. Because it's a town that revolves around tourism, I found there were plenty of vegan options here. Happy Cow has some suggestions, and I saw vegan options on signs throughout the city – like an advertised vegan pizza cone (I sadly didn't try it). There was also a chocolate store with almond milk drinks – La Fuente de Chocolate! I tried a slice of vegan "truffle" that was yummy.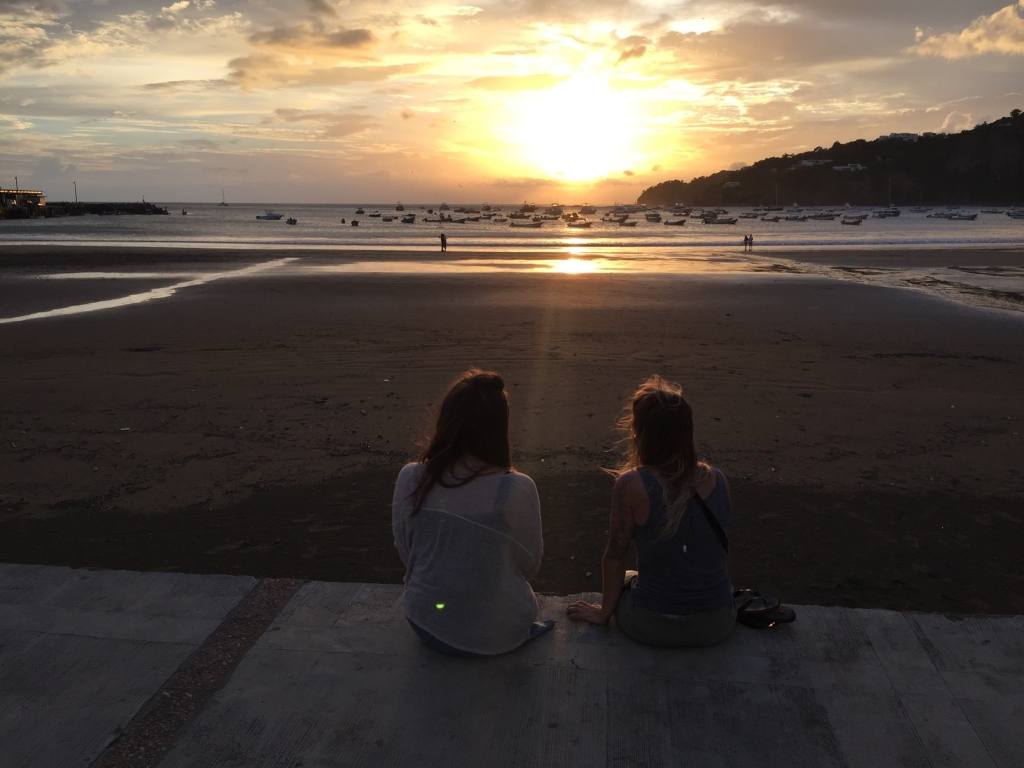 I didn't go to Surfing Buddha, but I heard from a local that they have vegan options.
They have a higher end vegan restaurant in San Juan del Sur, Buddha's Garden – and I think it was the food highlight of the trip for me! I had a walnut crumble taco salad that managed to fill part of the void of living travel life without having salad on the daily. Their rice paper wraps and traditional Nicaraguan stew with coconut milk were winners too, as was the creamy dreamy pitaya nice cream. A little pricier, but still half of the price I'd pay for a dinner like this at home.
The Barrio Café is a Nicaraguan owned café where you can have a delicious cup of coffee.
I'd recommend taking a day trip to Playa Maderas – a stunning beach not too far from San Juan del Sur. Your best option to get there is a $5 return shuttle booked through Casa Oro. There are limited and overpriced food options in Playa Maderas, so bring lunch with you!
Day 11 – 14 Léon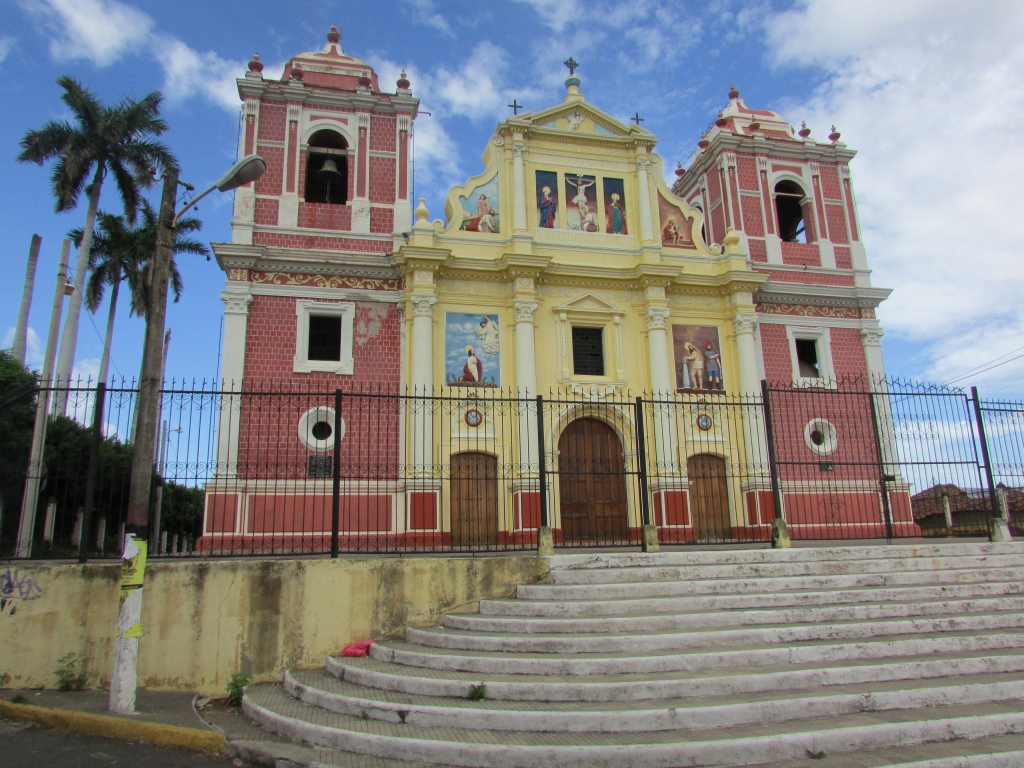 Léon is often described as the safest city in Nicaragua. It's a university town, and has quite a lively feel to it. Equally as beautiful as Granada, Leon feels less touristy and more like a real city. You absolutely need to go up to the roof of the Cathedral de Léon for stunning views. Go right when it opens at 9am to avoid crowds and burning your feet on the roof (no shoes allowed!).
I stayed at Poco a Poco Hostel in Leon which was the perfectly thought out hostel. I've had a lot of "if I open a hostel one day, I'm definitely going to do _________" conversations along my trip – and so many of the thoughts were in place at Poco a Poco. They also arranged some one-on-one Spanish lessons for me which was really helpful. Leon has an abundance on language schools and would be a great city to stick around in to learn Spanish.
There is a free walking tour you can take, just like in Europe – Leon Free Walking Tour. It was started by a couple of friends, and they run tours twice a day in English and Spanish. I got some good information on the political history of Nicaragua, and learned all kinds of fun facts about Nicaragua that I repeated whenever possible throughout the rest of my trip (which was more than you'd expect).
There are food stands near the central park and Cathedral – head to the Mexican food stand to order a vegetarian burrito sin queso y sin crema.
CocinArte is a mostly-vegetarian restaurant with vegan options. It was nice to be able to try a vegan version of a traditional Nicaraguan food, Viejo! It was a thick curry made with veggies and TVP.
Imbir is another vaguely expensive restaurant with marked vegan options on their menu (like hummus, samosa, lentil curry, chapati, and a "rice noodle pancake"). It's a Polish and Sri Lankan restaurant – an interesting mix. Far from Nica cuisine obviously, but sometimes it's a nice treat to be able to just order something vegan (plus I can't say no to hummus).
Day 15 Volcan Telica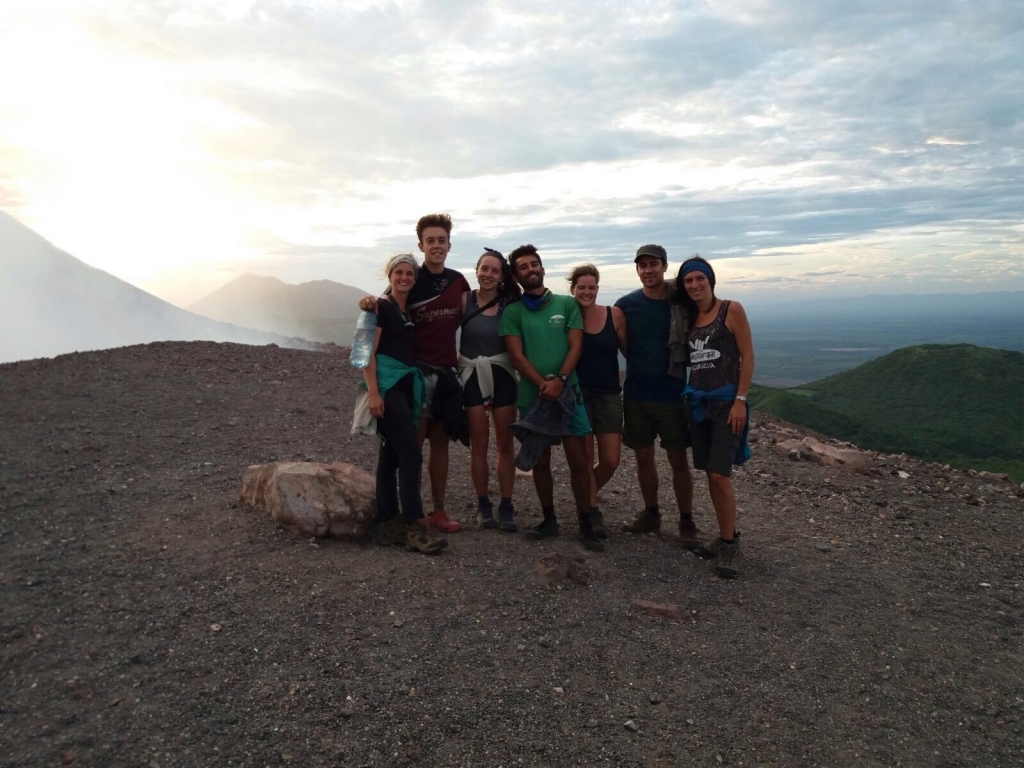 I booked an overnight trip up to Volcan Telica through Quetzal Trekkers. There are lots of companies you can book hikes with, but I chose Quetzal Trekkers since they're a non-profit and their proceeds go towards supporting local charities in Leon. Although the price tag is a bit steep at $55, this includes your tent, sleeping mat, sleeping bag, and meals for the trip. They were very kind accommodating my vegan diet for the meals on the hike– I would definitely recommend them!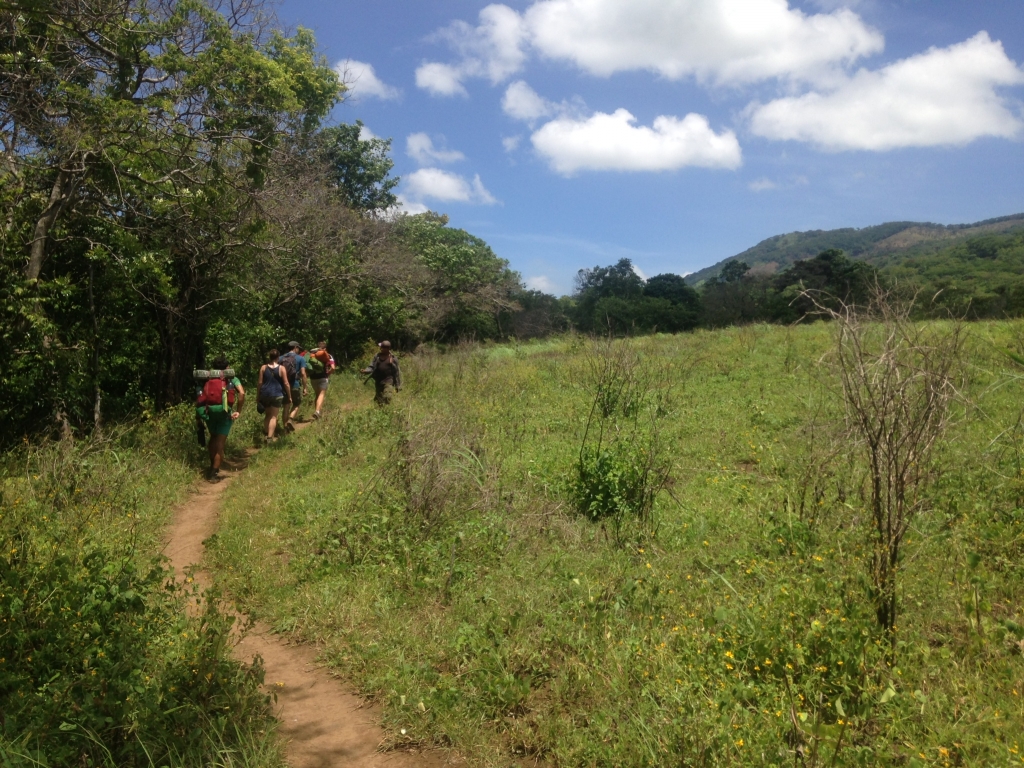 This hike was one of the highlights of my trip; it was crazy to camp right by the crater of an active volcano, check out some lava, and watch the sun set and rise over a horizon littered with volcanoes.
Day 16 – 19 Jiquilillo
I stayed at the Rancho Esperanza in the quiet beach village of Jiquilillo. Rancho Esperanza is supports community projects within Jiquilillo, and is also a little slice of paradise. This is the perfect spot to read in a hammock all day, surf, or boogie board. This would be a great spot to take surf lessons, if you don't do something stupid like injure yourself on a hike the day before you arrive. The staff here were super kind, and were able to accommodate vegan options for me. I had oatmeal, fruit, a hummus plate, a roasted squash dish, and coconut veggie rice. The only downside here is that they don't have a kitchen – but hey, treat yourself for a couple days and eat from their kitchen (but if you're like me – also pack snacks and supplies for peanut butter banana wraps).
Day 20 Léon (again)
Spent the night. Bought groceries.
Day 21 – 22 Las Peñitas
Las Peñitas is the cutest little surf town. I loved it so much, you'll see I impulsively went back for the last 2 days of my trip. I stayed at Casa Perla which I absolutely loved. Although I found it through hostelworld, it feels more like staying at an Air BnB. It's a cute property on the beach rented by a lovely Canadian couple, Shaun and Erin who were the perfect hosts. Not a spot to go if you're looking to meet fellow travellers, but if you're traveling with someone (I was at the time) and want a low-key place to relax, this is it! The kitchen is well equipped. You can buy groceries at the local Pulperias, but I'd stock up on fruit at the El Mercandito bus station where you get your bus in Léon.
I didn't eat at a restaurant while I was in Las Peñitas – but there are quite a few beachfront spots for tourists that I'm sure you could find something vegan at. That being said, because of how small the town is, I'd stay in a spot with a kitchen here for sure.
If you're a beginner surfer, head down to Poneloya for smaller waves. I got basically eaten alive by the waves in Las Peñitas. Make sure you catch a sunset from the rocks between the towns of Las Peñitas and Poneloya.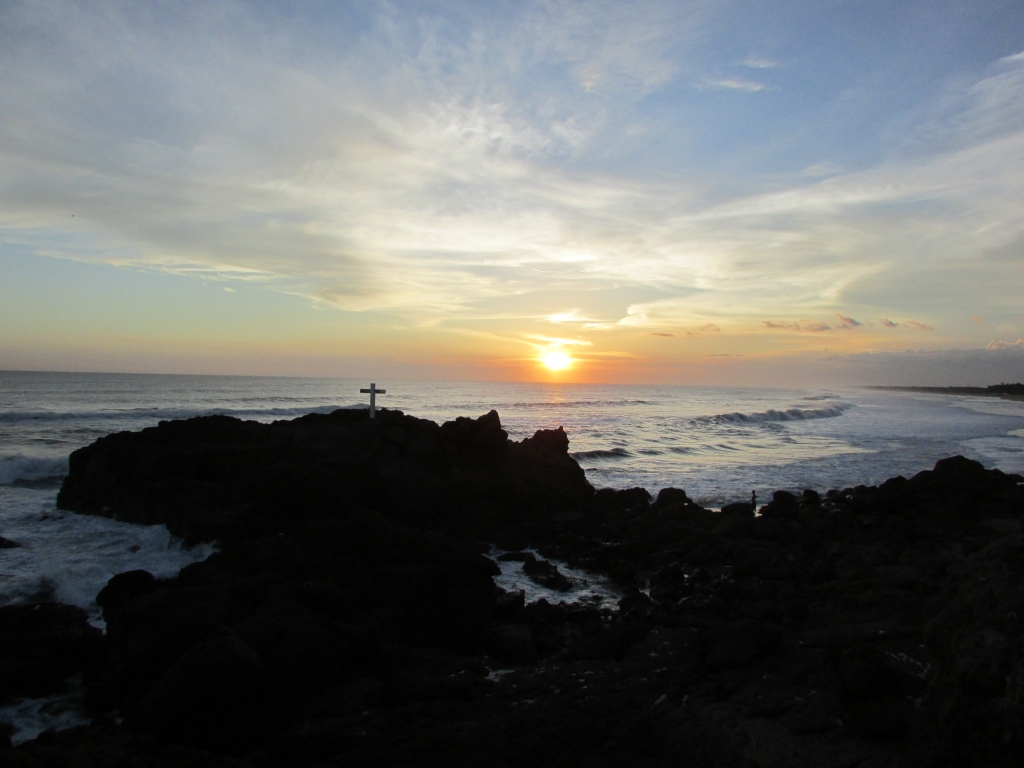 Day 23 – 25 Esteli and Somoto
Heading up to the Northern Highlands of Nicaragua, I experienced my first day of the trip where I didn't sweat! Wow! While I wouldn't quite say the temperatures were "cold" (we're still talking highs of 28 degrees), I did put on jeans and a sweater one evening in Somoto.
I didn't find Esteli to be a particularly inspiring town – it had an industrial feel to it, and was more removed from the surrounding mountains and nature reserves than I'd imagined. The hostels in Esteli felt a bit like hubs for doing day trips to me. One day we ventured to the Salto de Estanzuela (a waterfall in El Tisey park). If you want to go without the tour, there is only 1 bus that goes there in the morning at 6am. We decided against the early wakeup and opted to walk there from Esteli – which would have been a very long journey if it weren't for a few kind people to stop and give us rides for part of the way (don't worry mom, it was safe). However, I would rate the waterfall as "meh" by Canadian standards.
The best part of Esteli may have been this smoothie, with coconut milk, banana, pineapple, and orange. It's also worth noting that although Northern Nicaragua is the hub for growing coffee, you'll still find they have the same gross watery instant coffee in your hostel. WHY? Head to Cafe Luz for this smoothie and a good cup of coffee.
From Esteli, I took a bus 2 hours North to Somoto – home of the Somoto Canyon. A girl I'd met traveling recommended a tour guide and homestay to me – La Ceibita Tours Somoto Canyon.
Our host/guide Francisco and his family were so kind – they live on a beautiful farm and grow organic produce they make their meals with. They didn't speak English, but when I asked in Spanish for a vegetarian meal without eggs and without cheese, Fransisco said "Vegana?" – they know all about vegan food!
The Somoto Canyon was one of the highlights of my trip – it's out of the way, but totally worth it! You'll spend four hours walking, floating, and swimming down a long and narrow fresh water canyon. Send Fransisco a WhatsApp message and you won't regret it. I'd suggest having some basic Spanish or at least Spanglish you can communicate with.
Day 26 – 27 Matagalpa

Matagalpa is another town in the Northern Highlands – I'd describe it as "what I imagined Esteli would be like". It's a smaller town nestled right in the mountains, with lots of accessible hiking to be done.
Upon arrival, our first mission was to head to the famous chocolate factory: El Castillo de Cacao. It's pretty far out of town, but you can take a bus urbano to get closer – I just asked if the bus was heading North and it worked out! After checking out the equipment they use to make the chocolate, I blew the rest of my daily budget buying chocolate "as souvenirs" (sorry friends if you didn't get a chocolate bar it's probably because I ate it, or maybe it's because I don't value your friendship; you'll never know.) Their chocolate is made with only cacao and sugar – so you'll have tons of vegan selection! Also, the chocolate freshly made a few days ago from the factory is WAY better than buying the same stuff from the grocery store.
My next day, I ventured up to 2 lookout points – Mirador El Calvario (costs 5 Cordobas) and Cruz de Apante (costs 30 Cordobas). Both are worth your time and you can walk to them from town – but if you only do one, I'd definitely choose Cruz de Apante since it's a scenic hike through a beautiful forest as opposed to a walk up a street
There are grocery stores and restaurants abound in Matagalpa – I stuck to hostel cooking for the most part (and ate a lot of chocolate), but had a tasty vegan veggie burrito sin queso from their central park.
Day 28 – 29 Las Peñitas
I came back to one of my favourite spots in all of Nicaragua for my last two days. This time I stayed at a brand new Eco Hostel, Mano a Mano, since Casa Perla wasn't available. This was one of the most beautifully crafted and clean hostels I stayed in my whole trip, with a dreamy kitchen – I definitely recommend this spot!
Then… I said goodbye to Las Peñitas and Nicaragua. But not goodbye forever! Only "hasta luego" – maybe I'll be back one day to open up a vegan hostel and cafe…
Traveling Solo as a Woman in Nicaragua
Overall, I felt incredibly safe as a woman traveling alone in Nicaragua. That being said, I did stay on the fairly beaten-ish path. Locals were really kind, and I had no problem getting directions from people in buses or on the streets. I found that people went out of their way to help me on days when I was traveling alone, without any other backpackers around. One of my favourite experiences was when a woman on the bus overheard me asking about which bus terminal we were headed to in Managua (in my tragic broken Spanish) and deducted where I was going– she then offered to take me across town with her so I didn't get ripped off by a taxi!
I think the best thing you can do to feel safe is to learn Spanish before your trip (as I will do before the next time I go back to Central America!). I found that people often treated me as a useless tourist until I made an effort to prove that I knew where I was going, how I wanted to get there, and what a fair price was. If you're going to learn anything in Spanish, learn your numbers. Be confident and assertive and do your research. On arrival at the airport, I paid $25 US for my taxi ride to la UCA bus terminal and let myself be ripped off even though I KNEW it was way more than I should pay (those $25 will haunt me for the rest of my life). The same taxi ride in the opposite direction cost me $5 US because I knew how much I should pay, and I knew how to say no and walk away. You'll quickly learn to avoid the taxi drivers who are waiting to pounce on your when you step off the bus and walk to the street.
All of the above being said… it still sucks that you aren't respected as a female in Nicaragua. Catcalling never feels nice. The difference between walking down the same street alone, or with a male companion is unbelievable (you should try it as an experiment just for fun).
My Overall Thoughts on Nicaragua
I definitely fell head over heels for Nicaragua. If you can, go now before it turns into a huge tourist destination and ruins some of my favourite parts of this country (and be a conscious tourist – help support local businesses and guides and eco-tourism!). Or – don't go and let it stay just the way that it is! If you're looking for adventure, hiking, beaches, feeling lost, unlimited rice and beans, or 80 mosquito bites then you've found your place.