Singapore was chosen primarily because we ended up getting a dog and cat sitting gig in the city.
And because we had animals to care for, and it rained heavily all week, we didn't see much of Singapore, plus Cody was not feeling well during our stay, so we took the opportunity to take a break from all of the running around that usually comes with travelling, and instead, we ate some great food out, lounged in a gorgeous house, and I was able to cook (which I love doing), and make fresh cappuccinos every morning!
We landed in Singapore on a cloudy afternoon 2 days before our house and dog sit.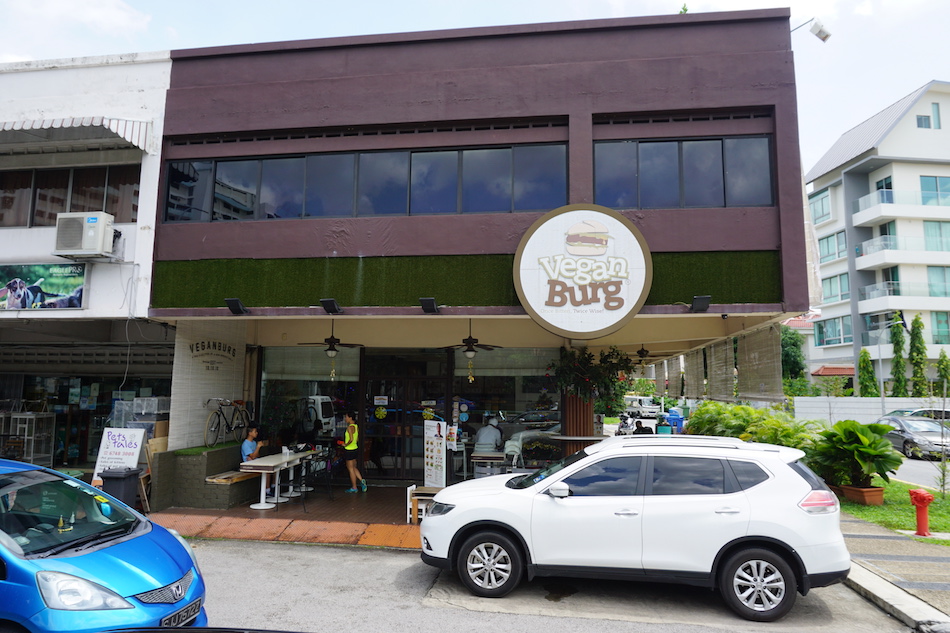 We hopped on the train, and arrived at VeganBurg about 20 minutes later; no checking into our hotel, no dropping off our bags, just directly to the vegan burger joint we've heard so much about.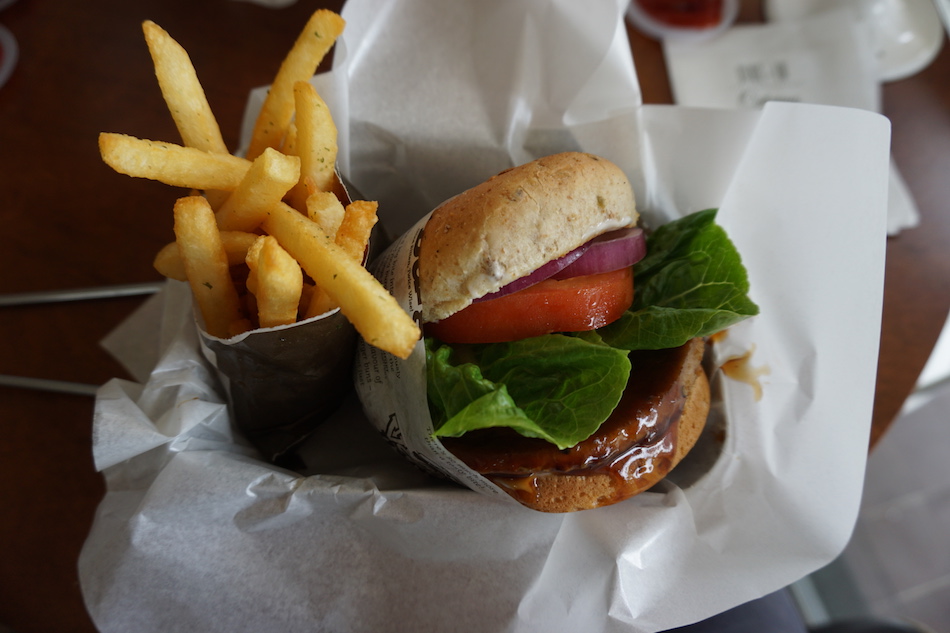 VeganBurg is a vegan fast food chain with a location in Singapore, and San Francisco. We chowed down on a sweet teriyaki pineapple burger, an avocado beetroot burger, and fries-and washed it all down with soursop juice. A delicious start to our 8 days in Singapore.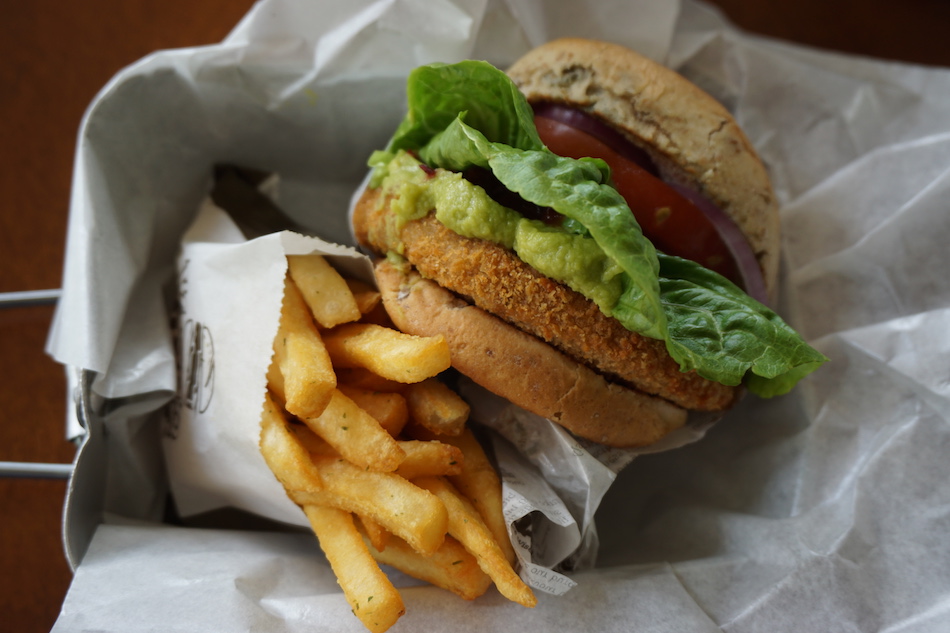 Ready to take on the world, (or just make it to our accommodation), we checked into an adorable heritage hotel named Kam Leng. Located in little India, Kam Leng Hotel was first established in 1927.
The hotel re-opened in 2012 bringing with it the charm of the 20's and 30's. We had arrived 2 days prior to our house sit to make sure we had enough time to settle in and get to know the transit system.
Our 2 nights at Kam Leng cost us $160 total and it was the cheapest hotel we could find.
It poured all day and evening, but luckily it slowed down close to dinner time. As the evening drew near, we decided to step out to a close by vegan/vegetarian Chinese restaurant named New Fut Kai Vegetarian Restaurant.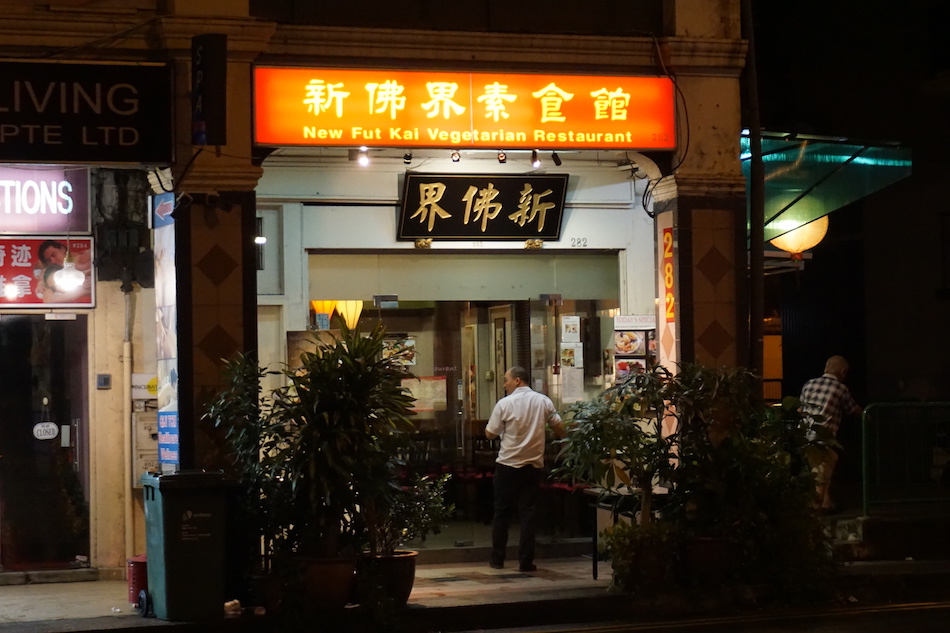 We decided on the hot pot for 2, which really was a hot pot for 5.
I have no idea how 2 people are supposed to finish what we struggled to that night.
A couple behind us was sharing a much smaller hot pot of soup; it must have been the baby size. Cody and I were presented with a large plate of rice, a giant hot pot of mushroom broth soup, with another smaller laksa soup with fried tofu in the middle, 2 heaping plates of tofu, mock meat, lettuce, cabbage, mock shrimp, mushrooms, cassava, broccoli, and crispy noodles.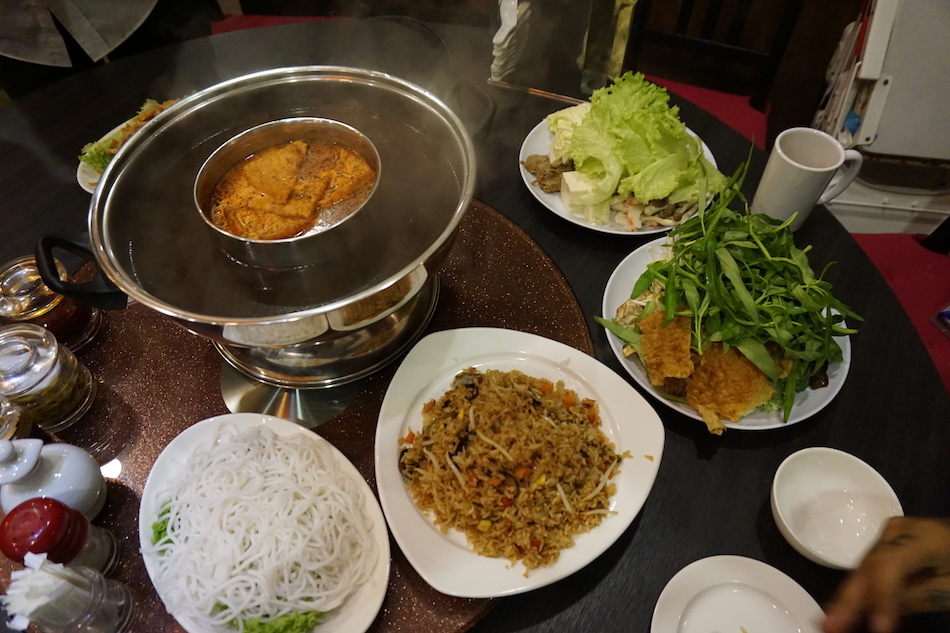 We cooked our own food and it was all so delicious. We ate, and ate, and ate, and ate, and still, we could not finish the hot pot.
We were defeated by the hot pot.
We slept in the next day, and skipped breakfast, but visited The Boneless Kitchen for lunch.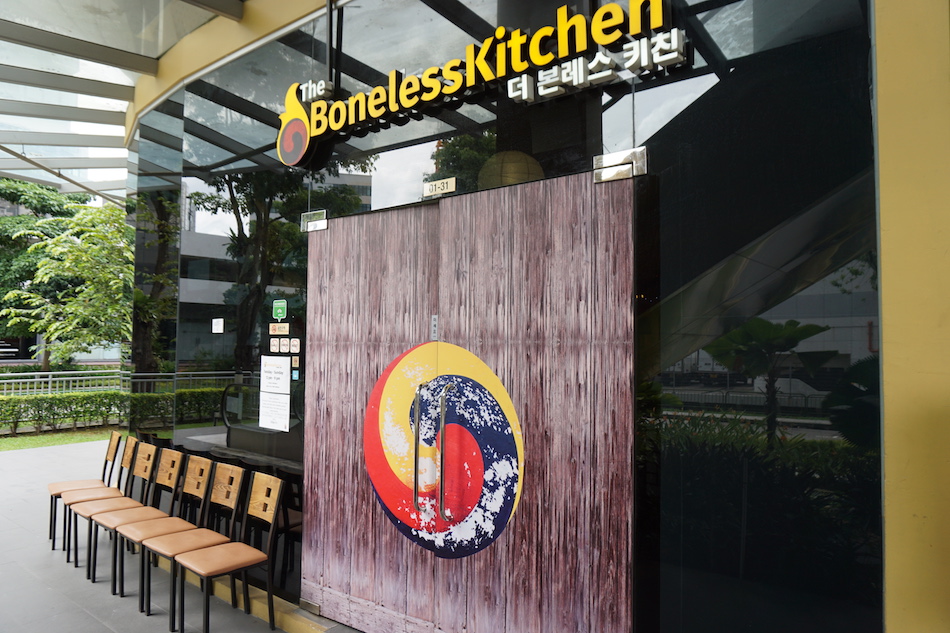 This restaurant serves vegetarian and vegan Korean food. Cody ordered the budae jjigae or army stew, a thick soup that was made after the Korean War with surplus foods from U.S. military bases.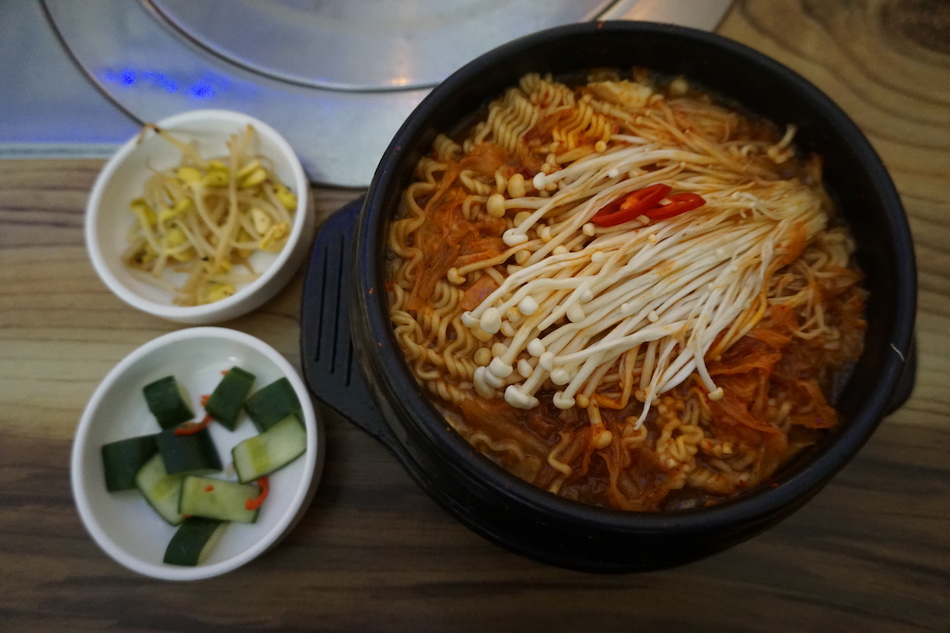 This version was full of veggies, and noodles. I ordered the quintessential Korean bowl of dolsot bibimbap, a hot stone bowl filled with steamed white rice, and topped with an abundance of colourful vegetables and chilli sauce.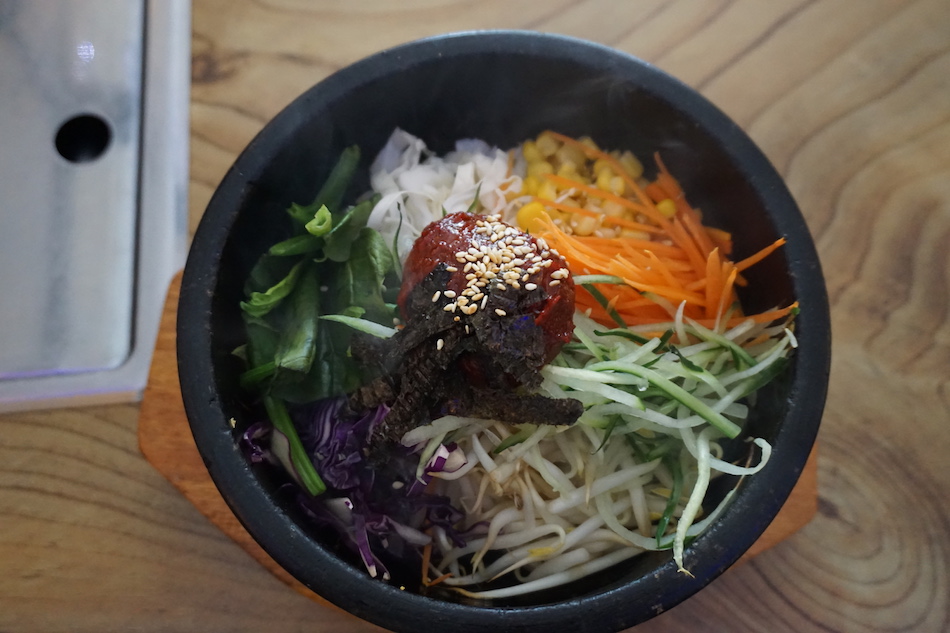 The dish was sizzling when it arrived, and before mixing it all up, I gave it a few minutes so the rice could crisp up all around the bottom and sides of the bowl. My bibimbap was crunchy, vibrant, delicious, and the tastier of the 2 dishes.
On our way back to our hotel, we noticed a place called Jollibean, a small shop serving soy beverages and puddings; so we picked up an almond flavoured pudding, bought a pomegranate at the grocery store, topped it with pomegranate seeds, and had a really nice light and sweet dessert.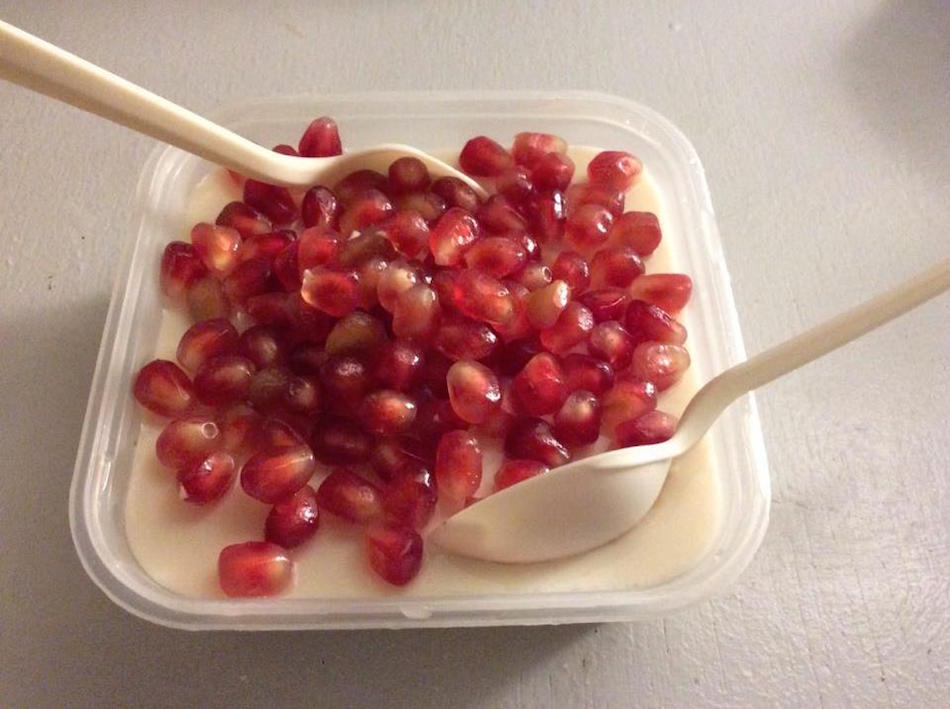 Soy pudding is really quite easy to make yourself. I usually buy silken tofu, blend it up with some agave and raw cacao, pour it into some baked mini pie shells, and voila, chocolate pudding tarts!
Dinner was soon upon us, and a member of the vegan travel team recommended that we visit nomVnom, another vegan burger chain, so we did just that.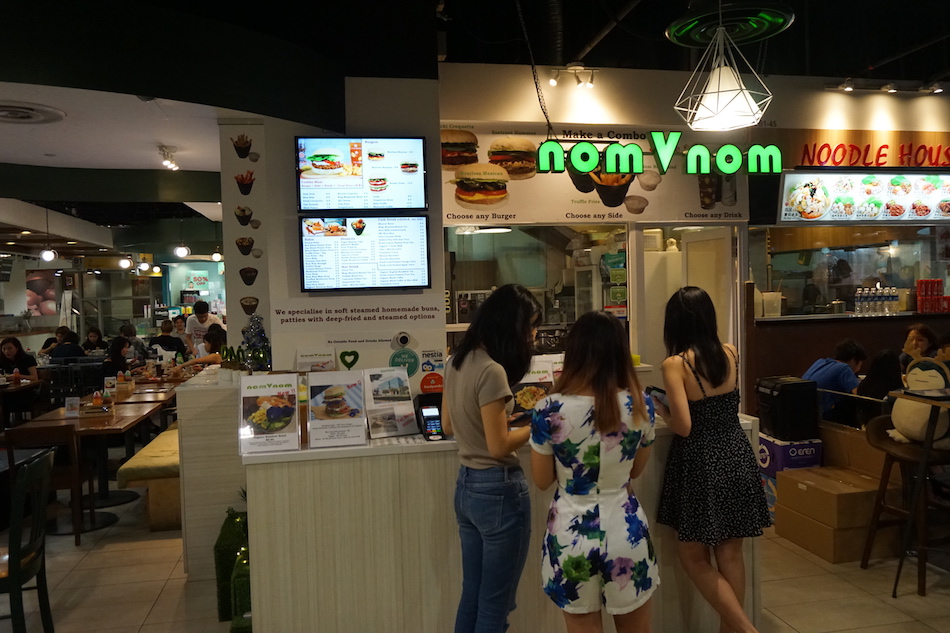 Coming from Malaysia, and having paid no more than $7 at every meal, the price jump in Singapore was a bit jarring, but still, we ate.
The burgers at nomVnom were delicious and they steam their buns, making them so soft and fluffy. Because of this alone, I prefer nomVnom to VeganBurg, and their iced soy matcha was also very tasty.
The next morning, we were off to our 6 day house sit at an incredible home in the city.
We met the family, and gave each other a little smirk knowing how much we were going to enjoy 6 days in this beautiful modern home. The design of this house was incredible!
Open air windows, automatic shutters, a tropical swimming pool; it had all the bells and whistles. We even took the elevator a few times to do our laundry on the rooftop.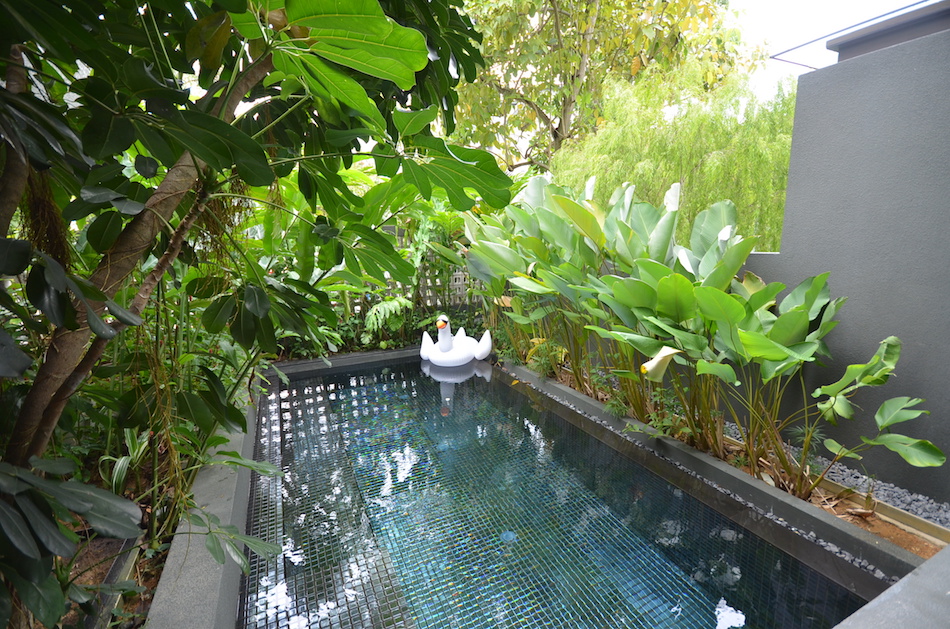 More importantly, we had a little dog (and a very outdoor cat) to care for.
It's always a good day (or 6), when we get to spend our time with animals.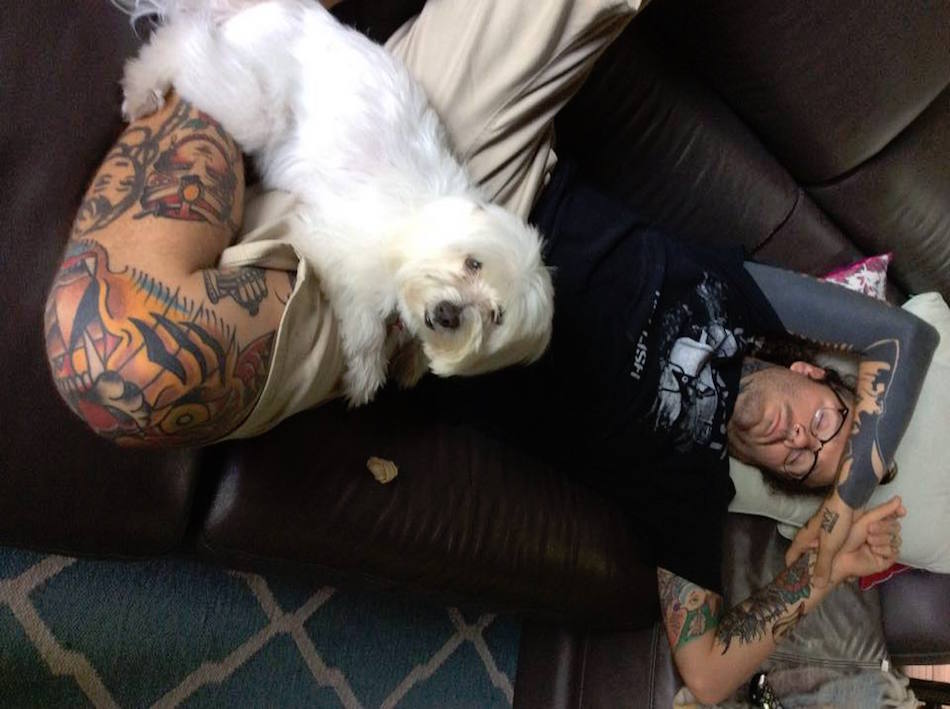 It was a pleasure to be able to cook during our time in Singapore. Tofu scramble, spaghetti al olio, and coconut noodle soup were just some of the items on the menu.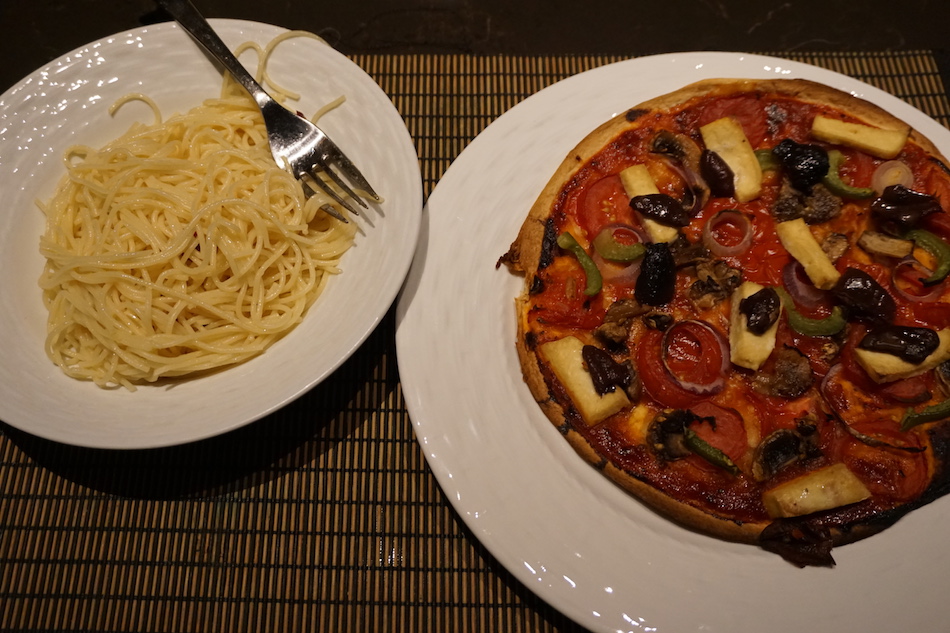 I even managed to whip up a pretty delicious New Year's Eve dinner of mash potatoes, stuffing, baked pumpkin and corn, homemade cranberry sauce and rosemary mushroom gravy.
We celebrated with this meal on 3 separate occasions.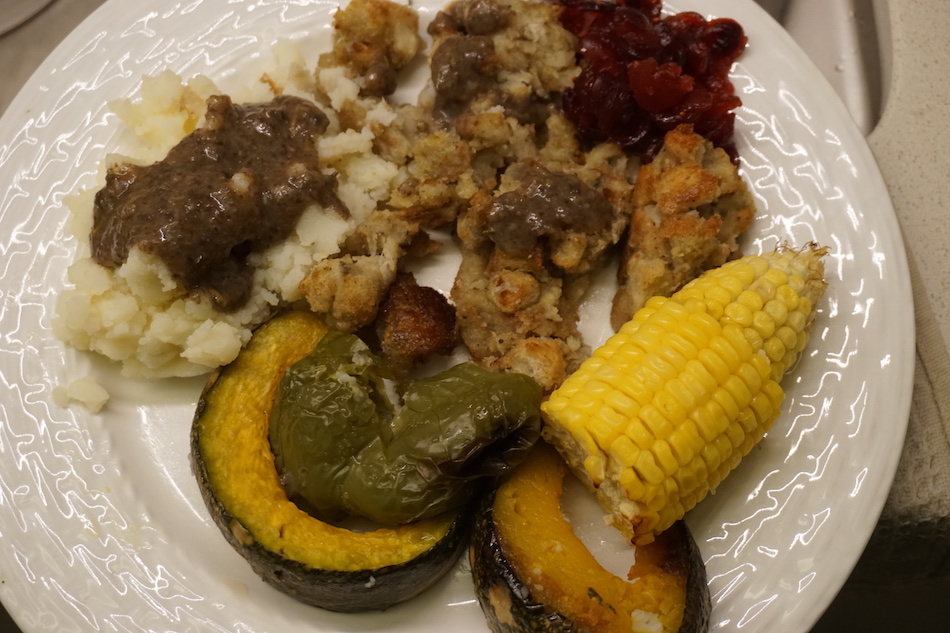 On the 6th day, we reluctantly said our goodbyes and thank you's, and hopped on the MRT bound for our hotel.
We had intentions of visiting a vegetarian Japanese restaurant after checking in, but during our walk to the hotel, we passed by a large outdoor food court with a restaurant called Vegan Paradise, so we just had to stop.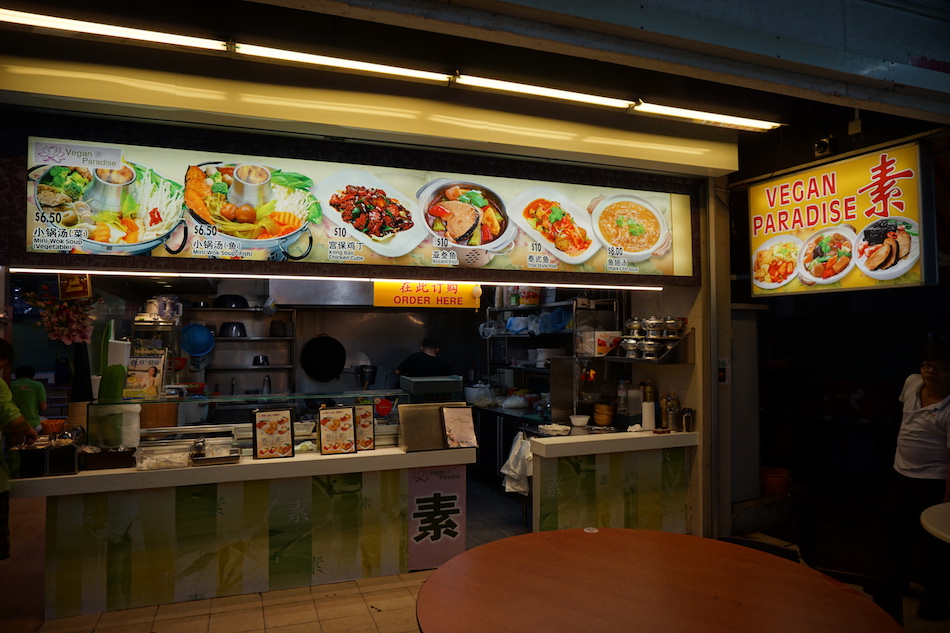 A small veggie soup, eggplant sambal, and mushroom rendang later, we were happily full. The food at Vegan Paradise was fresh, full of flavour, and a great last meal in Singapore.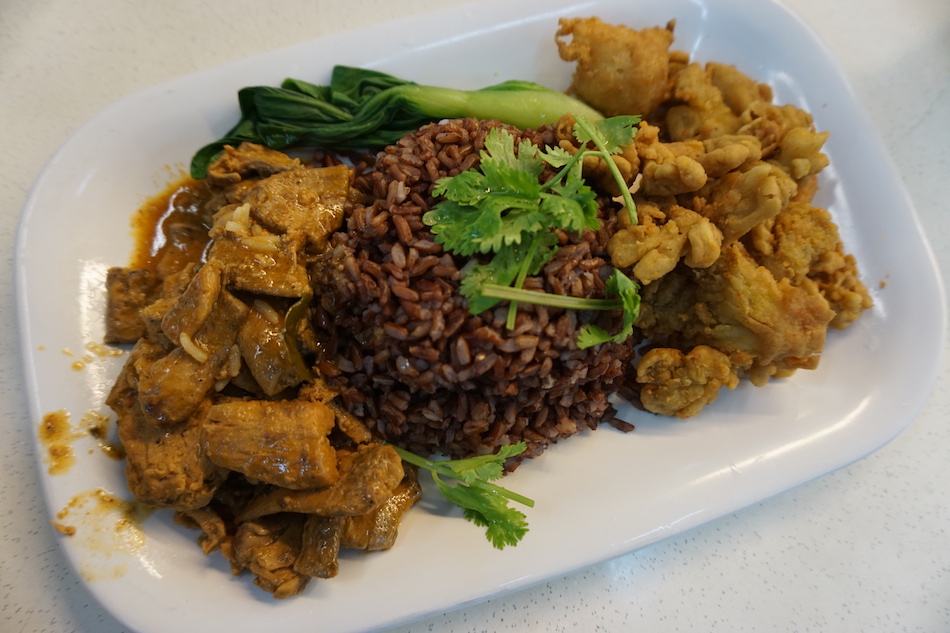 Don Shan Eastern Highland Healthy Cake House was our absolute last stop in town. We visited a few hours after our last meal for some vegan cake.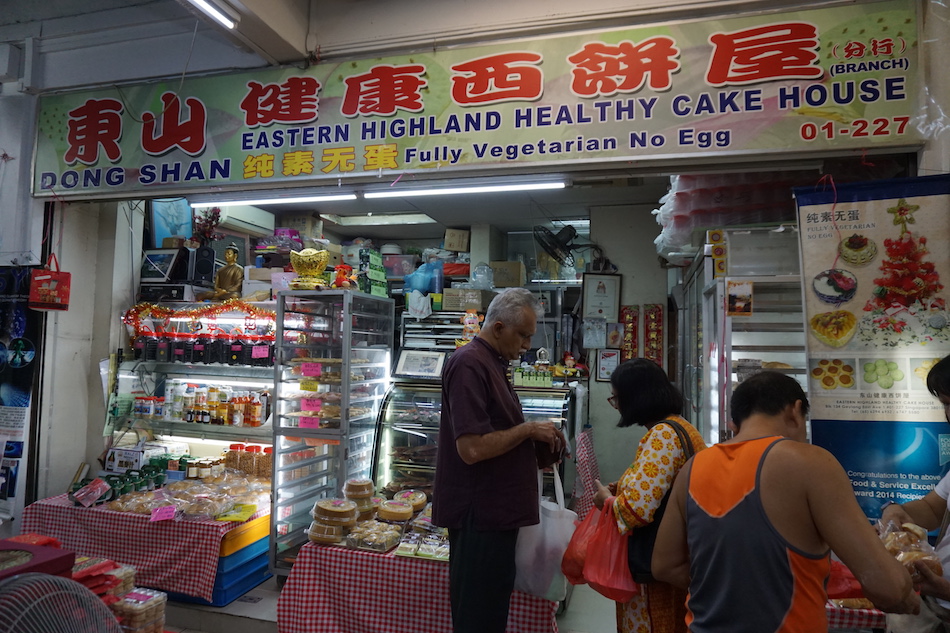 This shop is located in a plaza with Buddhist shops close by Aljunied station. All of the sweets are eggless, but we had to ask about no milk, or butter.
We had plenty of options to choose from, so we went for some banana cake, a couple pandan slices, and 2 sweet loafs of the fluffiest cake imaginable.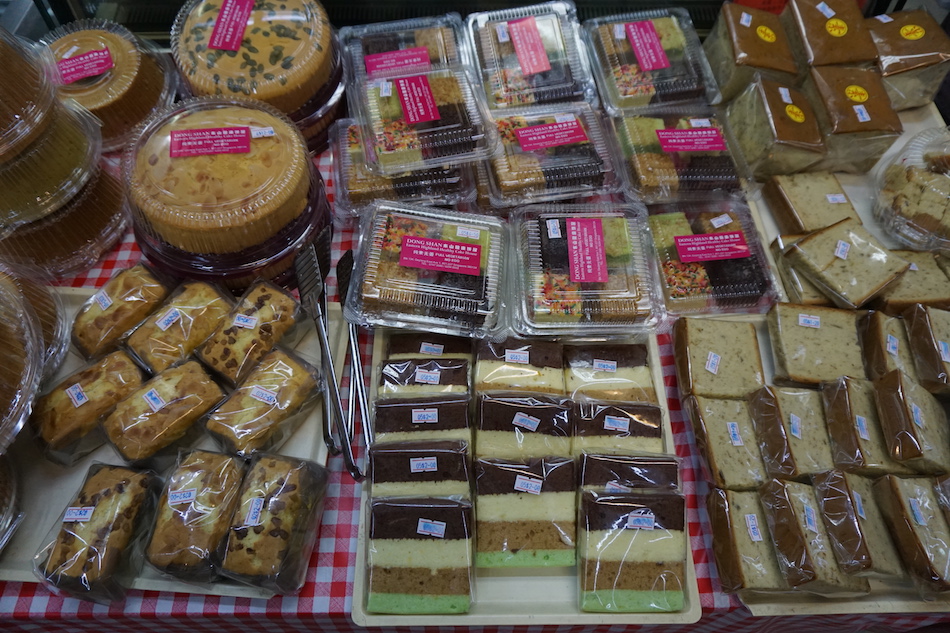 Loved it all! Don Shan is a great place to visit if you are a vegan with a sweet tooth.
Singapore was voted the 2nd vegan friendliest country in Asia by PETA, so we really just scratched the surface with these few vegan restaurants.
We do plan on returning a 2nd time when there is less rain, and no dog sitting responsibilities.