On my way to China, we had a layover in Singapore. We flew with Lufthansa and their vegan options were quite good compared to other airlines. The dinner was a tomato soya protein meal with potato mash and vegetables. The breakfast/snack was porridge and custard sauce-amazing!
We were short on time so we quickly grabbed a chickpea sandwich from Joe and the Juice (asked for no pesto because it contains cheese) and went straight to Marina Bay Sands area.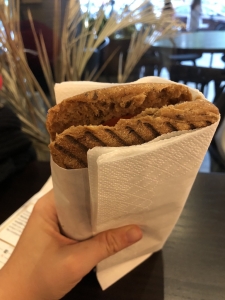 We went to the Gardens by the Bay and saw the night show when the trees light up to music.
In Singapore Changi airport we tried the Kaveri Indian Restaurant and the staff was very friendly in helping us pick the vegan items. We tried the dosa (plain and masala) and these wheat dumplings. I would definitely recommend this place for a filling vegan meal at the airport.