It is only a 6 hour bus ride from Siem Reap to Phnom Penh, so there are no excuses not to visit if you have the time.
We spent 5 nights in Phnom Penh just walking around the city, visiting markets, searching out food, attending a metal show, and getting tattooed.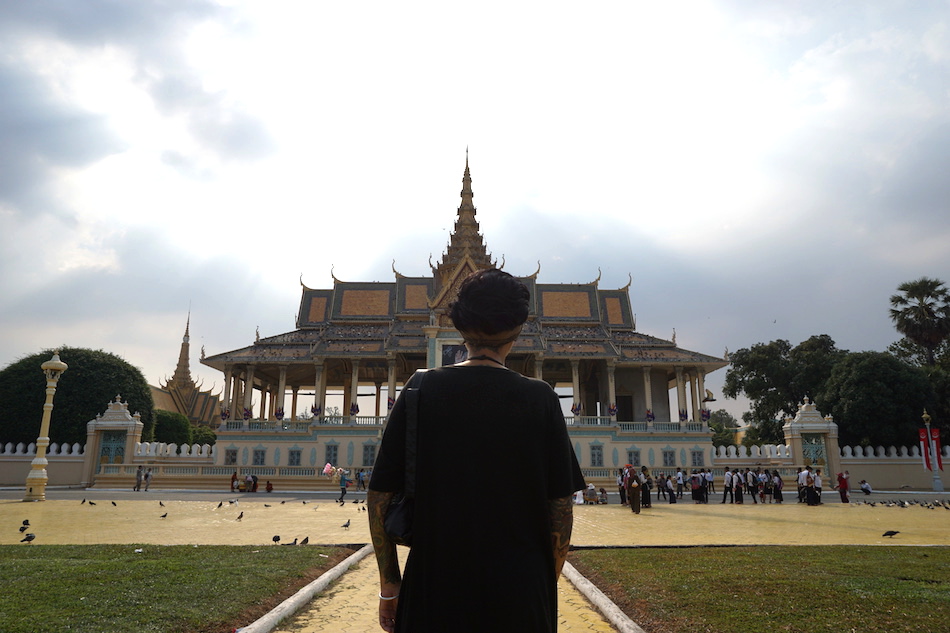 Phnom Penh is known mostly for the Killing Fields and Tuol Sleng Genocide museum, but there is plenty of exploring that can also be done, and no shortage of tuk tuk drivers who want to show you around town.
Artillery Cafe was a great place for breakfast, and lunch. Cody and I enjoyed a falafel plate, and a tofu banh mi sandwich, and you can also try their vegan ice cream.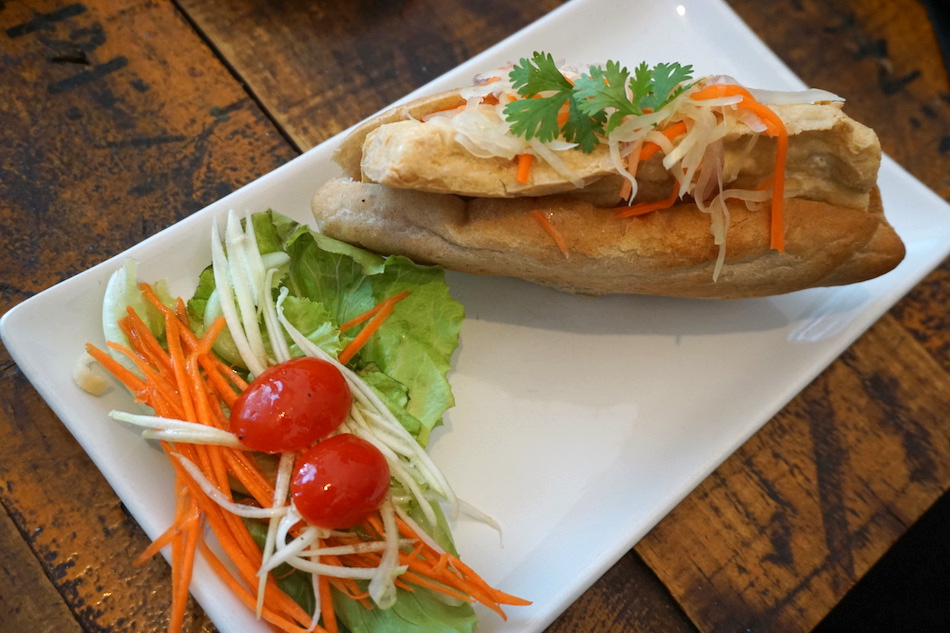 While walking around town we passed by a bar with the walls completely covered in American traditional tattoo flash, so we popped in to get a closer look and learned that there was a tattoo shop upstairs.
One thing led to another, and Cody left Cambodia with a new piece of art. Sometimes it's just that easy. Thanks to Harry at Salty Dog tattoo for taking the time to permanently tag Cody with your art work.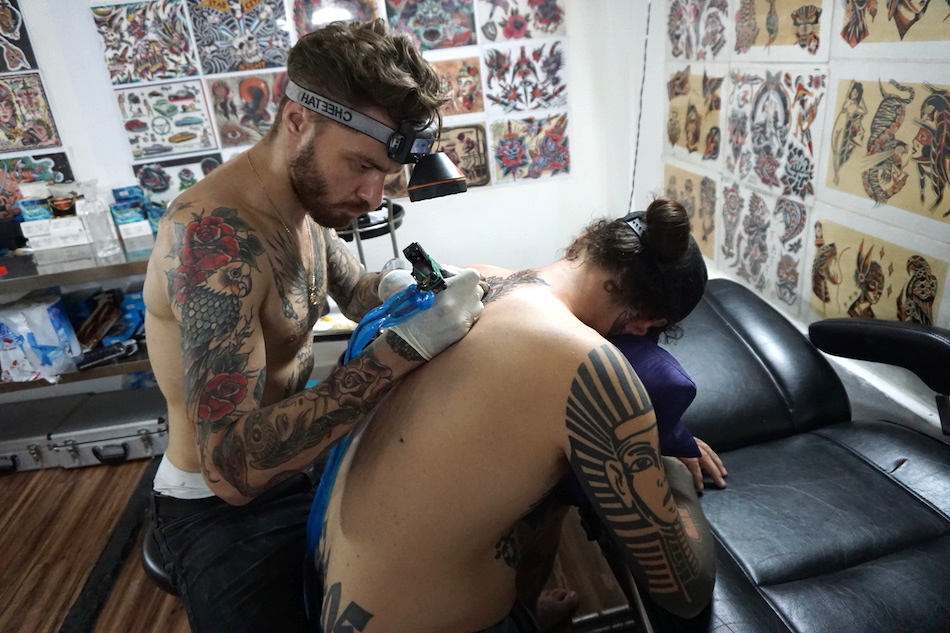 Completely by fluke there was a vegetarian and vegan Taiwanese style restaurant directly across the street from our hotel in Phnom Penh, so we gave it a try.
We were a bit skeptical during our first visit as the space seemed like more of a hang out for the staff, but the food was surprisingly tasty, and incredibly cheap.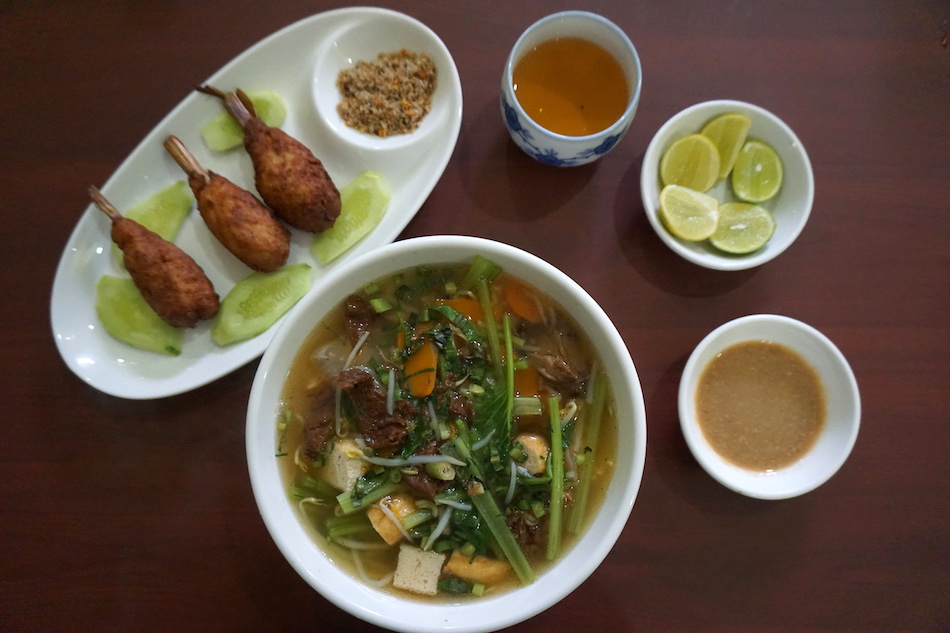 The menu was also humongous (Over 500 items!!!). We sampled several vegetable noodle soups, delicious soy pepper steak bites, a sizzling plate of veggies, and soy meat, and Cody ate his weight in tofu and bbq soy patty burgers. Several items on the menu were no more than $3, and most were $2-$2.50.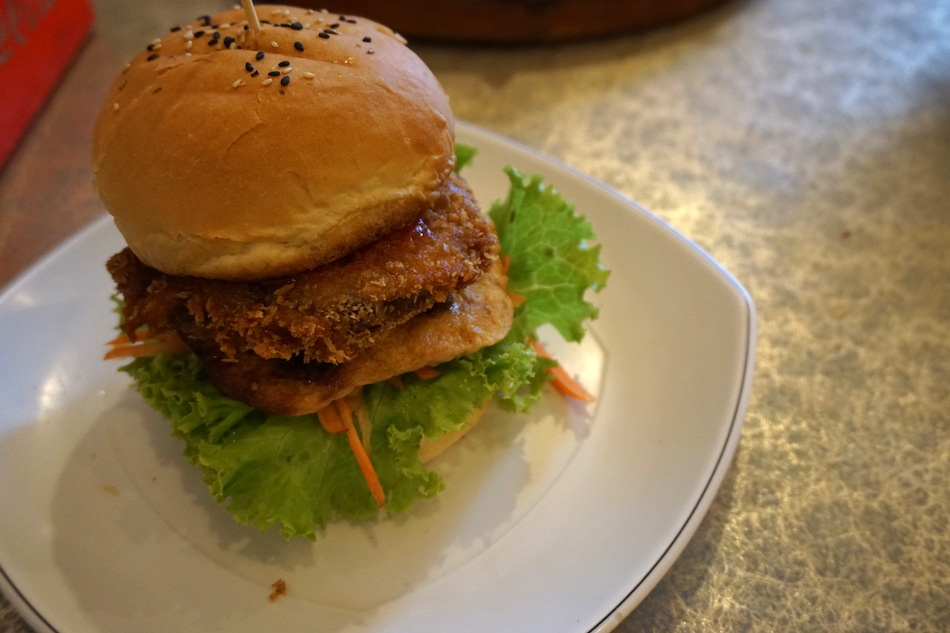 Surn Yi Vegetarian Restaurant was a fantastic find in Phnom Penh.
Following our 5 nights in Phnom Penh, we boarded a Giant Ibis mini van to Kampot ($9).
Giant Ibis is a very reputable Cambodian bus company that prides themselves on safely delivering passengers from one town to another. They never speed or drive erratically, and slow down during overnight trips.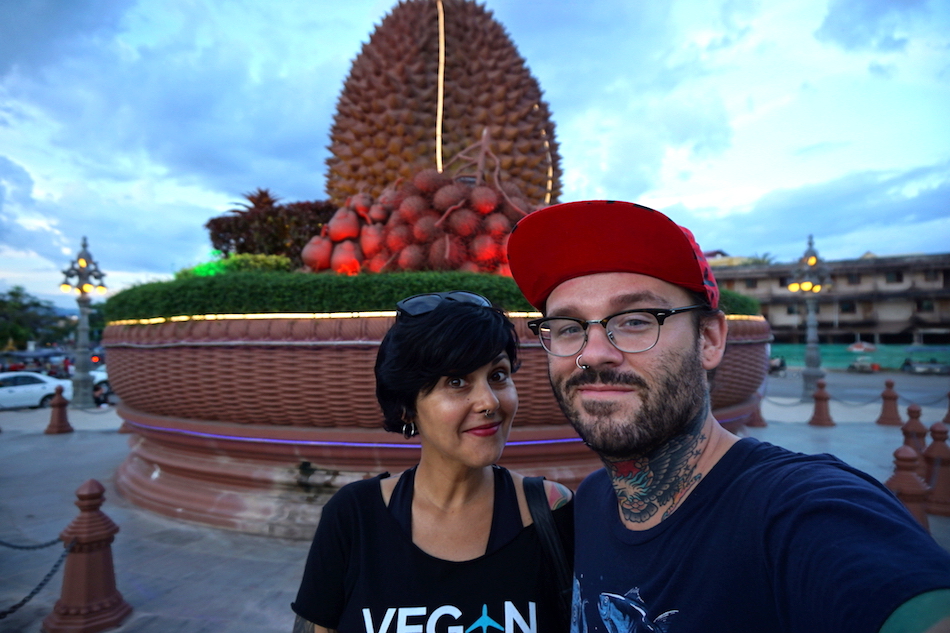 The ride to Kampot from Phnom Penh, including a quick bathroom break, took 3 and a half hours.
Kampot is a quiet town well known for its pepper that is shipped worldwide. It is the perfect spot to retreat to if you simply want to relax. There are several huts along the Praek Tuek Chhu river to choose from, and a variety of inexpensive accommodations in town as well.
Our stay in Kampot lasted 3 nights, and it mostly consisted of walking around town, and eating at Simple Things, a fairly new vegan and vegetarian cafe that serves delicious and large portions of great vegan food.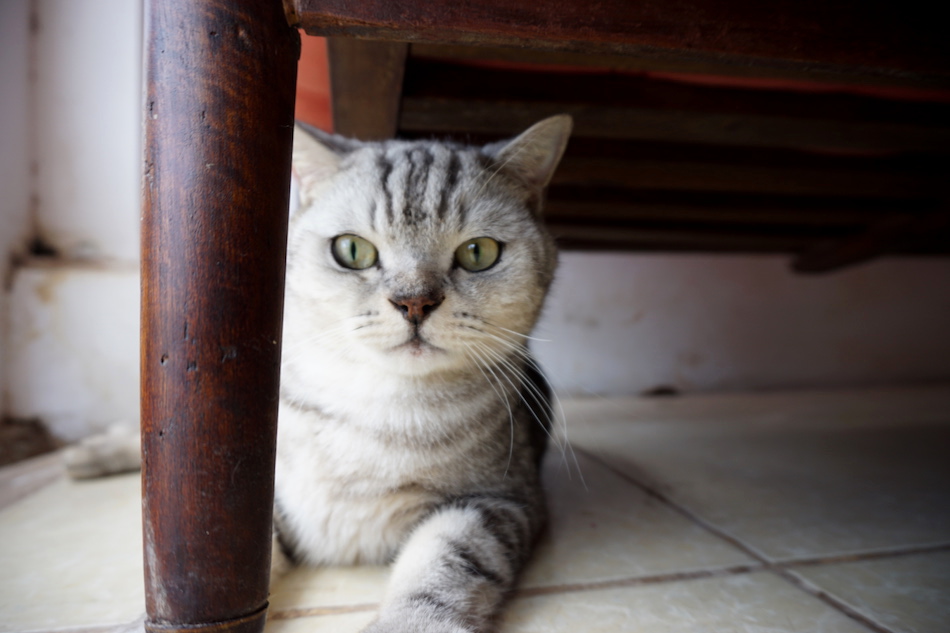 On our last day we rented a scooter and took a day trip to Bokor National Park, located about 8km outside of Kampot. The ride into the park is lined with tropical plants making it a very scenic trip.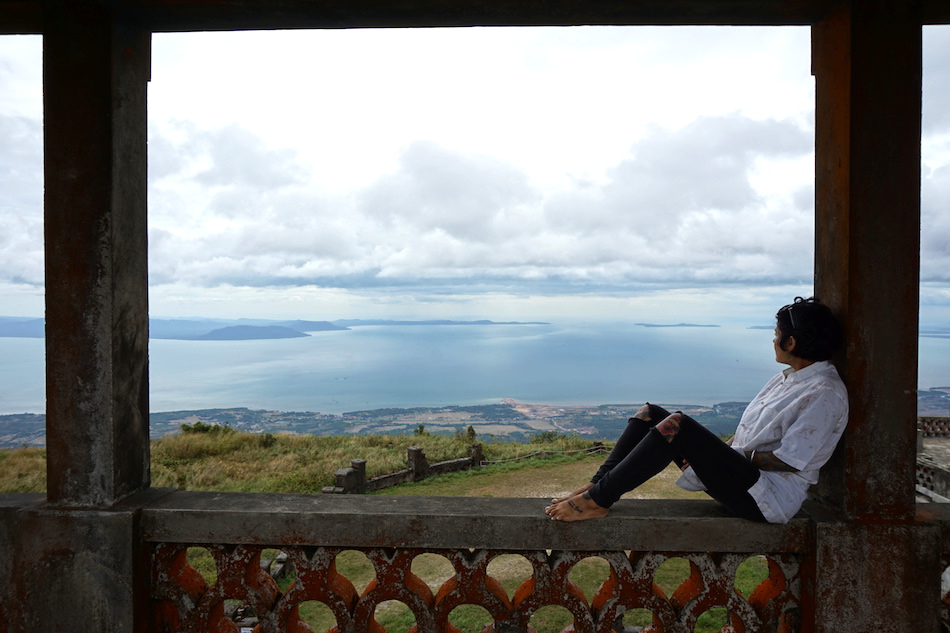 The main attraction at the top is an old hill station built by the French in the 1920's. There are also several abandoned buildings in the area, including an old Catholic Church also built by the French in the early 1920's.
We visited many of the buildings reclaimed by nature, taking photos and admiring the gorgeous views along the way.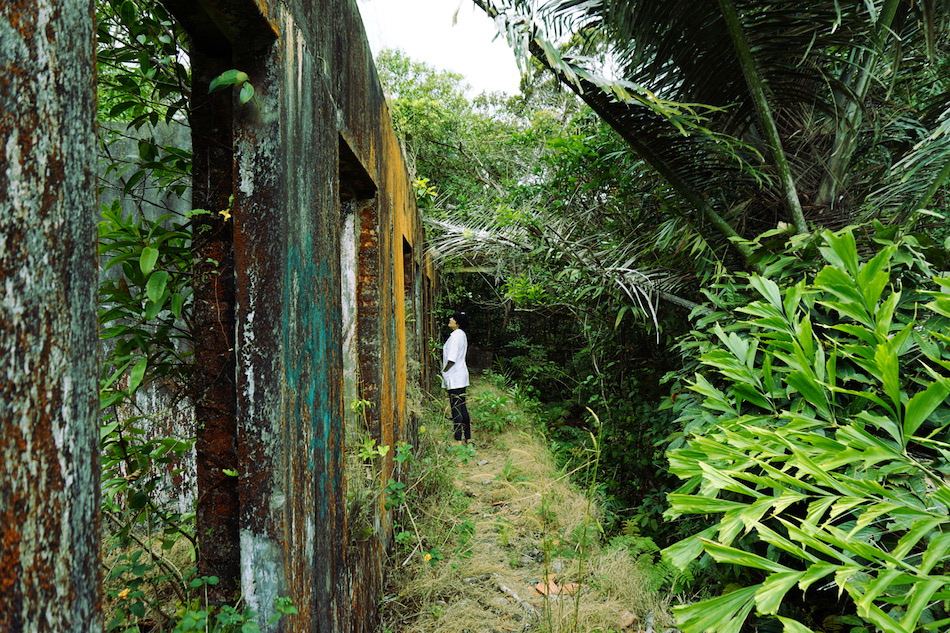 Kampot is really worth a visit, especially if you are in need of a few quiet days of rest and relaxation before continuing on your journey through Cambodia or other parts of Southeast Asia.
And don't forget to pick up some delicious Kampot pepper!