Hello all, this weekend my class and I took a trip to Aarhus, Denmark, which is the second largest city in Denmark, about a 3 hour drive from Copenhagen! We went to the Aarhus Art Museum which was amazing and I'd highly recommend visiting this place, amazing art and on top of the building there's a huge "rainbow bridge," where you can feel like you're walking through a rainbow, so cool! The area around the canal was so pretty and so many bars and places to pop into. The city was so full of culture and it was really amazing! I wanted to share an amazing place that I visited that is also available in Copenhagen, called Grød. Grød is a restaurant which serves porridge, my favorite thing! I've been wanting to go to this place for awhile and when I saw they had it in the Aarhus Central Food Market I had to try it! They also have one in Copenhagen in the glass market and its central location where you can actually go into the restaurant and sit down in Nørrebro. But where I went it was just in market, it wasn't the actual restaurant.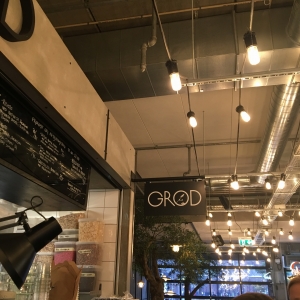 I ordered a chia porridge with no caramel sauce. When I said I was vegan the worker knew exactly what to take out and let me replace the caramel sauce with peanut butter! So it had peanut butter, almonds, cacao nibs, bananas, and coconut chips. Oh, and it was made with almond milk, didn't even have to request it because it was already made with it! This is what it looked like: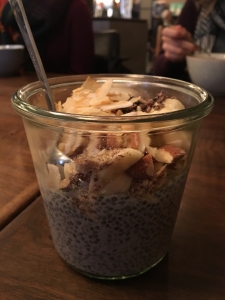 So much porridge!!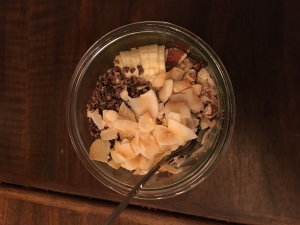 It was beautiful and soooooo good!! And seriously so filling, I couldn't finish it all. I'm definitely going back to this place to try their hot porridge and I also hear their savory bowls are delicious. I was between sweet and savory and chose this, no regrets! Definitely check this place out if you're traveling in Denmark.