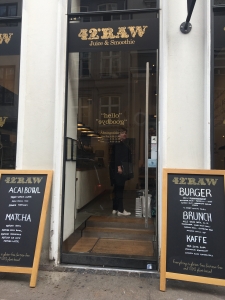 Been wanting to try 42Raw in Copenhagen since I've been here! And by the way, I've been here for over 3 months! Going back home to the U.S. in a month and a few days. It's crazy that this experience is coming to an end, I'm pretty bummed about it. So, I need to start getting in those European vegan places while I can!
I got the Chai latte with homemade almond milk. Honestly, I wasn't a huge fan of this drink. Most of the chais I've had in Copenhagen have been a lot yummier. And of course this was the most expensive! I wish I tried one of their juices or smoothies instead because I think they specialize in those types of things.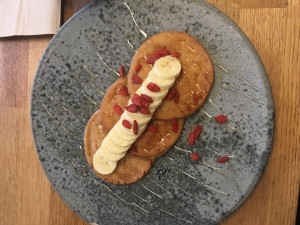 I ordered the pancakes with goji berries and banana. I've been craving pancakes lately! These were super pretty, but so tiny! I wish I went here with a group so we could have gotten a lot of things to try, because these did not fill me up. Although they were really yummy!
So to sum up, this food was extremely aesthetically pleasing (as you can see below) and pretty good. But, I would recommend going with a group and getting a few dishes to share because the portions are small, and there is a lot to try! I wish I tried more. I might go back to get an acai bowl!