Tag Archive for: Blogs by Jackie
Vegan Travel Blogs by Jackie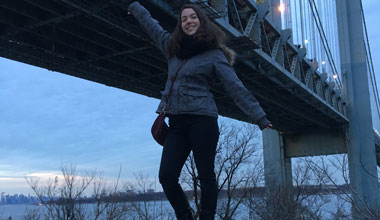 Jackie is from New York, loves to travel, and is studying psychology and living abroad for a semester in Copenhagen, where she will also be traveling to many different countries while learning and exploring. She has been vegan for a year, and has been loving her journey! She can't wait to find delicious food around Europe and be on her own with an open mind. Jackie (@jackielischak) doesn't know know any other vegans in Copenhagen, and would love to meet some of you and share your vegan experiences! Jackie also loves nature, animals, yoga, coffee, music, and meditation.
Been wanting to try 42Raw in Copenhagen since I've been here! And by the way, I've been here for...
Hello all, this weekend my class and I took a trip to Aarhus, Denmark, which is the second largest...
Hello all! This is my first post so I'll tell you a little about myself. I've been vegan for...
Vegan Listings Near Me
To view a map of vegan listings near you, click the box below.
Please note: Location Services on your browser or device needs to be activated for this widget to work.