I am so extremely excited to say that, thanks to the new found consciousness in local Egyptians who care about their health and animals, Cairo has become incredibly easy to find vegan food!
The last 3 times Cody and I have been here, eating vegan was still fairly simple, but we stuck with traditional Egyptian fare like foul, falafel, koshary, and hummus. This time around we have found so many tasty alternatives. I am elated!
We had 5 days to enjoy Cairo in 2 different parts of the city- our first 2 nights were spent in downtown Cairo by Tahrir square, and the last 3 in Giza overlooking the Sphinx and the pyramids.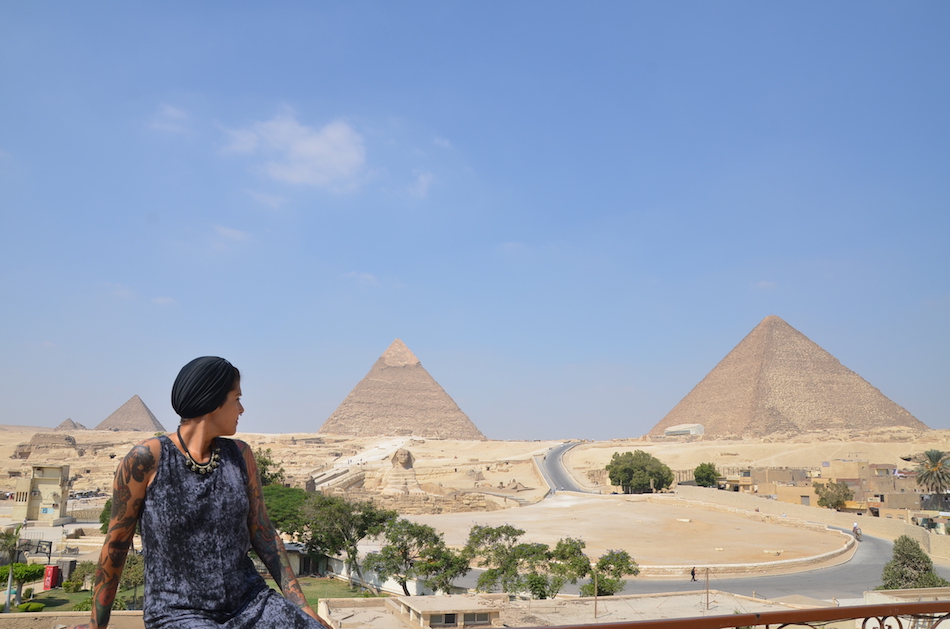 In between visiting Khan el-Khalili bazaar, the pyramids, and the incredible Egyptian museum, we snacked on vegan food all over the place!
Here are the best places we visited.
*NOTE*
None of the restaurants listed are completely vegan. They just all have a great variety of vegan options to choose from.
KOSHARY
First I must start with koshary as most of you reading this likely don't know about this very Egyptian dish.
Koshary (also known as kushari, kosheri, or koshari) is a delicious and cheap carb-heavy meal that you can find everywhere in Egypt. The best part is that it is accidentally vegan.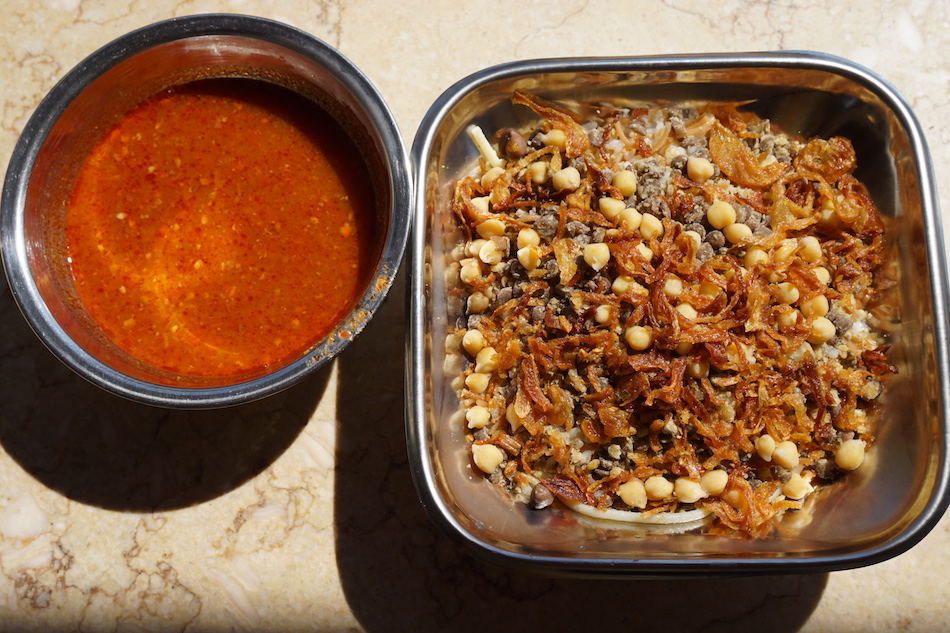 First you start with macaroni, bits of spaghetti, and sometimes rice. Then the pasta is topped with lentils, and chickpeas, and a tomato sauce is poured over top. And the pièce de resistance is the fried crispy onions sprinkled over a big bowl of loveliness.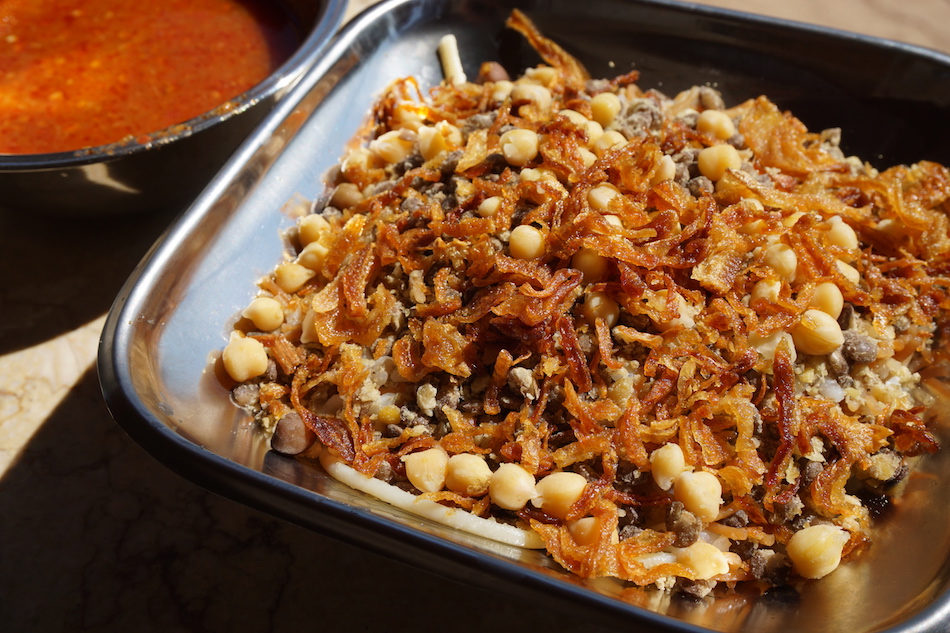 It is delicious, filling, and at about $1 for a large portion, it will never break your budget! Koshary is the ultimate Egyptian street food, and if you keep your eyes open, you will find it everywhere in Egypt.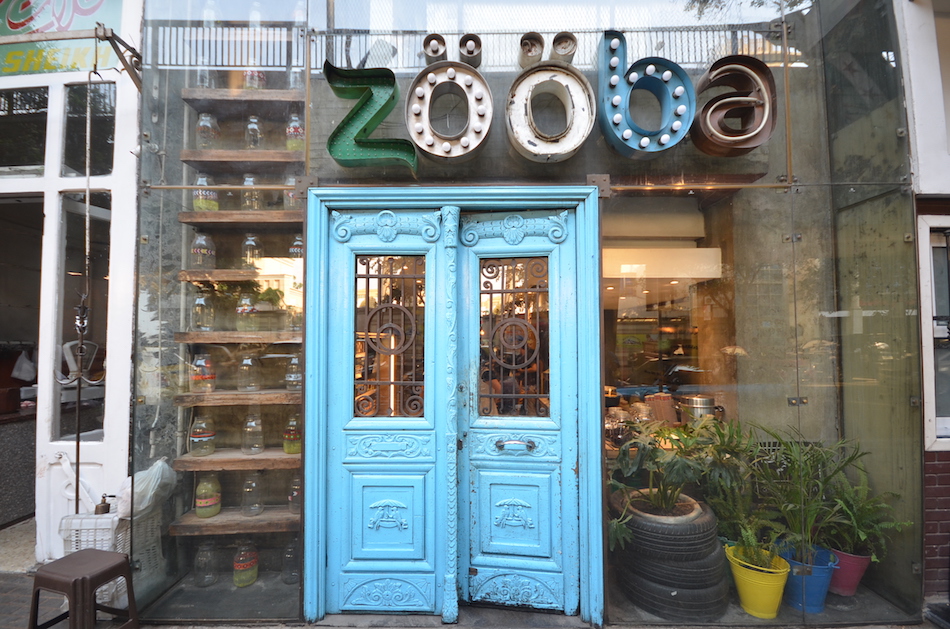 Zooba is a fairly new Egyptian restaurant located in the Zamalek district of Cairo that specializes in high quality fresh Egyptian street food with amazingly low prices.
This hipster restaurant is a definite must visit while in Cairo. When you arrive, their vibrant blue coloured front door beckons you in. As you enter, you will see large pots filled with regular koshary, whole grain koshary, and steaming lentil soup.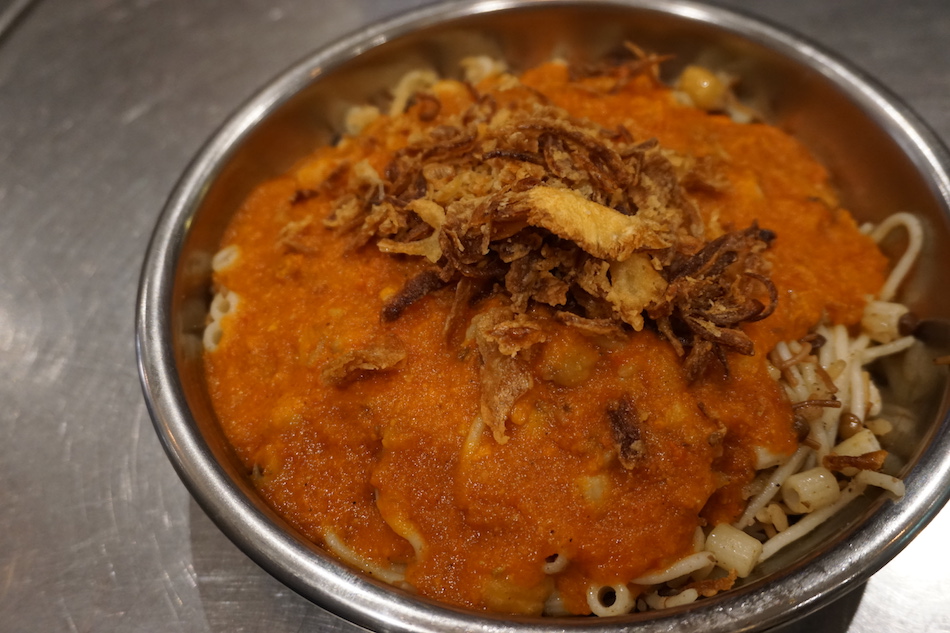 The restaurant is small in size, but they make up for it in flavour. With only 1 communal table, prepare to get cozy with the people dining on either side of you. When we visited Zooba, we sampled the fresh cut fries dusted with spices and fresh cilantro, the tasty lentil soup, and ta'amia sandwiches.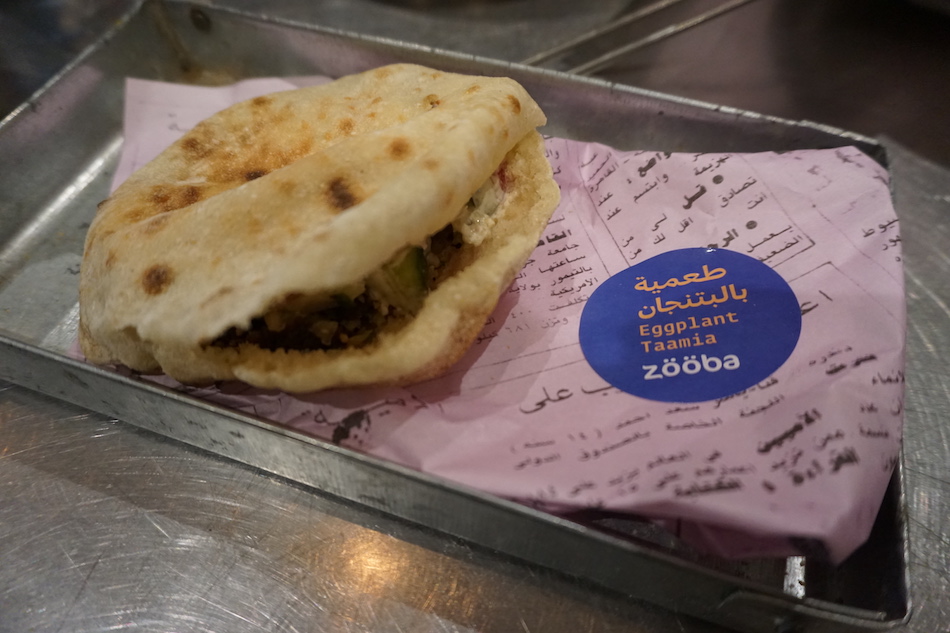 Ta'amia was very popular with the Ancient Egyptians and continues to be popular in the middle east today. These sandwiches are made with fava beans (foul or ful) but the beans can be replaced with chickpeas to make the well known version of Ta'amia more commonly known as falafel.
We sampled a ta'amia sandwich stuffed with both falafel, and foul. And of course we had to try the whole grain koshary, as you can only find white pasta koshary at other places.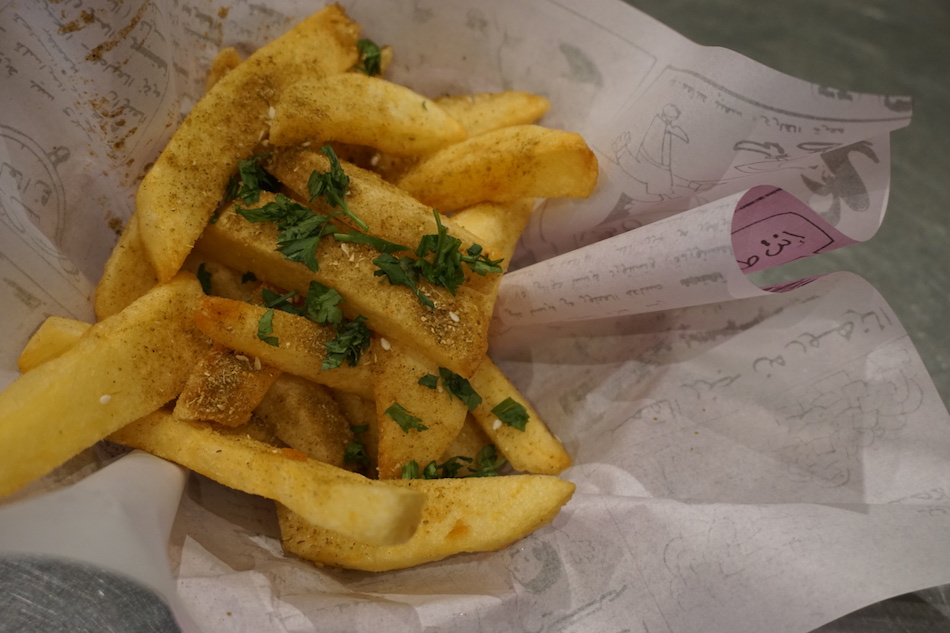 Everything was incredibly fresh and tasty, and of course keeping with the hipster vibe, the fresh cut fries were served in a strainer.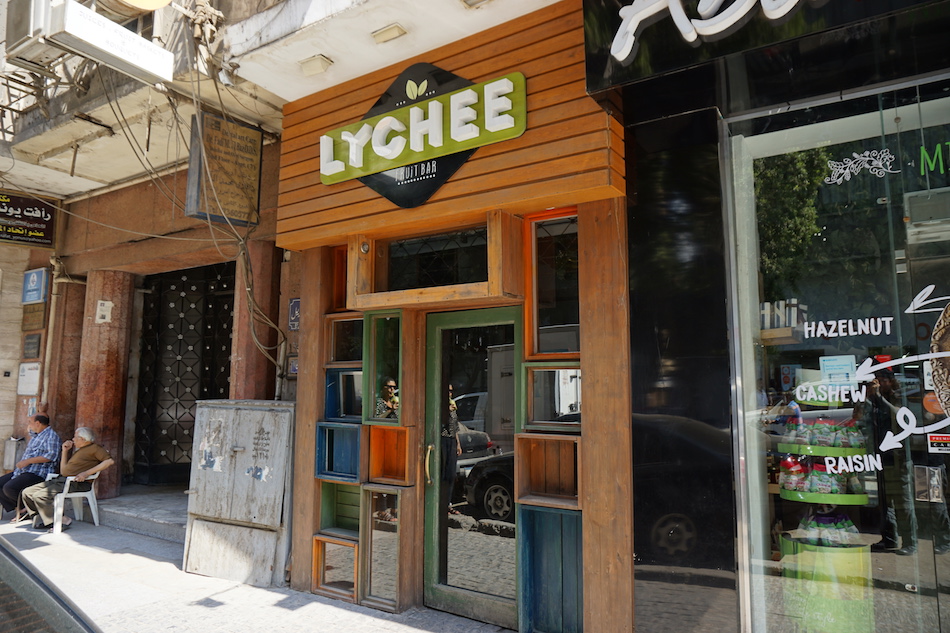 Lychee is a small smoothie cafe located in Zamalek. They serve healthy and delicious vitamin packed fruit and veggie smoothies, as well as chia seed puddings.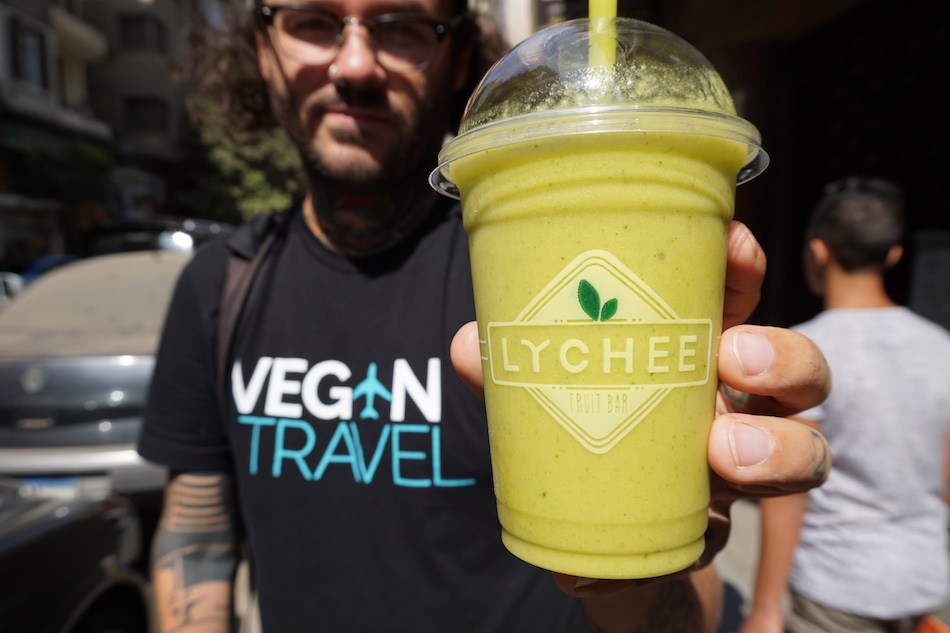 Plain and simple, it is a place to stop in, and get your health fix for the day.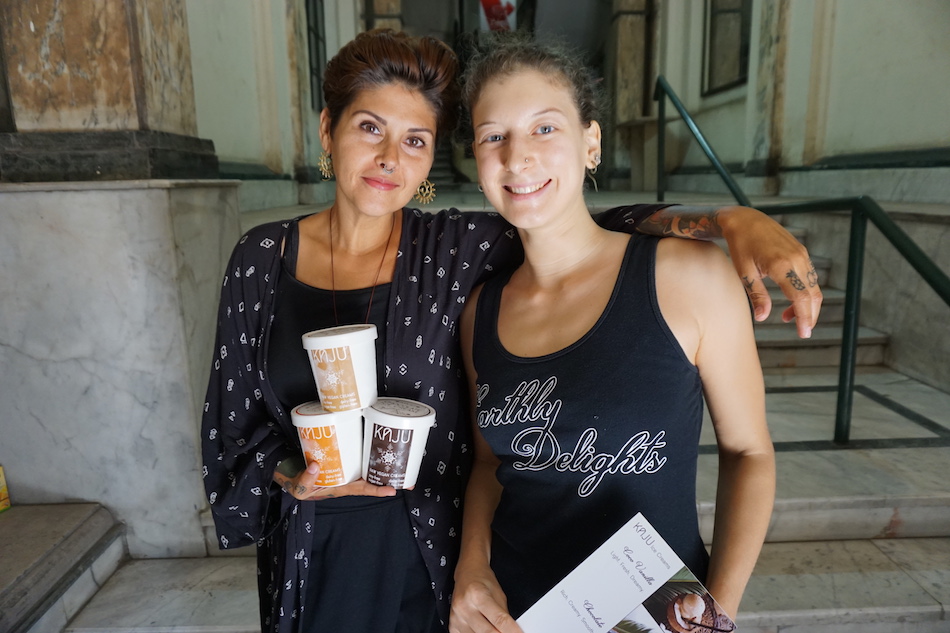 Earthly Delights is owned and operated by the lovely Yasmine who we met during our last trip to Cairo when she was running a restaurant called Vegan Kitchen.
Vegan kitchen no longer exists, but Earthly Delights is thriving, and having sampled some of the products that Yasmine makes, we understand why.
This new venture has no fancy shop that you can browse in; what they do have is a healthy and delicious variety of vegan food that you can order from online. Pizzas, burgers, truffles, and more. Yasmine hand delivered a few of her goodies directly to our hotel in Cairo, and we are forever grateful for that!
Cody and I had the pleasure of trying the herbed cashew cheese (which we inhaled immediately), the incredible cashew basil pesto that we enjoyed on bread every morning with tea, and 3 tubs of raw cashew ice-cream from her line called "KAJU"; cinnamon, coco-vanilla, and chocolate.
Every single one was heavenly. Smooth, rich, decadent, and spicy. If you have access to a kitchen while in Cairo, or if you just need a creamy ice-cream fix, do not hesitate to contact Yasmine and her team at Earthly Delights on Facebook.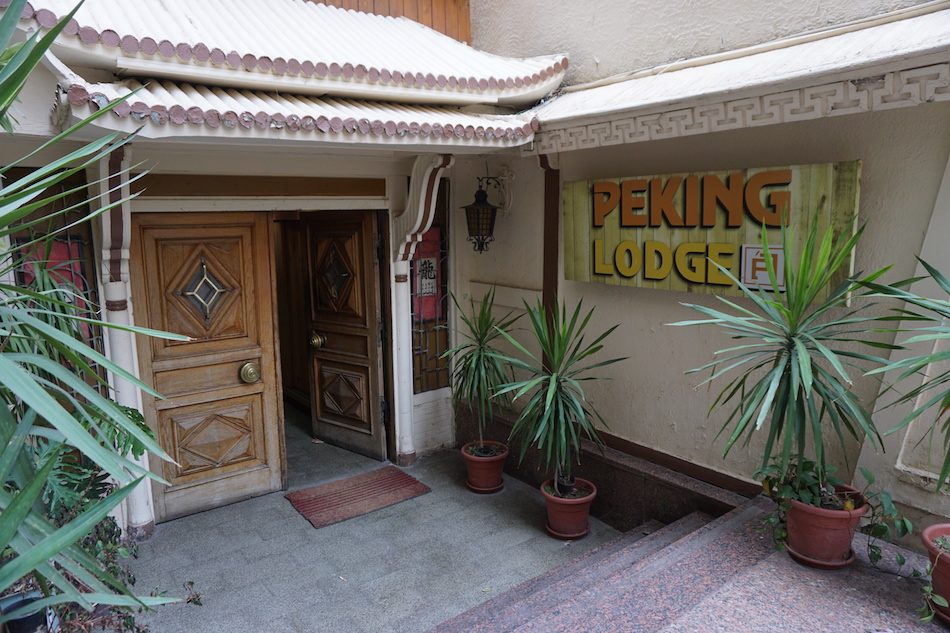 Peking Lodge is a Chinese restaurant tucked away in a building off a side street in Zamalek.
We tried to locate it for a good 10 minutes when we arrived, but still no luck. Fortunately a local Egyptian was kind enough to walk us right to it, and of course it was just a few steps past the area we were standing in.
Chinese food is always a great option for vegans as the menu usually has a good variety of vegetarian dishes, and this restaurant was no exception.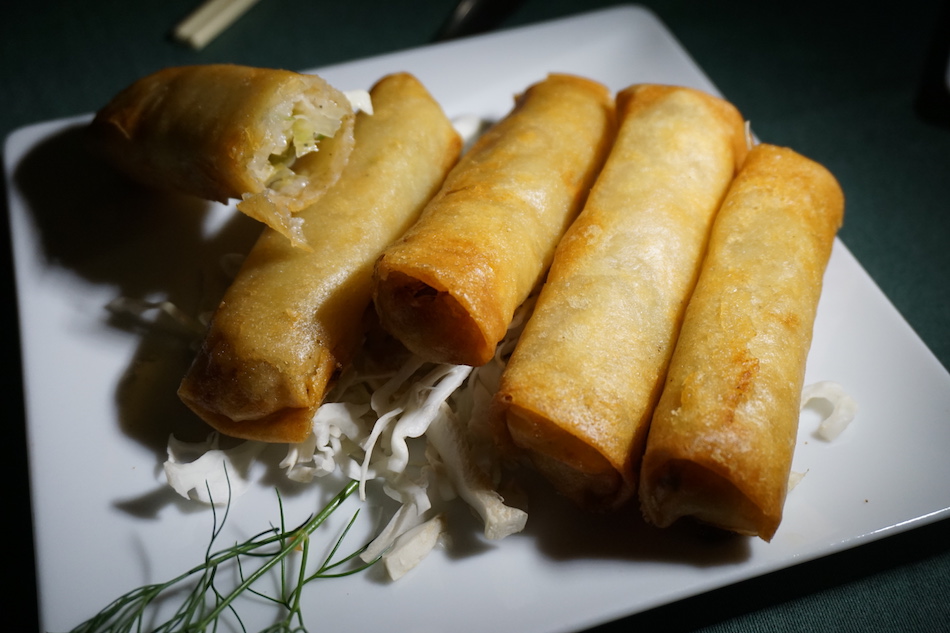 Cody and I ordered a simple dish of vegetarian fried rice and veggie spring rolls. The rolls were a bit oily, but the rice was quite fresh, light, and delicious.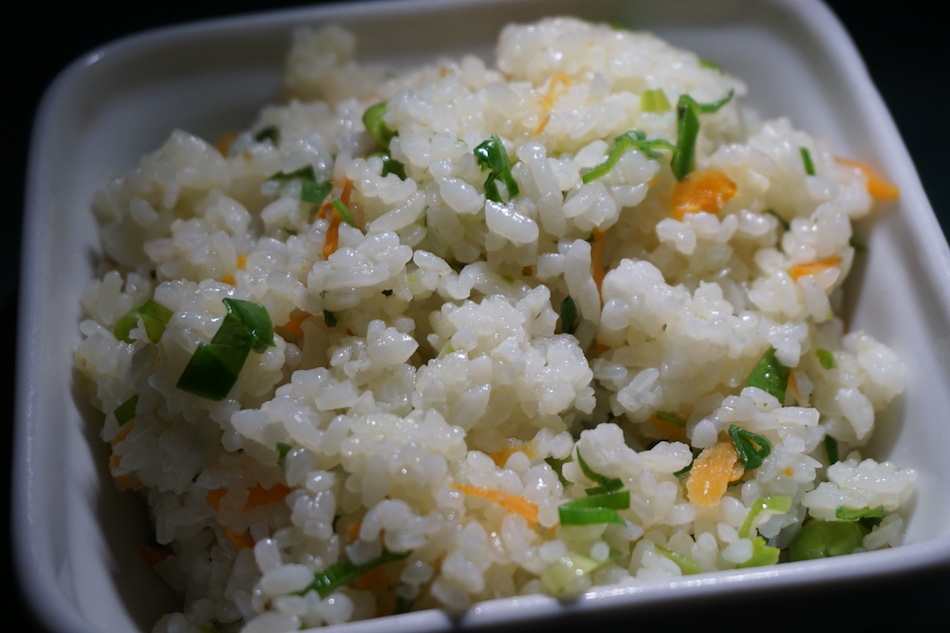 The menu also offers a vegetable soup and other veggie items, but be sure to ask about fish sauce, soup stock, and no egg in your fired rice! The food at Peking Lodge satisfied our craving for non-Middle Eastern food just fine.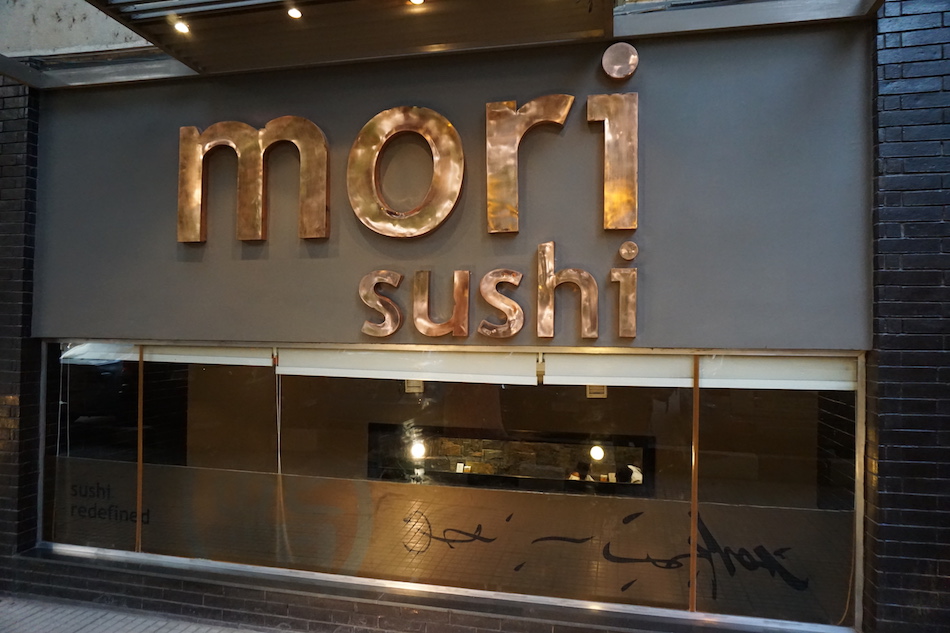 A fresh change from Middle Eastern food, Mori offers miso soup, vegetable tempura, veggie sushi, steamed and lightly salted edamame, and seaweed salad.
We ordered the tempura and 12 pieces of cucumber rolls. The sushi was fresh and authentic, and the veggie tempura was light and crisp.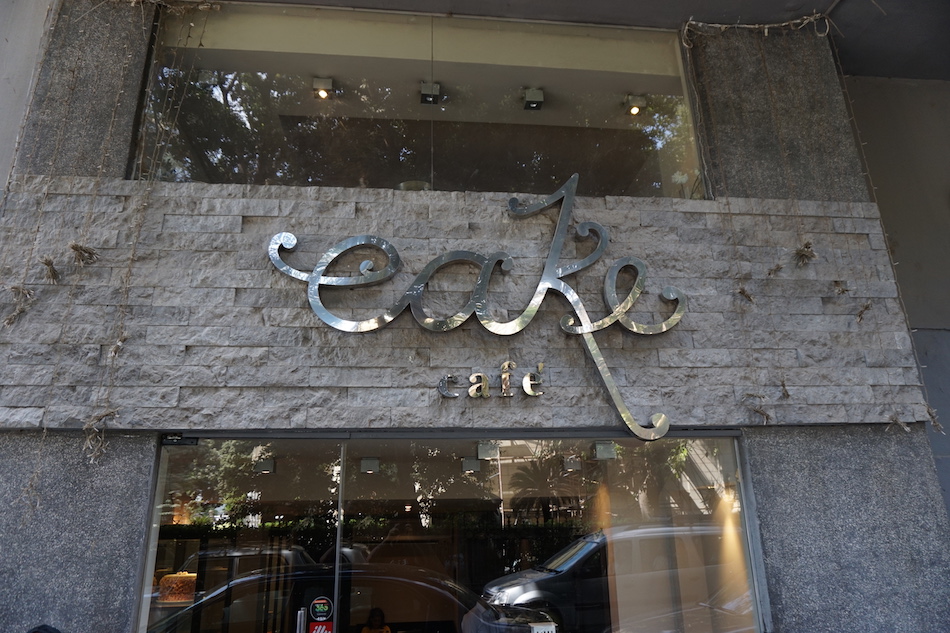 Also located in Zamalek across the street from an Islamic arts building is Cake Cafe. A beautiful beacon of light when you are lost in a sea of non-vegan sweets.
They only had 1 vegan option when we visited, but the decadent, and rich chocolate cake sprinkled with a generous amount of icing sugar was more than enough.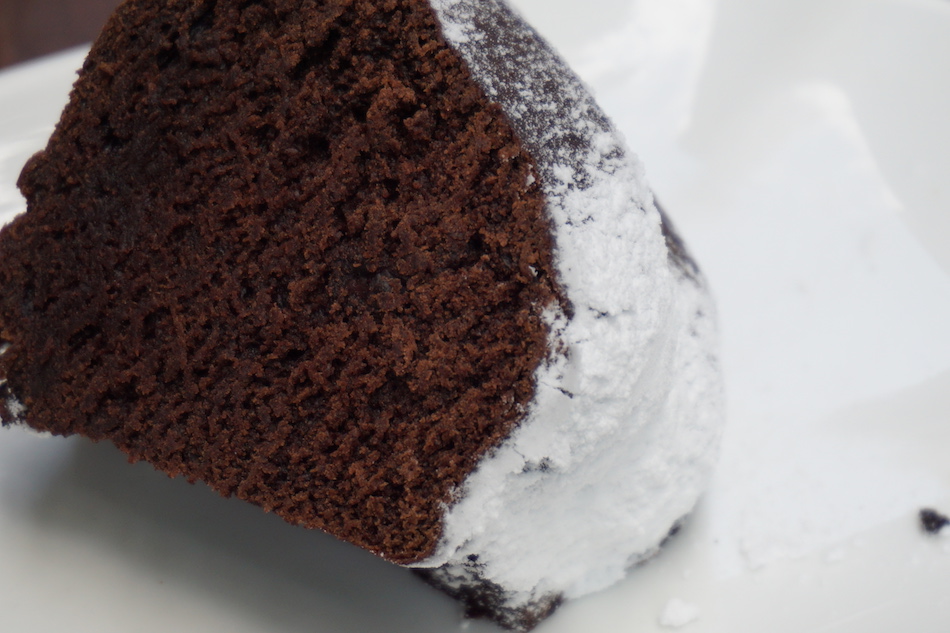 They usually have a lemon-coconut cake as well. Sit outside and people watch while savouring your vegan chocolate cake in Cairo.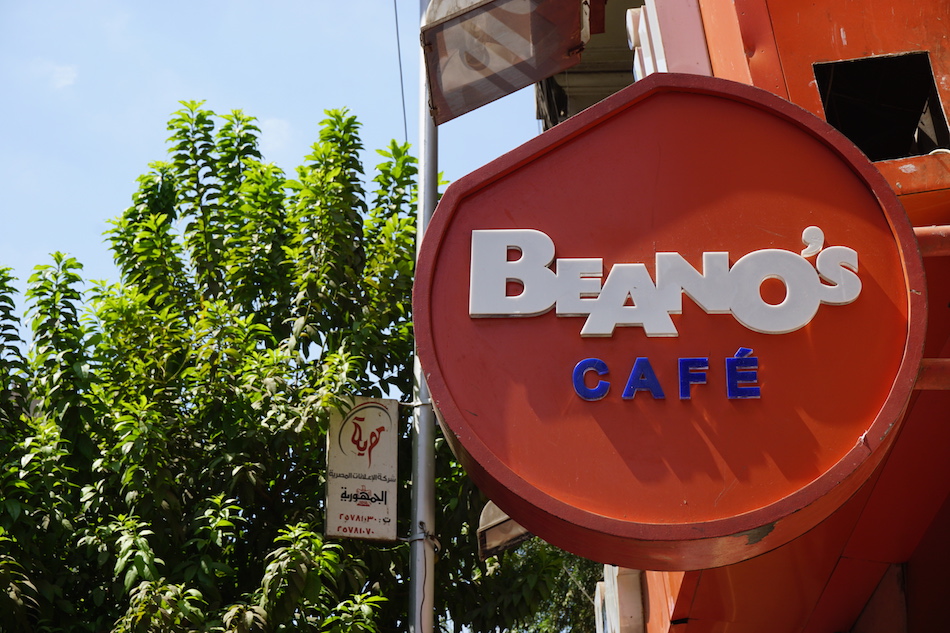 Beano's is a chain cafe with shops located all over Cairo making it simple to get your coffee fix. They offer almond milk as a dairy substitute.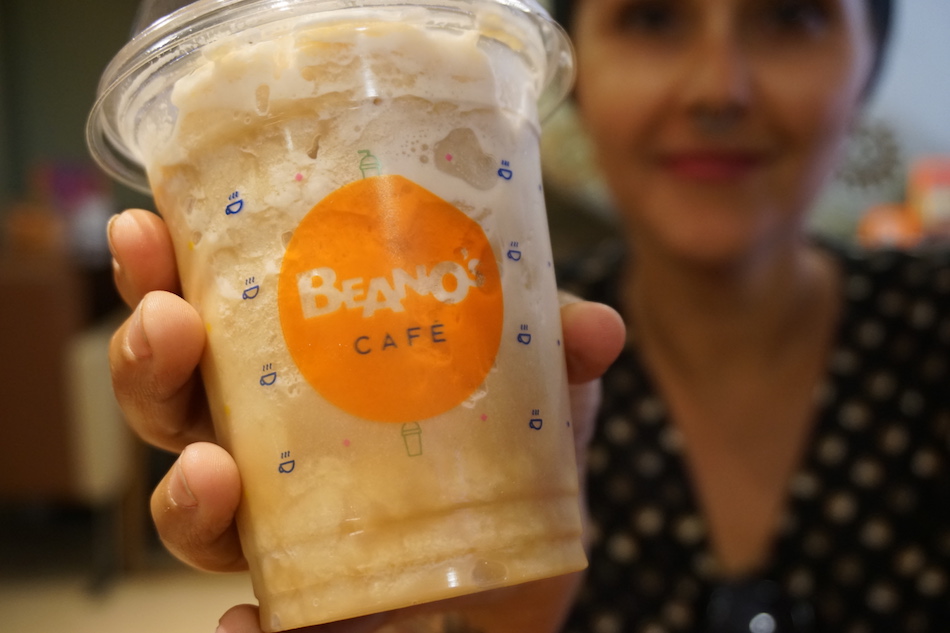 I opted for a frozen blended coffee as it was a scorcher in Cairo that day. You can also order lattes, cappuccinos, and fruit and veggie smoothies with almond milk.
They also have wifi, so pull up a seat, and catch up on some work or email updates while enjoying an almond milk coffee.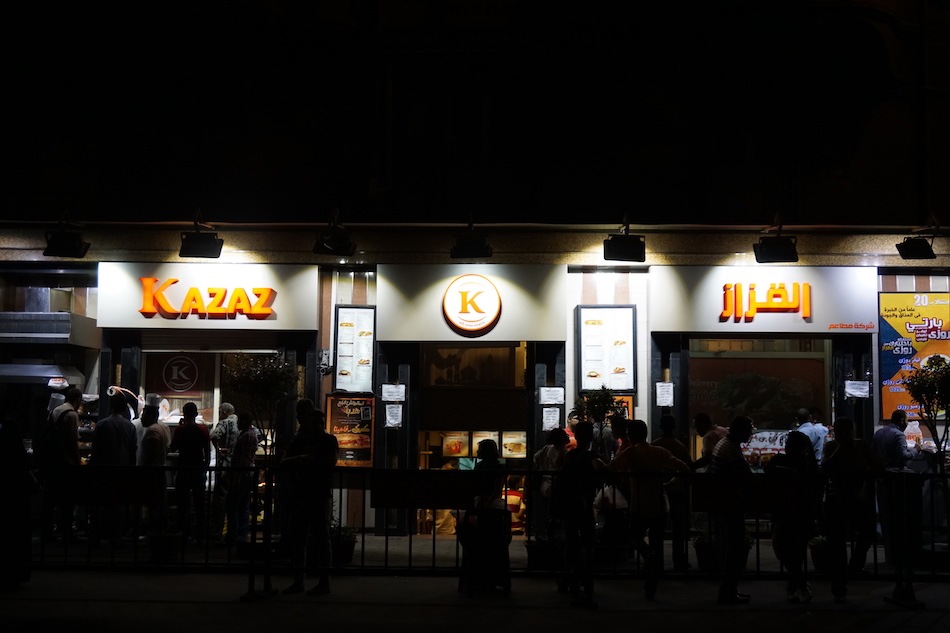 Kazaz was just around the corner from where we were staying in downtown Cairo.
It is a very busy fast food restaurant with a plethora of vegan options at fantastic prices. We were very hungry, and excited to eat; and with that combo, you are bound to order too much food, which we did.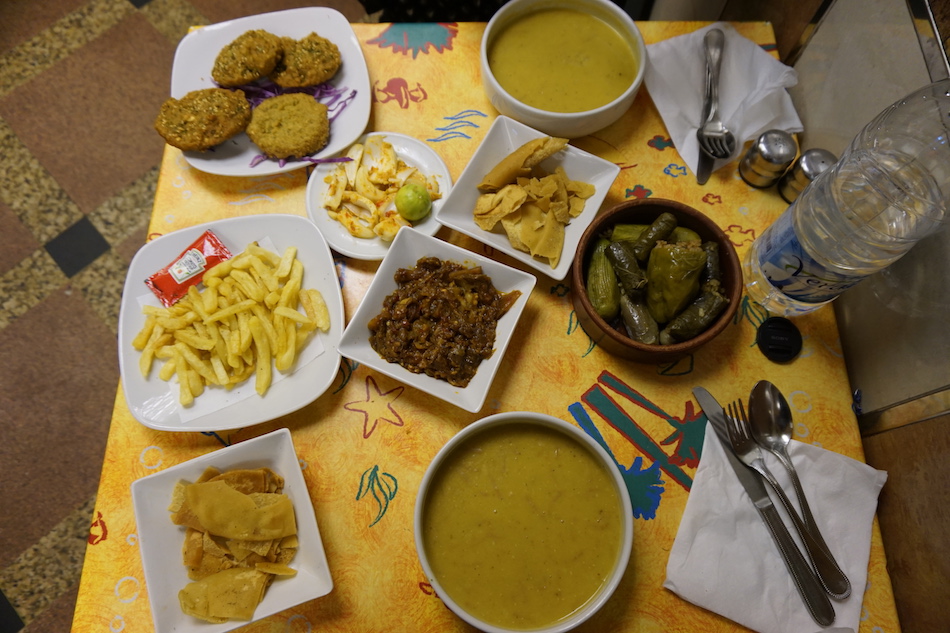 Falafel, eggplant and tomato, dolma, French fries, and one of the best lentil soups we have ever had on our travels. This thick, saffron coloured soup is served with deep fried pieces of pita bread, fresh lime, and marinated raw onions.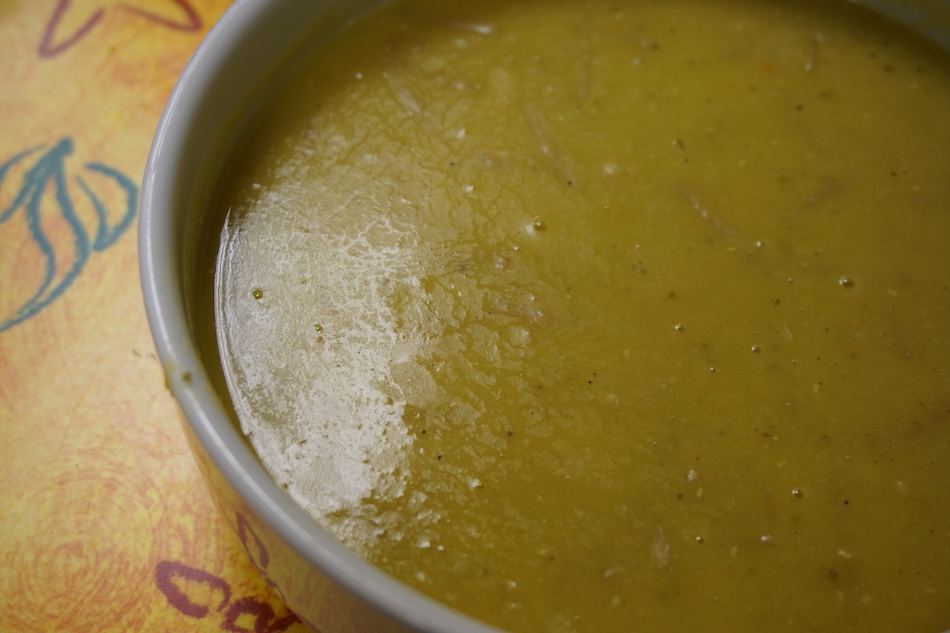 Throw it all in your bowl and feel your tastebuds celebrate. The beauty about the lentil soup on the menu at Kazaz is that you have an option to order it with or without butter.
Nice and easy. We love that. And when I say cheap, I mean CHEAP! Everything pictured was $7.46 Canadian including a tip.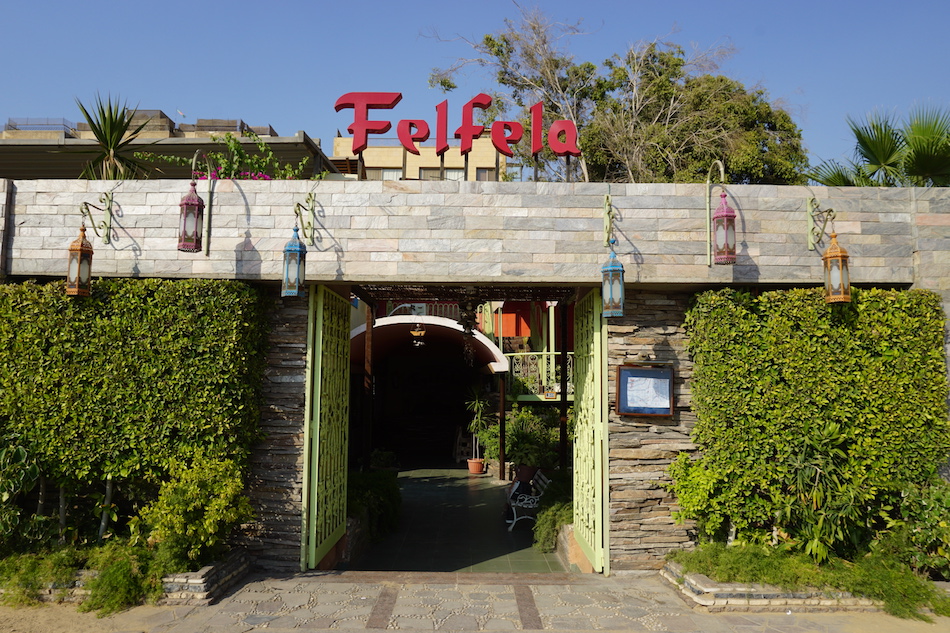 Felfela is similar to Kazaz in price, menu items, and flavour.
They have a location in downtown Cairo, as well as in Giza, about a 15 minute walk from the pyramids. We stayed right in front of the pyramids for 3 nights, and we visited Felfela everyday during our stay.
Their lentil soup is also very delicious, (but not served with onion), they have a delicious fattoush salad, dolma plate, and tahini as well.
Try their lemon mint drink. It's lovely after a hot day at the pyramids.
FRUIT, and JUICE STANDS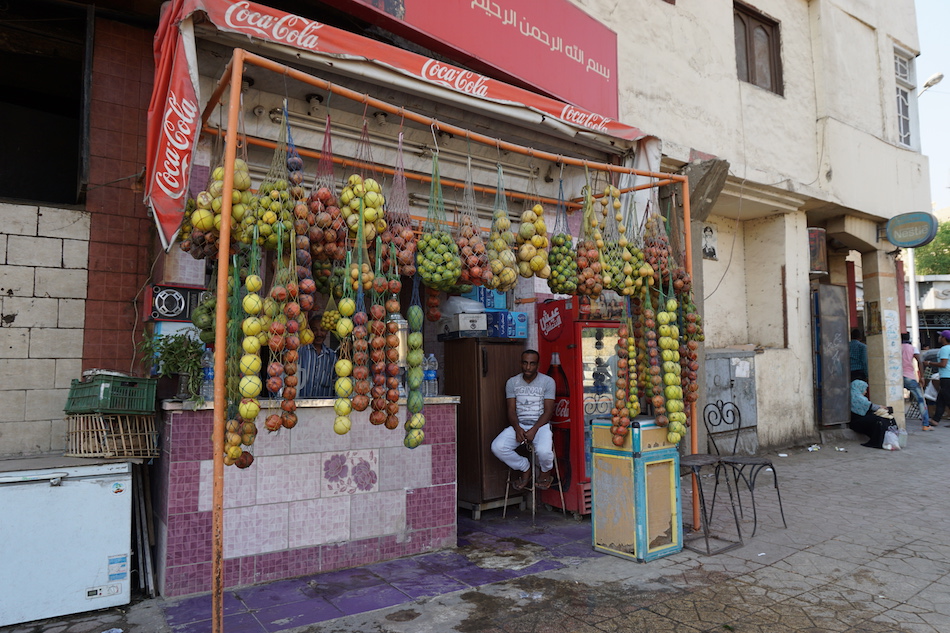 Alternatively, you can find fruit and juice stands all over Cairo which can be very helpful when moving between cities.
I always grab a bag of apples, figs, guava, and a fruit juice for the road when I know we are going to be travelling for a few hours. Fruit is always a wonderful, healthy, and safe choice for snacks on the go.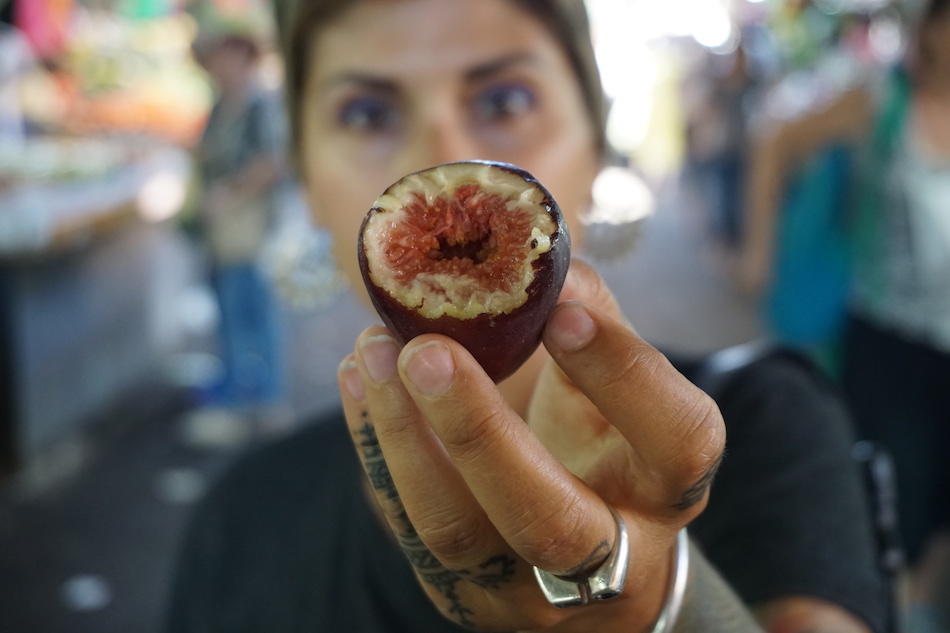 Rinse them a bit with spring water before snacking. If you come across bundles of fresh dates, be sure to try them too!
DRIED FRUITS AND NUTS 
The Middle East is known for their dried fruit and nuts, and Cairo has an abundance of little shops all over the city! Pumpkin seeds, coconut meat, dates, and cashews. Just thinking about the combo makes my mouth water.
Some shops also sell vegetable chips, and Turkish delight which is usually vegan!
BURGER FACTORY 2012, COOK DOOR AND MORE 
With so many options to choose from, there were quite a few restaurants that we didn't have the chance to visit!
Among them are Burger Factory 2012, which people claim to have an incredible vegan burger (ask for no cheese), Cook Door has a fasting menu with vegan kofta, and a vegan sandwich called "Friskies," Maharaja serves up several vegan Indian dishes, Casper and Gambini's offers soups, spring rolls, and quinoa salads, Crave's menu includes marinated veggies and fresh rolls, and the list goes on and on.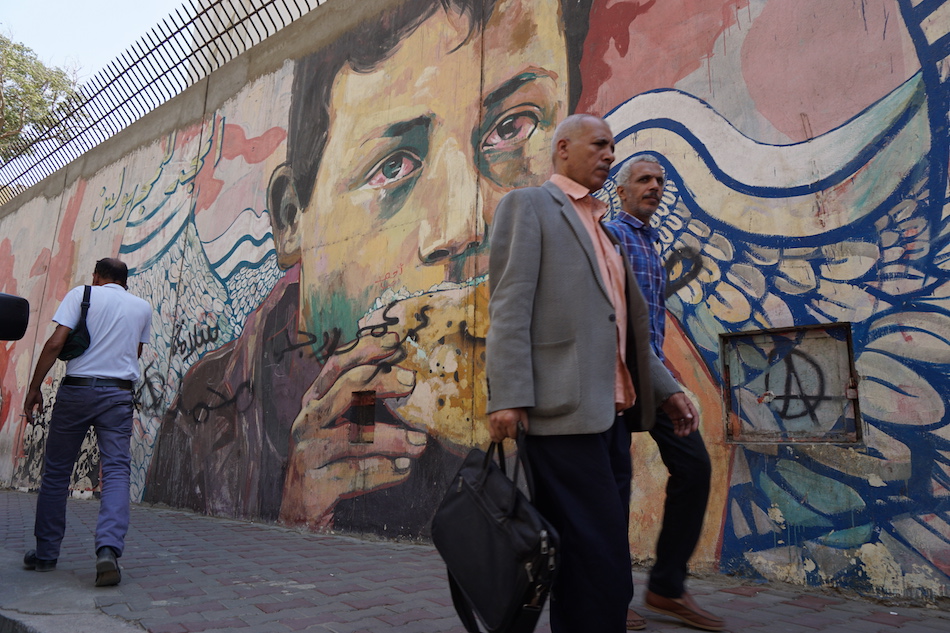 So, are you surprised at how many vegan options there are in this ancient metropolis? There is no reason to be deprived or go hungry while travelling in Cairo, or anywhere in Egypt for that matter.
So get out there, grab yourself an almond milk latte, and explore this forever intriguing megacity on a full and satisfied stomach!
*TIP*
Staying in downtown Cairo is your best bet, as you will find more traditional Egyptian vegan food merely steps away, and you can also take a 10 pound ($1) taxi ride to Zamalek for more international vegan fare. Staying by the pyramids is also highly recommended for a night or 2.