Buongiorno a Tutti
–
Welcome to our 7 day Sardinia Travel Guide (in a van)!
We have just spent a week on the lovely Italian island of Sardinia and wish to share the experience with you!
The whole trip was a bit of an "ex tempore", a spontaneous idea which came about as we;
desperately needed to get some sunshine following an extremely cold and grey winter/spring season in Denmark and
wanted to do a "test travel" together ahead of the big adventure we have planned in the fall/winter.
Why Sardinia?
The destination, Sardinia, was simply chosen as it had the cheapest flight tickets we could find for a sunny place within Europe (we use Google Flights for this). To our great surprise, when looking for accommodation and transportation in Sardinia, Jenny found out that AirBnB has a search filter for camper vans and we were so lucky to find a local host who had a perfect one for us (check it here), thus combining living and driving in one = saving money !
Coincidentally, as some will know from our Instagram, it happens to be a dream of ours to one day live full time in a van exploring the world. Having this dream is all good and jolly, but will we even like living in a van? Doing so means being super close to each other all the time, driving around a lot and living very minimalistic.
Luckily all these things are actually what we wish for, so we welcome the thought rather than fear it.
And now, we had one week to test it all out !
Day 1 – Arrival in Olbia, picking up the van and the first trouble solving:
We took an early morning flight with Norwegian from Copenhagen to Olbia and picked up the van 1.5 hour drive north in a town called Palau. To get to Palau we took two local busses; route 2/10 from the airport to Olbia city centre (tickets can be bought in the airport information) and then switched to bus 601 to Palau.
Pro tip: Buy the tickets from a local kiosk called "Tabacco" in advance ! We forgot to buy them in advance and were lucky that the bus driver would sell them to us on the bus, albeit doing so reluctantly and complaining in Italian with a lot of hand gestures. Stupido turisto !
Picking up the van went somewhat smooth. Our host, Elisabetta, showed us the ropes and everything seemed relatively simple, although she had some issues getting the fridge to turn on, but we were so eager to get going that we believed we could fix it later and just took off – a big mistake we later found out !
After a quick stop in a local discount supermarket called EuroSpin (don't go there if you have the option to go to Carrefour or Conad) to get the van filled with fresh food, we headed off to our first sleep over location. Throughout the trip we used Google Maps to scout our night stay locations which worked really well. We basically just looked for small remote beach areas which looked somewhat accessible by car.
On the way to our first spot, a dead end road near Porto Retondo, we did a pit-stop to test the chemical toilet in the van – what comes in must come out (!). We quickly learned that we had forgotten to ask how to operate the toilet, so when the business was done it would not disappear into the holding tank. Yikes ! A second of panic, a phone call to our host and luckily one easy maneuver and the problem was solved. We just forgot to flip a switch which opens/closes the bottom lock to the sewage tank under the toilet. Phew !
After this minor scare we got to our location and got the van parked with a sweet view of the ocean, a small leisure boat dock and a secluded small pebble beach accessed via a hidden path through bushes and tall grass. Now everything was perfect. Or was it?
As mentioned earlier, we had taken a chance on relying on our own ability of getting the fridge to work. Sadly we had overestimated ourselves and could not get it to work. Not an ideal situation with a lot of fresh food in the van, but luckily we had no meet or dairy products seeing as we only eat plant based foods, so most things were fine out in the open. We texted our host about the issue and she agreed to come meet us the next morning to give us a portable cooler which was a great solution.
With our minds at ease we could doze off and enjoy our first night sleeping in a van.
Day 2 – Morning swim, mountain drive and risotto:
We woke up relatively early and headed down to the "secret" beach for a morning (nude) swim. What a way to start the day !
We made a nice breakfast consisting of turmeric tofu scramble, sauteed mushrooms, fresh fruit and tea. It was important to get a good full stomach, as we had planned to do quite a bit of driving today to get as far south as possible.
After a bit of cleaning up, and getting the new cooler fridge, we set off to reach Villasimius before night fall. We had decided that we, to the extend possible and practical, would drive along the mountain routes and avoid the highway. This meant amazing landscape views, but also tricky, prolonged and tiring driving.
On the way down south we did a pit stop at Porto di Porto San Palao to have lunch consisting of sandwiches with spinach, tomatoes, cucumber and fried tofu patties + juicy peaches for dessert. This was gulped down with a pretty stunning view of some big mountains which peeked up tall and proud in the middle of the ocean.
The next leg of the route took us through the national park Parco Nazionale del Golfo di Orosei e del Gennargentu. The landscape was breathtaking with an ever changing flora, high bridges over deep canyons and zig-zag roads hugging the mountain sides. Up and down it went.
By the time we got all the way to Villasimius we decided to drive a bit further to the southern tip, an area called San Stefano, where we found a decent parking spot at Spiaggia di Porto Giunco. The spot did not have an ideal view, but it made up for it with an amazing nearby "hidden" beach called Cala Porto Giunco which we discovered during our much needed evening walk. Our legs needed a good stretching after that long drive.
For dinner we whipped together a pretty smooth mushroom/lime risotto and then settled into each others arms for some sleep.
Day 3 – Meditation, plastic pollution, Cagliari and emptying the toilet:
Woke up and spent the morning at our little hidden beach doing some meditation, nude swimming and just relaxed to the rippling waves rolling in.
We also took time to do some plastic picking. It really saddens us to see how much plastic pollution there is pretty much everywhere we go. In order to reverse the damage everyone has to pitch in by picking up whatever one may come by. If you reduce, reuse and pick up what is already littered you will have helped a great deal. 🙂
After having lunch in the van we drove towards Cagliari and on the way did a quick pit stop at Cala Regina, a small sideroad to the mountain roads which led to a small rest stop/beach area, we were wanted to take a few pictures of the van with the ocean and mountains in the background.
After arriving in Cagliari, and finding a good central parking spot, we went to a vegan restaurant called Universo Vegano to enjoy lunch. We just made it in time before they closed for their after noon siesta (open till 16 in the afternoon and opens again at 19 for evening service). The waitress was very friendly and accommodating and as soon as she heard we were driving around in a van she offered to make a list of things to do and see for the remainder of our trip driving up the west and north coast.
Pro tip: If anyone approach you to help buy the parking ticket you don't have to accept their help as they do it to sell you other stuff which you most likely don't need. You can just buy the parking ticket at the machines.
Following a great lunch we walked around the original battle ramparts of the city and explored the old streets of what used to be the inner part of the city. To cool ourselves down we had some amazing sorbet ice cream (amongst others the best dark chocolate sorbet ever) and shopped some fresh fruit at a small local store before heading back to the van to drive to Chia.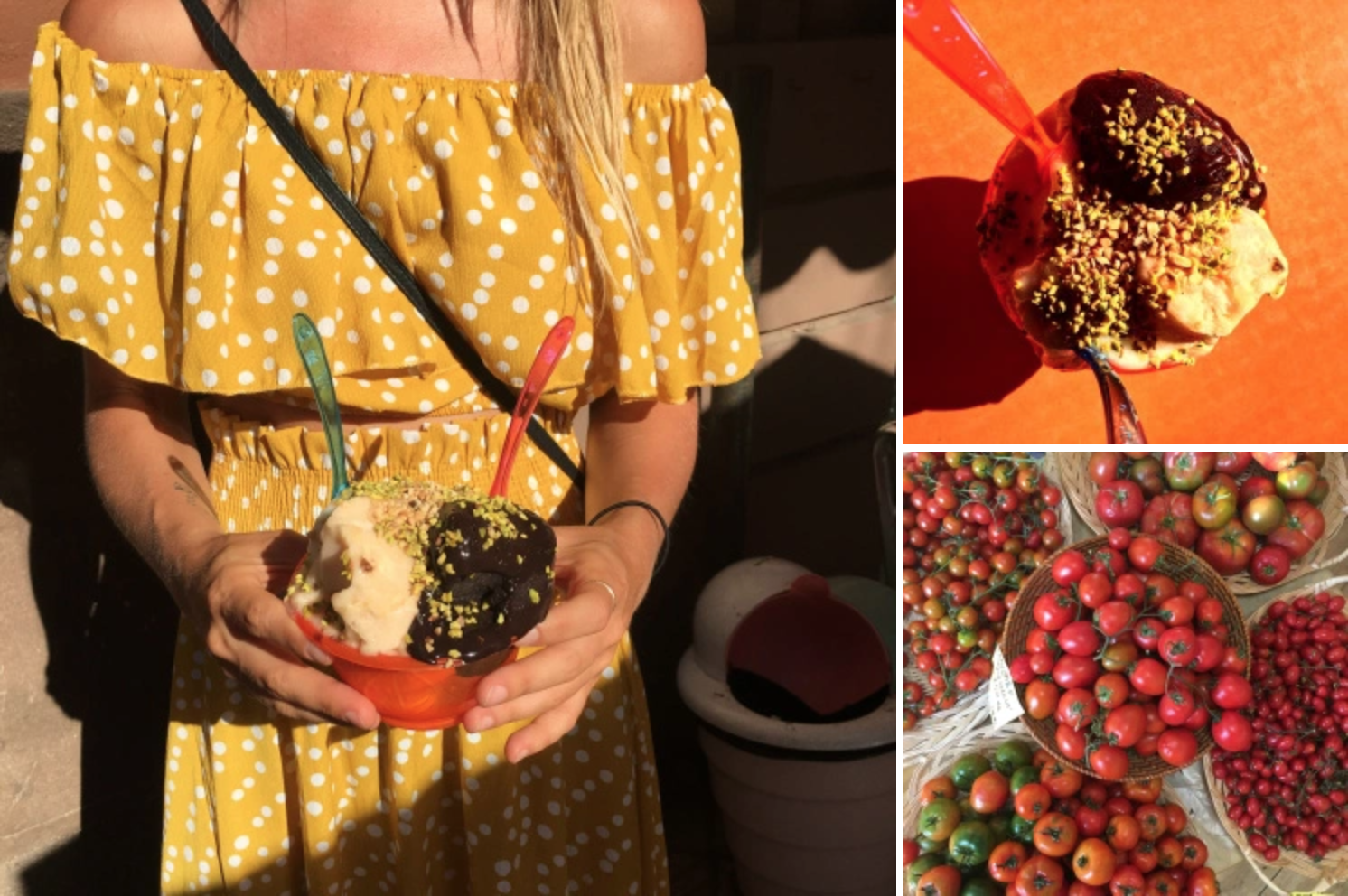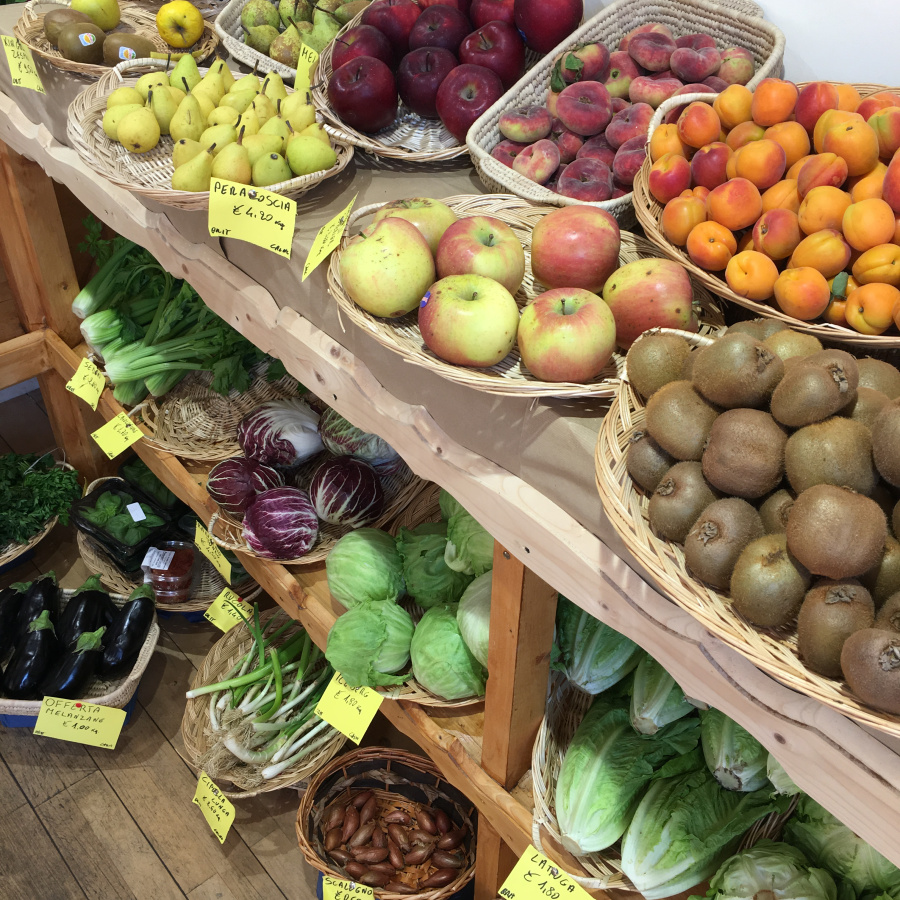 On the way to Chia we did another pit stop, this time at a camping place to empty our chemical toilet which was not for the faint hearted. Having never tried anything like it before we approached the task with some uncertainty of the proper method for doing so. Luckily we bumped in to an older german man who was eager to give us instructions on which facilities to use and which hoses were meant for refilling the fresh water tank and which were used to flush the chemical toilet tank. We were very grateful for his good advice and will not go into detail about the visual aspects of emptying the toilet.
Let's just say that we got to know each other even better after that episode. 🙂
The campsite charged us around EUR 13 for this service which we found pretty reasonable.
Upon arrival in Chia we parked at a secluded beach area called Spiaggia di Cala Cipolla to stay the night. It was a pretty remote place with no one around and we could park alongside a few trees just next to the sandy beach. It was one of the best, if not the best, spots we found during the trip.
Day 4 – Wakey wakey, another hidden beach, flamingos and sandy dunes:
It turned out the following morning, that this super spot was not so super after all.
We woke up to the sound of construction trucks driving around us and people walking and talking just next to the van. A bit nervous about what was going on we decided to just stay still and listed if they would disappear after a while. After about 10-15 minutes it sounded like the trucks drove on and the talking died out. However, just as Kristian opened a curtain to see if everyone left, a construction worker saw it and came over and knocked on the door of the van. He tried to warn us, that we had parked in a forbidden area and if the police saw it they would fine us. Furthermore, he told us that we had parked just where they were supposed to build a kiosk for the tourists when the high-season starts and that we had to leave.
We were a bit unsure if all he was saying was true, so after he left we decided to wait it out and take our time to enjoy breakfast and a swim before leaving. It turned out that it was a good decision as nothing else happened and we actually just saw two other vans arriving and parking next to us to also enjoy the beach. So maybe he was just trying to scare us a bit.
When we were ready to head on we set the GPS for Porto Pinetto where we had spottet a very small beach cove which looked ideal for an afternoon swim, sun soaking and lunch. The dirt road leading down to the cove was pretty dodgy and extremely bumpy. We just took it slow in order not to break the suspension on the van and after parking we walked down to the small cove called Spiaggia di Sa Bua. The rock formations here were pretty incredible with a lot of holes and sharp edges shaped by the tireless beating of the waves. We nestled on a small sand patch in a small sheltered hole where we could be in lee from the wind. Here we could enjoy our water melon without getting sand all over.
After a few hours soaking up some vitamin D, we set out to reach the island Sant'Antioco where we wanted to spend the night at a place called Spiaggia Cala Lunga. On the way we came across vast open shallow water fields filled with flamingos. This was a pretty cool sight as we had never seen flamingos in real life before.
Sadly, when we reached our destination it turned out to not be a very nice spot after all. On Google Maps it looked like a very narrow ocean inlet with a small beach, but it turned out to be a very rocket dirt area with an un-welcoming almost swamp like water.
So we had a quick lunch and then decided to drive on to another area back on the main island called Dune di Piscinas. The drive was and felt really long, especially since we had not planned on or wished to drive very much that day. It took is through very winding mountain roads which in return gave us some amazing scenery.
We found out that the drive down to the spot was actually an incredible long dead end road, which took us through an old mining area where all the original buildings had been long abandoned and taken over completely by mother nature. Some of the mountain sides were excavated for their raw minerals and looked extremely unsafe. Most of the remaining buildings were also just the other walls, partly collapsed and tangled in trees and other growth. After the mining area a long dirt road took us to the beach area turned out to be a long beach with sand dunes reaching far into the land (as its name also suggests). It was a magnificent view to behold.
There were quite a number of caravans and camper vans in the parking area and we found out that the day we arrived was the first day of the season where it was allowed to park overnight in that area. Pretty lucky for us as we had no intention of taking the long drive back to find another location to stay the night. After getting settled we took some time to stretch our legs, take a dip in the water and cook some dinner. Once nightfall approached we took the opportunity to host our own little photo session with the sunset as our close ally. It was pretty darn romantic if you ask us. 🙂
Day 5 – Relaxation, disappointing waterfall and parking next to a family of swallows:
This sandy dunes place felt so magical, and combined with the fact that we had driven
a lot the day before, we decided to take most of the day off for pure relaxation. We started the day off with some gentle yoga on the beach and took a swim in the ocean. After breakfast we just chilled out with our books and some easy tunes.
We stayed put till the late after noon and also took time to speak with some of the other van dwellers around us. We met a really nice German female couple who were touring in their old VW and also spoke with a really sweet Austrian couple who were travelling with their dog.
When it was time to leave we drove to a water fall, which had been recommended to us by the waitress in Cagliari, called Cascata di Capo Nieddu. It proved to be really difficult to reach it as we were just met by two closed entrances when we reached the destination on the GPS, one a private gate and the other for a camping resort. We would have had to jump one of the gates if we wanted to proceed and we probably would have if it had not been for the security cameras and a dog barking viciously behind the gate.
Instead we looked for another way down to the cliff wall where the 44 m drop water fall would supposedly be. We found a small adjacent dirt road, which would also lead us to the water fall, to park the van by and entered it by foot. It took us through several crop fields and densely grown bushes, but in the end we made it to the cliff wall.
To our great disappointment though, the water fall was not the right one, but a much smaller one with barely any water in it due to the time of the year (it is seasonal when there is sufficient water flow, due to the snow melt and rainfall in the fall and winter months). We guess this goes to show that things do not always turn out perfectly and sometimes you spend a lot of energy on something which gives you no reward.
After this slightly disappointing trek we drove a bit back down south to a really cute little town called Santa Caterina di Pittinuri where we parked the van just in front of an old watch tower ruin inhabited by a large group of swallows who were quite vocal and active catching insects. The area was really idyllic with large cliff walls and a surface which consisted of a clay-like white stone texture which people had carved all kinds of messages, symbols and pictures into. The cliff had a slow decent towards the edge where it dropped vertical into the ocean. It was quite spectacular to walk around on and look out over the edge. A bit nerve wrecking if you ask Kristian.
Day 6 – More yoga, Neptunes Grotto, Sassari and thunder and lightning:
Waking up we went down on the cliff face and did morning yoga with the rising sun. After a good breakfast of soy yoghurt with müesli, fresh strawberries and banana we had a long drive ahead of us up a cave called Grotto di Nettuno. One which you can only access by either a ferry or climbing down 654 steps. We of course opted for the stairs !
Upon arrival at the stairs it started pouring down with rain. The first rain since we arrived in Sardinia. We took this as an opportunity to park the van and wait out the rain with a good lunch and a cup of tea. We had the sliding door open for most of the time and had many curious eyes look at us as were were dining right there in the middle of all the tourists. One of the advantages of driving in a van. 🙂
Once the rain cleared up we started the slow decent. The view down from the mountain top to the ocean was astonishing and worth every step of the climb (which was actually not that hard if you are in somewhat of a decent shape).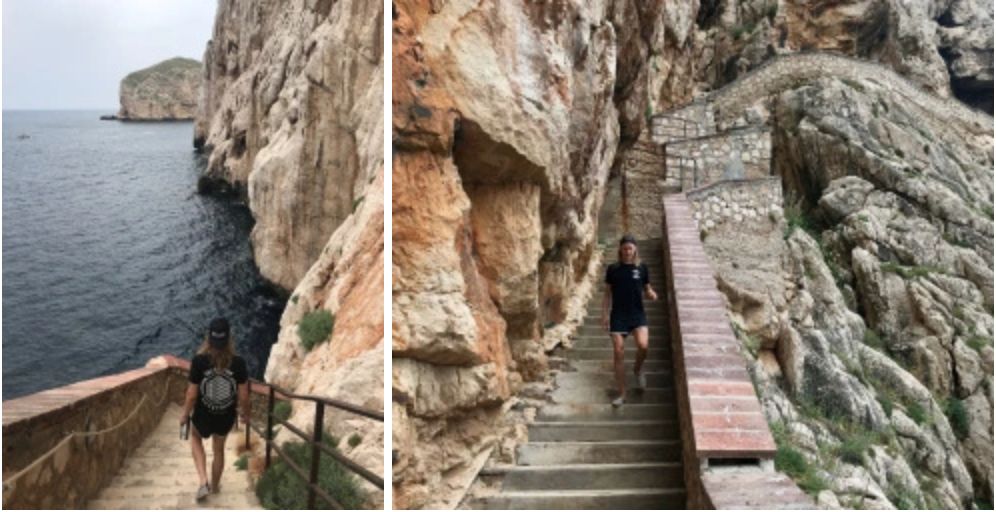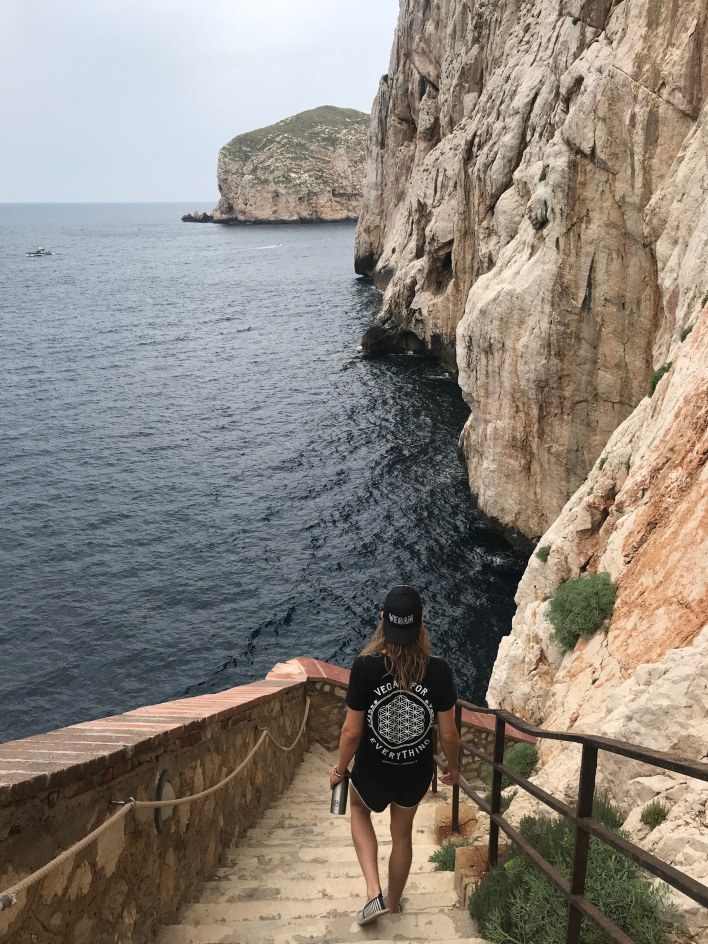 We did not do the actual cave tour as it cost EUR 13 per person and there were just too many tourists to our liking. We are sure it would have be a pretty sight though, but we find it difficult to truly enjoy the sights when you are surrounded by a big crowd who are pushing and showing to get the best views. So instead we took the walk up again.
When we got back up we drove to a cozy old town called Sassari as we wanted to eat out and get a local pizza at least once on our trip. We arrived in Sassari around 6 pm which is not advisable as arriving so late made finding a parking spot really difficult.
After a lot of driving back and forth on the small streets, in what seemed like an endless loop, we were lucky to find a spot adjacent to the main street. As a way for the universe to make amends for our long search for a parking spot we were pleased to find out that parking was free on Sundays. Lucky us.
Seeing as most restaurants don't open till 19-20 we walked around the town and enjoyed the local vibe. There was some kind of musical parade and a large flower market which was so lovely. To our surprise the town also seemed to host very few tourists. Perfect in our view, as we'd rather be amongst the locals.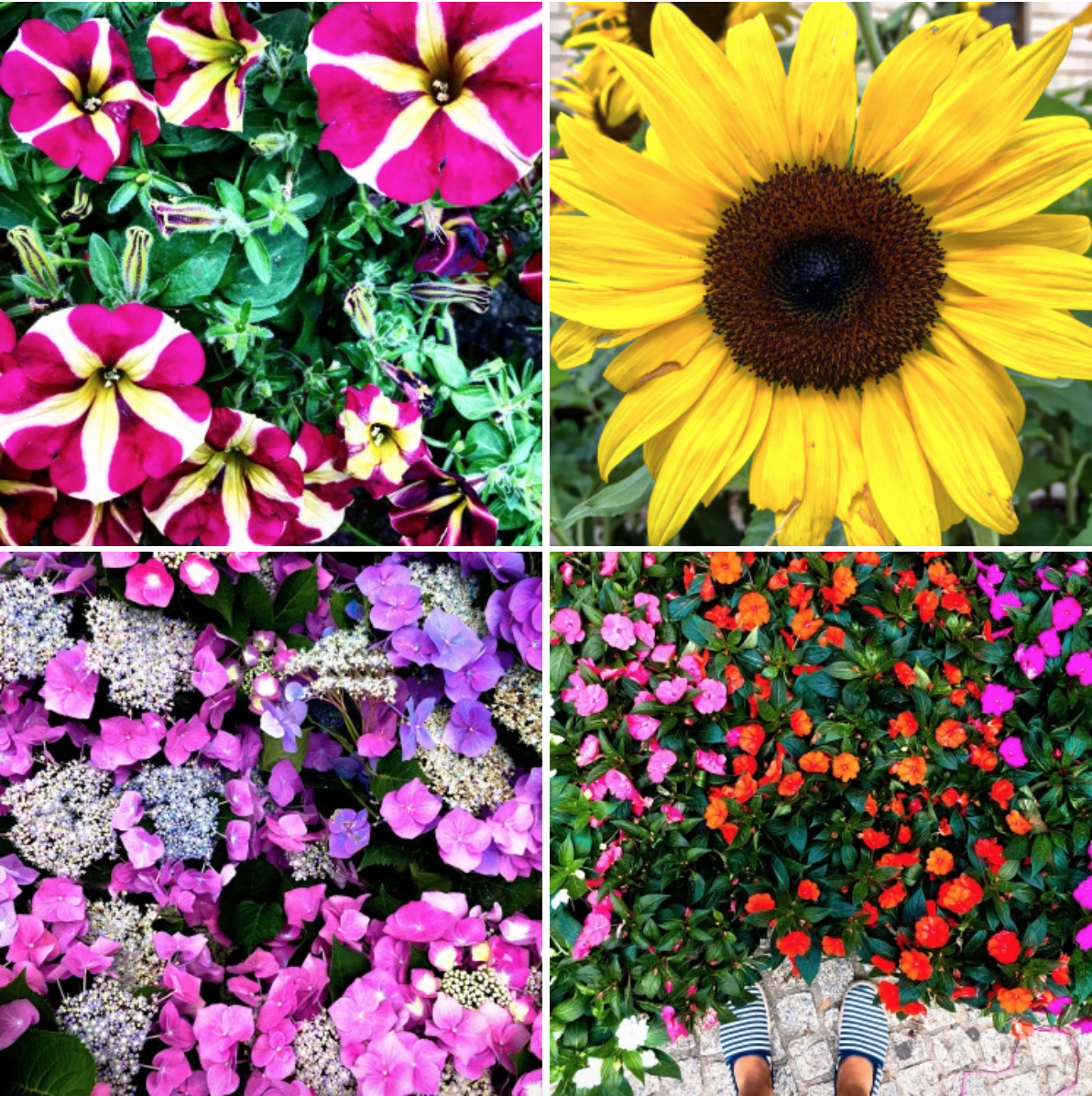 After a quick sit down at a small wine bar we went to a place called Gallura Braceria Pizzeria where we, despite not having any on the menu, got two amazing vegan pizzas. Italy has so much fresh produce that it is never a problem to ask the waiter/waitress for plant based versions of their many dishes. We were always met with smiles and "no problemo, we make it special for you".
After the pizzas we found a small gelatteria where we got 3 scoops of sorbet to end the feast.
While we had been gorging on food, the heavens had decided to open up again with heavy rain showers, thunder and lightening. So we made a quick return to the van and set out to find a place to spend the night.
Seeing as it was already late we chose to drive to a nearby beach spot only 25 minutes away. The 25 minutes did not hold up though, as we got re-directed by a police road block. We never found out what had happened, but it extended our drive significantly.
We nevertheless found our parking spot which was just next to a nice beach and water front. Here we fell asleep to the thunder, lightening and sweet sound of waves rolling onto the beach.
Day 7 – Packing up to return the van, Olbia and Hotel Panorama:
There is something special about waking up after a heavy rain fall. The air feels fresher and the smells are nicer. This is what we woke up to the last day in our van.
We had a pretty tight schedule, so wasting no time we had breakfast and packed up everything in the van so it was clean and ready to give back to the owner. It was a bit emotional doing so, as we had really grown fond of the van and really wished we could extend the rental by another week (or month).
On the way back to Palau, where we were dropping off the van, we stopped at another camping site to check if we could empty the chemical toilet one last time. This place was a bit fancier than the first place we had visited which also reflected in the price they wanted to charge us. A full EUR 38 the same service we had just paid EUR 13 for two days before. So this is just a general heads up to not overpay for emptying your toilet and refilling the fresh water tank. Most places will agree to a rate between EUR 13-18 which we also achieved by driving to the next camping site on the stretch to Palau.
We dropped the van off around noon and then took a local bus back down to Olbia where we had booked a hotel to stay at for the last night. We wanted to treat ourselves a bit after living in the van for a week and had chosen a standard room at Hotel Panorama which is situated very conveniently in the center of the city and just 10 minutes from the airport.
When we arrival at the hotel we were extremely surprised and humbled by receiving a complementary upgrade to their panoramic suite. The receptionist was so sweet and ushered us to the room for a private introduction to all the amenities and showed us their amazing roof top terrasse which was free to use.
We both jumped right into the shower to get a proper scrub down and then headed out to a local restaurant for our last dinner in Sardinia (for this time).
With full bellies we could jump under the bed sheets and, through the floor to ceiling windows, take in the wonderful scenery in front of us of the vast mountain ranges and the setting sun displaying an array of colours in the night sky. What a way to fall asleep.
Day 8 – Breakfast on the roof top terrasse, incredible hospitality and ciao Sardinia:
How does breakfast in Sardinia sound? What about breakfast on a roof top terrasse overlooking Olbia, the Mediterranean Ocean and mountain ranges? What about plan-based pastry? To us it sounds pretty darn good. And that is exactly how our breakfast on our last morning was like.
We were really taken aback when we went to the restaurant in the morning, as we found a pamphlet with a plant-based selection of pastries which we could request the kitchen staff to prepare for us. We have never seen this before and think it is a great service to offer as an alternative to the conventional pastries. So we ordered two croissants with orange jam and otherwise stacked up plates with various fresh fruits, granola, jams and more. We had brought our own oat milk (they did not offer this yet, but perhaps some day if enough people request it).
We enjoyed it all on the roof terrasse whilst soaking in the last sun before we had to head out to the air port.
By the time we checked out we were under a bit of pressure to get to the air port in time. We had ended up sitting on the terrasse for a bit too long. Oops.
This was not helped by the fact that the reception could not book a taxi for us, as all nearby taxis were occupied. What to do now? We thought about the local bus, but even this did not depart in time to get us to the airport. Good ideas were hard to come by.
To our great luck, the amazing hotel staff managed to save us. One of the managers graciously offered to drive us to the airport himself. How lucky are we to have been at a hotel with such a great level of kindness and service?
We quickly accepted the kind offer and 2 minutes later sat in his car on the way to the airport and made our flight with a few minutes to spare.
All in all, Sardinia really lived up to and exceeded our expectations. We loved the island, the people and the van. Hopefully we will be able to revisit some day with our own van and see the things we did missed this time around.
We also made a short video from the trip, which you can watch here:
– oOo –
We hope you enjoyed the read and found it inspirational.
If you have any questions or feedback then please feel free to drop us a message. We would love to hear from you!
Cheers, Jen & Kris
Follow us on:
Instagram: www.instagram.com/nomadnorthlings
Facebook: www.facebook.com/nomadnorthlings
Youtube: Nomad Northlings
Blog: www.nomadnorthlings.com