Bonjour! 
I am so delighted to start my very first blog on VeganTravel, and I thank all of you for being interested and taking the time to read my blog! Most of the time, the purpose of my travel is music-related; it is either for a piano performance or to participate in music camps during the summer break. In December 2016, I made a short visit to Paris for two small concerts at a senior home, and after my performances, I devoted all my remaining days to exploring vegan restaurants.
Of course, French cuisine is known for its meat and fromage, and people assume that Paris is not the most ideal place to visit as a vegan. However, I noticed that the time has changed the awareness and the minds of people, and I was able to find several nice vegan restaurants and cafés all over the city! I was delighted to see that the number of vegan eateries has increased since the last couple of years.
Here, I've written the name of the location (in black) beside the name of the restaurant (in green) for convenience.
Le Tricycle — Rochechouart (51 Rue de Paradis)

As a hotdog lover,  I couldn't help but stop by Le Tricycle. I knew I wanted to get a hotdog here, but I read so many good reviews on the veggie bowls, so I decided to get both. I ordered a Bol Veggie du Jour and Dogtor Dre.
Since this place is more for a take-out, only a few people were actually eating there (and therefore, the price was very reasonable). For me, it was just perfect because I got to enjoy the tranquility all to myself!
Hank Burgers and Hank Pizza — Le Marais (55 Rue des Archives ; 18 Rue des Gravilliers)
Hank Pizza just opened recently after the success of Hank Burgers!  (I did not have a chance to try the burgers this time). The two places are actually not in the same location, but not too far away from each other, either. With extremely friendly staff on site, the taste gets better. Each slice of pizza is 4 euros.
 
La Verrière — The Eiffel Tower (24 Avenue de Tourville)
I am a big fan of buffets, where you can taste small bits of multiple things, instead of having one huge plate. If you are like me, you will love La Verrière. I went here for lunch after a nice walk around Champ de Mars, and enjoyed a variety of cold dishes (hot dishes are vegetarian).  Just be careful not to overfill your plate because the pay is by weight!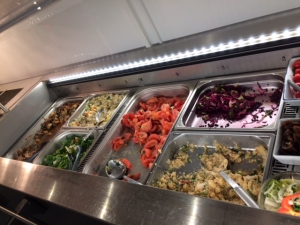 Sol Semilla — Gare de l'Est (23 Rue des Vinaigriers)
If you're into raw vegan food, Sol Semilla is just for you. Situated near Gare de l'Est, this rustic-like place will make your travels more convenient and pleasurable. I was offered a sample of their nuts and tea (quite strong), while the chef was preparing my order. This dish – full of fresh fruits and vegetables – could have been for two people (but I had no difficulty finishing it by myself)!
You just have one of those days where you are craving something exotic… like Indian cuisine! After picking up my friend at the train station, we found a vegetarian restaurant near there. As always, I got myself a thali. Usually, there would be three choices and a naan with rice (at least in Canada), but I had never seen eight bowls! It was simply the best. My friend got a customized dish, with mushrooms. Although both of these were vegan, a few things on the menu contained dairy products, so double check the ingredients with the manager.
Végébowl Paris

— 2e arrondissement (3 Rue de la Boule Rouge)
Végébowl Paris was one of the first vegan restaurants to open in Paris that serves Chinese cuisine. The quantity is relatively small, so if you're VERY hungry, maybe you should look for a different place. The quality though, was impeccable. I have not regretted it.
Cloud Cakes

— Musée du Louvre (6 Rue Mandar)
Finding vegan desserts is always tricky, but not in Paris. Cloud Cakes proudly features many delicious cakes and cupcakes on display, and I picked La forêt-noire. The first bite took me to heaven…! They also had some lunch that looked really yummy, but as I had already eaten, I only had room for dessert. The café can be a bit noisy due to the large crowd and cramped space, so if you're imagining a quiet place with a book or two to read, you might prefer to take out the dessert.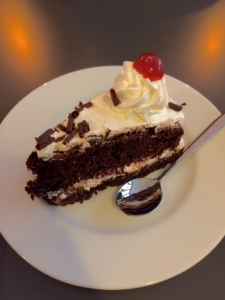 Epilogue
The food exploring was sure fun, but out of all, the most unforgettable moment was stumbling upon the shelter dogs and cats in public. While I was waiting for the metro one day, I saw an interesting poster inside the station that said: Ce que je veux pour Noël? Une famille! — What I want for Christmas? A family!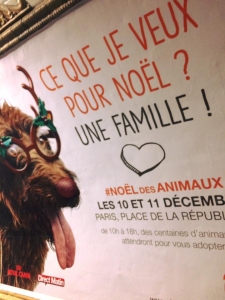 For two days in December, le SPA was holding an adoption day for all the Parisiens who were interested in taking a dog or cat to be part of their forever family. I was so surprised as this was not part of my plan, but with no hesitation, I went to see and say hi to the furry friends.
When I entered, there was a mass of people staring into the eyes of the terrified animals. Although it seemed quite stressful for them, another part of me was relieved to see numerous empty cages.
This five day trip to Paris was full of joy and emotions, and I cannot wait until the day I return. When that day comes, I have no doubt that there will be more vegan restaurants than now.