Waking up with the sound of hundreds of farm animals coming from all around the island.
This is what happens in Panglao, Philippines.
And this is how I would like to start my Vegan travel diary about this new adventure.
Sitting on my balcony overlooking the sea, with my laptop and the sun rising just next to me.
Could I ask for a better office view?
Landed in Manila, we have spent only a night there waiting for the early morning flight that would have taken us to Tagbilaran City, in Bohol. And one night has been enough to have a rough idea of the craziness of that city. Traffic is actually a typical aspect of Asian countries, so we were not surprised about getting stuck together with another 15 people on a Jeepney, trying to go to the closest shopping centre to find some food. Price: only 8 PHP for a 15 min drive.
Long story short: at the SM City Mall we have found a huge supermarket. Vegan options are not super great but you can definitely find plant based milk, fruit, veggies, canned beans, tofu, pasta and rice…enough to survive!
Sad note: most of fruit and veggies are sold individually and wrapped into plastic. So we have done our best to only choose the ones sold in bulks to reduce plastic as much as possible.
Environmental reminder: take with you your own bag when you go grocery shopping.
Where we stayed: Alicia Apartment, Barangay. Nice and very clean, close to the airport and ideal for an overnight stay waiting for the next flight. Airport pick up is free, they only charge 300 PHP for the drop off at Terminal 3. They offer breakfast but no vegan options so we ended up having a tea and some cookies purchased at the supermarket (yes, they have OREOS!). Can be found on Booking.com.
————
Arriving in Tagbilaran, what an adventure! From the airport we decide to try a tricycle to get to our apartment located on Panglao island. After bargaining the price (it's a must when it comes to tricycles) the journey on this funny hopped-up jalopy gets real! In about 20 min we get to our destination, despite the very rough road that leads there from the main highway (we almost flipped LOL). Mario, the host, is waiting for us, waving and smiling. Our apartment is ready and we can't wait to have a well deserved rest before going hunting for vegan food!
Having an apartment is ideal in countries where food options are very limited. It allows you to cook your own meals for the following days and avoid starvation (yes, it could happen very easily believe me). We have also taken with us the necessary equipment to make sure our meals will be plastic free everywhere. And renting a motorcycle is the best and cheapest way to go around, independently. Cost is about 500 PHP per day.
The closest supermarket is inside the Island City Mall, where we have surprisingly also found a couple of restaurants serving vegan options. Supermarkets in the Philippines are huge and very disorganized. It's really hard to find the aisle you need as most of the same items are placed in different spots..very confusing. Fruit and veggies are quite expensive, as many of them are imported, so I suggest to buy local items if you are on a budget holiday. And buying a big tank of purified water would be another great idea,so you can refill your own drinking bottle avoiding plastic.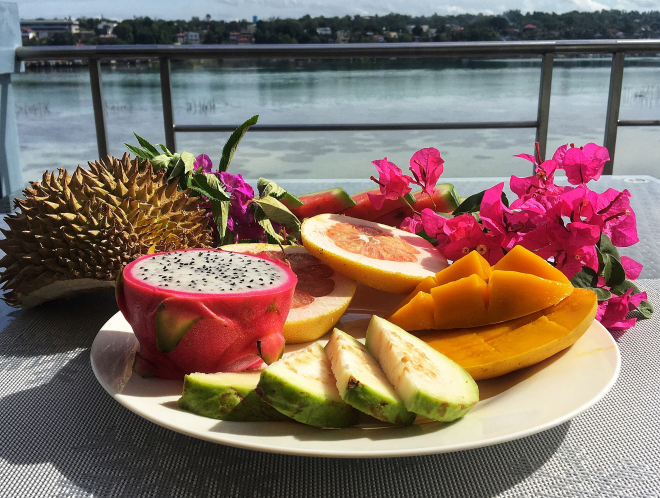 Places to visit:
Mag-Aso falls:  about 40 min from our apartment. Early morning weekday visit is recommended to avoid crowds. The place is magical and water is literally turquoise. Ideal to spend the morning for a refreshing shower and get reconnected with Mother Nature. Entry is 40 PHP per person + 15 PHP if you drive there by motorcycle.
Tarsier Conservation Sanctuary: about 30 min from our apartment. This wonderful place helps the conservation of this little and fragile cute creature, by giving them a protected environment. All the volunteers inside are extremely caring and respectful. Tarsiers are listed as one of the threatened species in the Philippines, mainly due to habitat destruction and hunting to display in tourist sites. Entry is 60 PHP per person.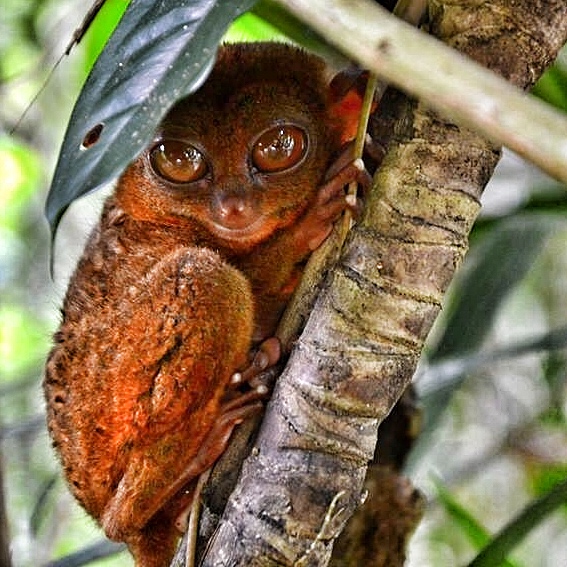 Alona Beach: on the opposite side of the island, it takes about 25 min to get there and there are few different spots on the way if you prefer a less crowded beach (White Beach is an example). On Alona Beach you can find shops, restaurants and Diving companies. We have joined a small group going snorkelling on Balicasag Island and visiting Virgin Island. On the way there you can spot wild dolphins swimming really close to boats , so magical! Once in Balicasag you're asked to choose between snorkelling in the fish/coral reef area or swimming in the ocean to spot wild sea turtles. Fortunately we have chosen the second option: far from the crowd (mostly groups of Asians unable to swim) and what a wonderful experience! Next stop was Virgin Island, for a quick swim and and a great vegan snack: fried caramelised bananas made on the spot for only 30 PHP!!
Total cost for the trip: 500 PHP + 250PHP (Turtle swimming fee). Do not pay more than that for a group tour and try to ask to be part of a small one (10 people).
Chocolate Hills/Loboc/Pangas Falls : there are different ways to visit these spots but as you know we love to be totally independent so we have driven around with our motorbike! It's a bit of a trip so be prepared to spend the whole day out. We have chosen the road going through Loboc, to be able to visit the Bamboo Hanging Bridge (35 PHP entry). Fortunately on the way to the Chocolate Hills we have randomly spotted a sign saying "Waterfalls this way" , and decided to follow the little rough road for about 3km, ending up to probably the best spot I could have ever imagined. Pangas Falls are a little hidden paradise you don't want to miss! Entry fee is only 10 PHP.
Another 20 min drive will take you to the Chocolate Hills Lookout (entry fee 50 PHP). You will have to climb up some very steep stairs to the top but the 360 degrees  view is very nice. But, be prepared to find few tourists there.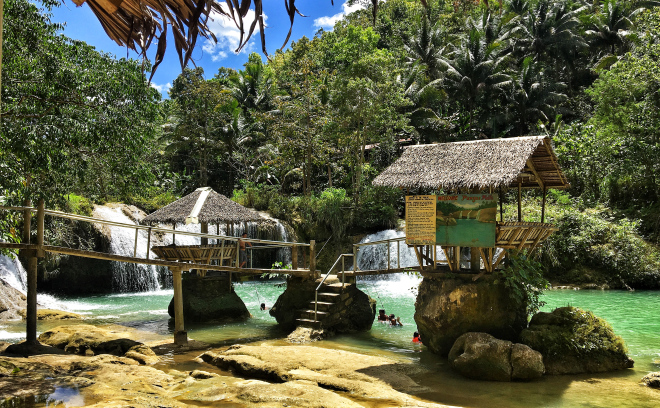 Where we stayed: La Vela apartments, Dauis. Modern apartment with aircon and water view. They help organising motorcycle rent and transfers to the airport or seaport. Can be found on AirBnb.
Vegan eats and options:
Frankies (inside Island Citi Mall) offers vegan burger, falafel wrap, salads, burrito. Ask for the vegetarian menu. In the Philippines Vegetarian equals Vegan.
The Buzzz Café (inside Island City Mall) offers Vegan ice cream. Only two flavours available but very delicious. They advertise it on the ice cream display window.
Shaka (Alona Beach) is a 99% vegan café' (the 1% is due to cow milk they use for their cappuccino – still haven't really understood why) offering breakfast bowls, mains , burgers and drinks. A bit more expensive than expected, probably also due to the very touristic location, but food is delicious.
Luna Rossa Vegetarian (Alona Beach) is an Italian owned restaurant offering vegetarian and vegan version of the most popular Italian dishes. The owner is from Rome and super happy to help with recommendations on the best sellers. Most of the menu can be easily veganised. Open only for dinner.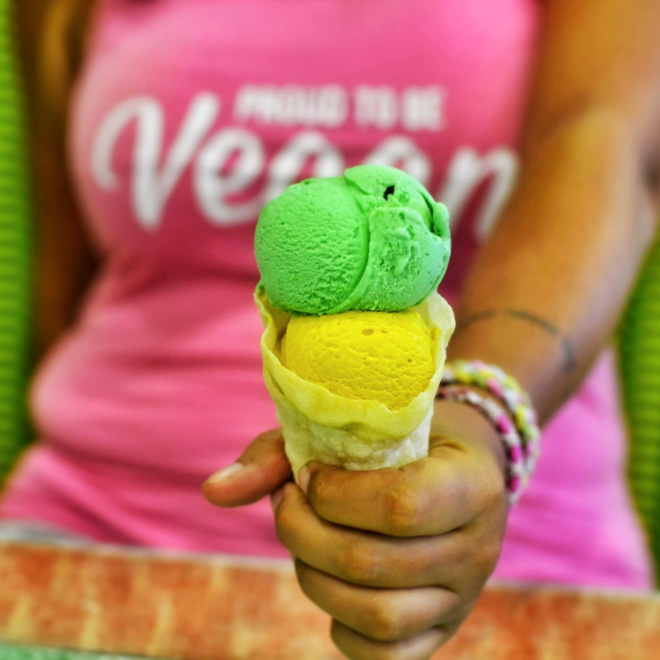 Plastic-free meals equipment: ToGo Ware bamboo cutlery – Bamboo straws – Drinking bottles (can be filled up at refill stations for few Php) – Fabric reusable shopping bag
Full Video Travel Diary — >