Metro Manila is composed of several cities including the capital city of Manila, Quezon City, Makati, San Juan, Pasig, and others.
On Happy Cow, there are 52 vegan and vegetarian-friendly restaurants in Metro Manila. While there are many I have yet to explore, I'll go over my top vegan eats. (For my favorites just in the city of Makati, scroll on over to this post)
Tips for getting around Metro Manila:
Taxi: Taxis are plentiful and cheap, just be sure to agree upon a price before getting in, or insist on the meter.
Grab: Like Uber, Grab car is another popular option. You can download the app on your phone if you get a local sim card. You can also sometimes find Grab car kiosks.
Bus or jeepneys: While a much cheaper option, local transportation may be a bit harder to navigate. Ask nearby security guards for directions on which bus or jeepney you need to hop on, and then ask the driver to let you know when to hop off.
MRT/LRT trains: Getting around by train is another cheaper (and sometimes faster) option. Just ask an employee there for help.
*Traffic in Metro Manila is to be expected on most days, so plan early.
Now, onto the food!
Here are some of the vegan eats I really enjoyed and would go back for:
Greens Vegetarian Restaurant
Location: Brgy. 1103, 92 Sct. Castor St, Diliman, Quezon City, Metro Manila
The restaurant is located in a cute, modified house with lots of seating. Their menu includes vegan Filipino and Western dishes, as well as some vegan desserts.
*tip: Located nearby in the area is another location of the Wabi-sabi vegetarian restaurant that serves vegan Japanese dishes.
Of the food we ordered, this is what I would definitely go back for:
Vegan "Fish" Relleno
It was great to find a veganized version of a Filipino favorite. The "fish" relleno is made from bean curd skin, seitan, raisins and minced veggies wrapped in seaweed and Japanese bread crumbs. So good! $3 US.
Vegan Filipino BBQ
I've tried a lot of veganized Filipino BBQ, and Greens makes one of my top favorites. If you haven't tried Filipino BBQ before, it's more on the sweeter side. This vegan version is made with seitan.
        
Veggiezen
Location: Jose Abad Santos, Little Baguio, San Juan, 1500 Metro Manila
Located near the Greenhills shopping district, Veggiezen is a mostly-vegan restaurant that has Chinese, Japanese and Filipino dishes.
Quekiam
Quekiam is a Filipino dish with Chinese influence, and is wrapped in bean curd skin. So delicious and only $3 US.
Mushroom Terriyaki
A popular favorite at Veggiezen and super tasty and filling. Will get it again! $3 US.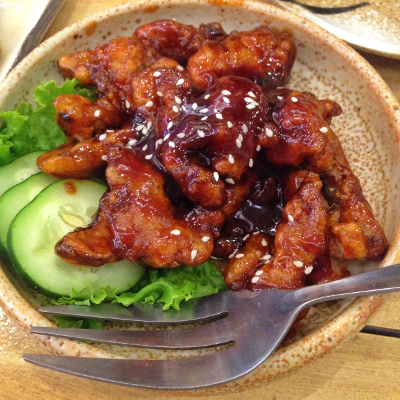 Dumplings
Veggie-filled dumplings! So yummy.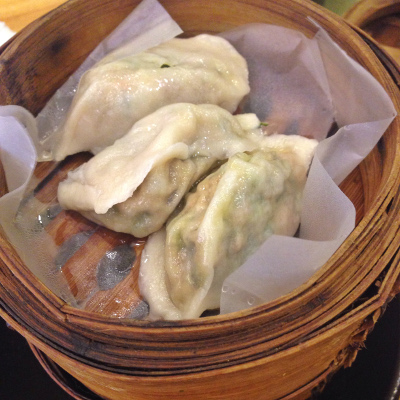 *tip: The fried rice was recommended by friends, so will get it next visit
*another tip: Veggiezen also sells the popular Superscoops vegan ice cream in pints and half-gallons to go!
*pro-tip: Just a few minutes walk away is Lucy In The Sky Vegetarian Cafe, another popular spot for vegan options!
Greens Spot Cafe
Location: 2/F Food Square Bldg, # St., Teachers Village, 51 Magiting, Quezon City, 1101 Metro Manila
Greens Spot is an all-vegan spot and can be found among the eateries next to the University of Philippines, Dilliman. Greens Spot has several vegan versions of Filipino favorites, as well as western dishes and juices (Their ginger lemongrass juice was really good!) Here's the menu: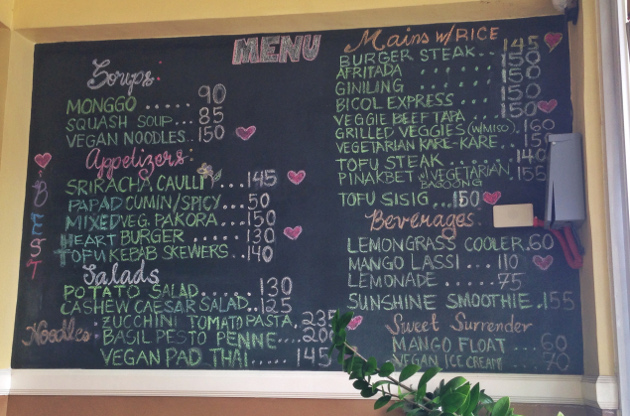 Vegan Tapa
Made from seitan, the tapa is marinated in soy sauce, sugar, pepper, and calamansi lime.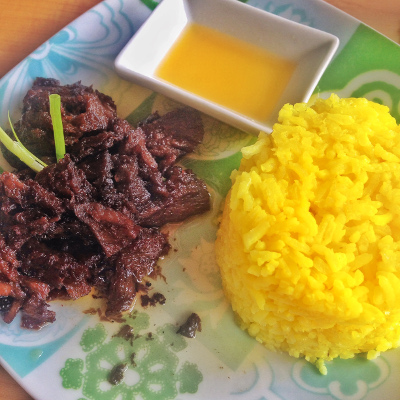 Vegan Pinakbet
Pinakbet is a Filipino dish with lots of local vegetables including squash, long beans, eggplant and bitter melon. This vegan version is all veggies with vegan shrimp paste (salted beans) on the side.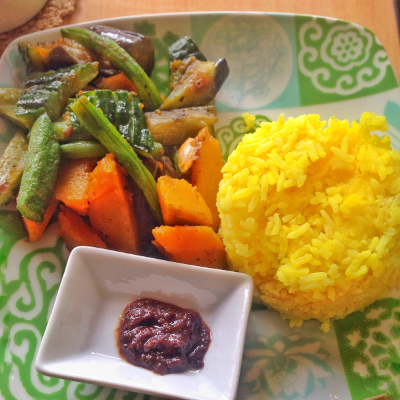 Vegan Burger Steak
Burger steak is a popular fast-food dish in the Philippines. This healthier and animal-free version is made from banana heart blossoms and could convert a pre-vegan!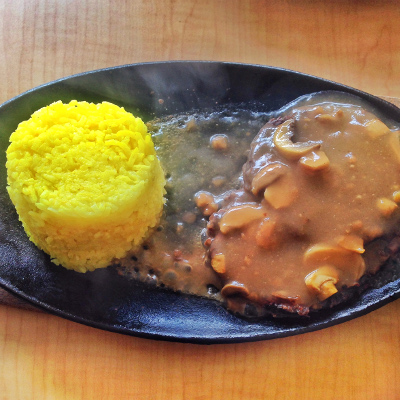 Here are other popular restaurants that local vegan friends frequent, but I've yet to try:
SUSI
Location: Forbes Town Center, Burgos Cir, Fort Bonifacio Global City, Taguig, 1634 Metro Manila
An all-vegan and gluten-free cafe owned by a Filipino-American vegan, who also operates her own all-vegan shoe store in Los Angeles. Western dishes and desserts.
The Vegetarian Kitchen
Location: 62 B Mother Ignacia Avenue, Brgy. Paligsahan, Quezon City, 1103 Metro Manila
A mostly-vegan restaurant that is highly recommended by local vegans. They serve veganized Filipino dishes as well as western dishes.
Pipino
Location: 39 Malingap, Teachers Village, Lungsod Quezon, 1101 Kalakhang, Manila
Another all-vegan restaurant located in Quezon City. Pipino serves Filipino and Western dishes, as well as desserts.
If you decide to visit the Philippines, these yummy vegan dishes will be waiting for you! 🙂
Thanks for reading and happy vegan traveling!
Roseanne
Follow my vegan adventures at https://www.instagram.com/theveganroamer/