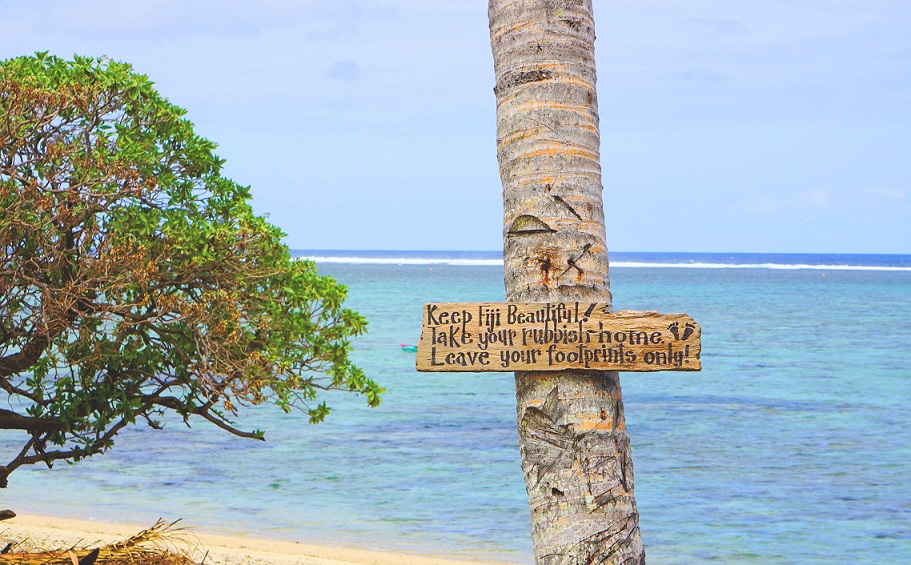 Bula! I've just returned home from the stunning, warm and friendly Fiji. At first glance, Fiji reminded me of a tropical New Zealand with its mountainous outlook.
We stayed at The Bedarra Beach Inn in Korotogo, along the Coral Coast and it was perfect. I'm not a massive fan of chaotic touristy resorts, and The Bedarra was large enough to have all of the required facilities but small enough not to be chaotic. The ocean is just at the front of the hotel where we snorkelled the huge reef almost every day. The staff and locals were super friendly, and we were greeted on the street by every passerby: both males and females, adults and children.
Every coconut tree was abundant with coconuts, and we were lucky enough to eat them fresh off of the tree.
I knew fruit was abundant in Fiji (so I wasn't too worried about not being able to eat), but we did take our own milk (coconut Coco Quench), nuts and nut butter. For breakfast, we ate at our hotel where fruit was abundant. Every morning, I ate fresh papaya (which is perfect for gut health and digestive protection while holidaying), fresh pineapple (also a powerful gut protector), amazingly sweet bananas and watermelon – and I grabbed some juicy mangoes from a local road-side seller. If I was extra hungry, I ate the hotel's gluten-free cornflakes, with a banana and milk. They offer soy milk too.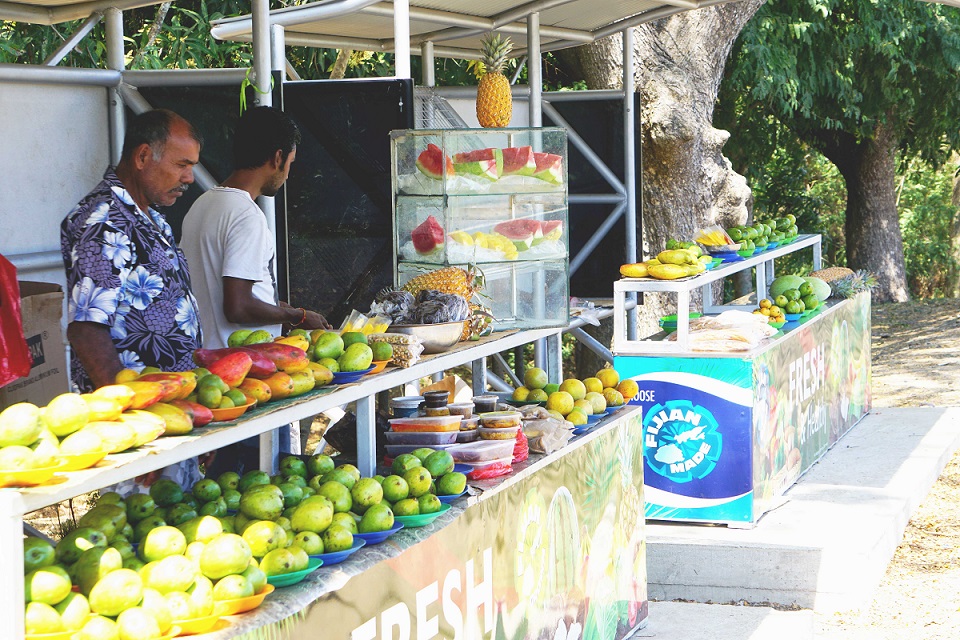 For dinner, we made the most of Fiji's vast variety of fresh Indian food. There were several vegan options at Sitar Restaurant in Korotogo (which was also the best Indian food we've ever eaten), and our hotels offered one vegan curry option. And although a super close cafe, Beachside Cafe and Restaurant, had no vegan meal options, I created a meal with several side dishes: a side of ginger and garlic bok choy, a side salad, and a serving of their housemade wedges. All of the establishments that we ate at offered fresh fruit smoothies or fresh pineapple crushes – there was definitely no lack in sourcing fresh fruit. It's also ideal to grab a few groceries from the local supermarket too.
Compared to Bali, there are fewer options for the Vegan Traveller, but you can find healthy vegan food if you look. Fresh tropical fruit and Indian vegan food are abundant – there is definitely no going hungry.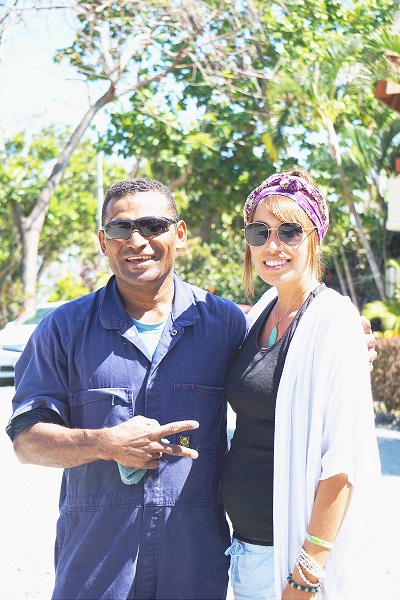 Asides from the friendly people and full coconut trees, another factor that stood out for me was how clean Fiji is. The beach and the ocean waters were clean, and it really stood out for me because I was shocked by the amount of rubbish that littered the beaches and streets in Bali. I mentioned this to the taxi driver and he explained how the Government are making an effort to keep Fiji clean, by tackling their plastic problem, and by subsidizing Hybrid electric cars. Their conservation efforts are noticeable.
If you do travel to Fiji, take a suitcase of second-hand clothing, medical supplies, stationery, children's books, and (vegan) chocolate with you – and give it to one of the locals or hotel staff. We took a suitcase over with us, and while it was hard to decide who to give it to, we gave it to one of the hotel staff who has four children, and he was incredibly grateful for our donation.
Vinaka!
Candy Marx.