Part 1 Riga, Latvia
I have been told many times that Riga is beautiful, and perhaps the most beautiful of the Baltic Countries! I went to Tallinn, Estonia earlier this year, so I booked a trip to Riga, Latvia to compare.
We flew with Air Baltic from Gothenburg to Riga and then got a taxi (€12) to Monika Centrum hotel. This hotel is in the Art Nouveau district, and only a 20 minute walk to the old town. The hotel was nice and cheap, and at breakfast they had a few vegan options like fruit, oatmeal with water (but you need to order it), bread, jam, and dried fruit.
We tried two different free walking tours. Riga Free Tour was good, and took us to sights outside of the old town. Best of Riga Free Tour was the traditional tour around the Old Town, with the character tour guide Philip who was very sarcastic and funny!
Riga was gorgeous, as you can see from the photos below:
Now on to the food in Riga.
Miit was one of the few places open after 7pm on Sunday. We tried the vegan banana brownie (€2) which was yummy, and the vegan soup (€3-5) with soya sausages which was nice, but probably because I was very hungry and I am not the biggest fan of soya sausages!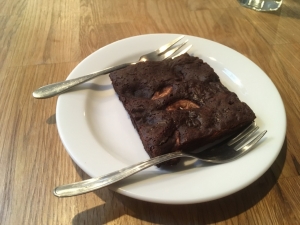 Fat Pumpkin we tried the protein wrap (€9.50) that had hummus and chickpeas in it, and was really really good. We also tried the Fat Pumpkin burger (€10). My partner really enjoyed this, but for me the spice was not nice, and the bread was not amazing. We tried two cakes (€8 for both cakes as we got half slices), snickers and dark chocolate. The snickers was not good, and didn't have much of a peanut flavour (although this one was the favourite in the restaurant). The dark chocolate, however, was the best one and one of the nicest cakes I have had in a long time.
Raw Garden/New Beginnings this place was so amazing we went twice! The first time we got a kale and grapefruit salad (€5), and a chickpea burger (€6), and both were good. We also tried the Snickers bar (€4)and this one was nicer than the one at Fat Pumpkin.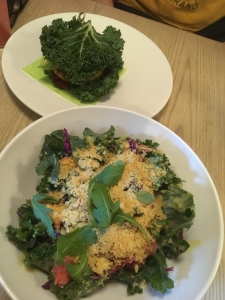 The second time we got two energy balls (€1.50), quinoa salad (€6), burger (€6), raw lasagna (€6). Again the food was really good.
Mr Fox we tried humus and vegetables (€4), peanut butter banana toast (€3) and vegan pancakes with fruit, chia berry jam, and date caramel (€5). The food was good, but the best was the date caramel-I was licking the bowl!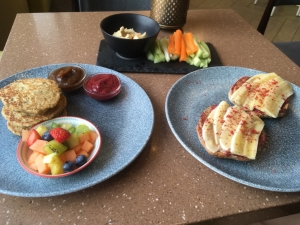 Part 2 will continue the journey to Vilnius, Lithuania.
PS The cost of the food is an estimate, I tried to remember as accurately as possible.