The countries that border Myanmar, especially India, China and Thailand, have influenced Burmese cuisine, so what a treat it was to try all of the amazing offerings.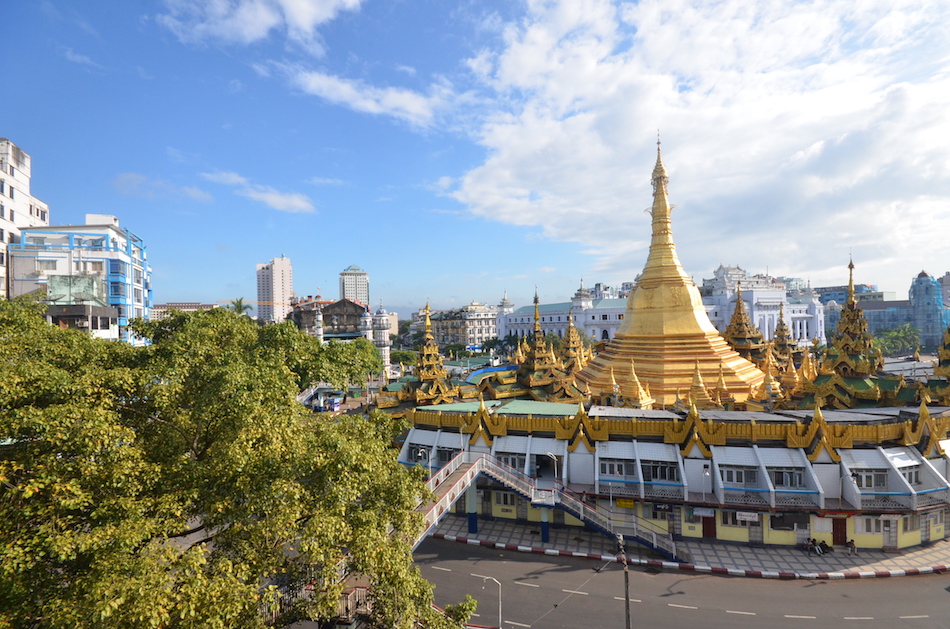 When we first arrived in Myanmar we had no idea what to expect for food. From North to South, Myanmar has no shortage of great food to sample. Here are some of our favourites.
(A restaurant list is waiting at the bottom of this blog should you be traveling to Myanmar and want to sample some of the food we had).
TEA LEAF SALAD
The Tea Leaf Salad is a really tasty salad made with fermented tea leafs that give the salad a sour flavour. Mixed in with the tea leafs are crunchy fried beans, peanuts, chopped tomatoes, garlic, and onion. It was one of our favourite dishes in all of Myanmar.
HOT AND SPICY TOFU
Another dish we originally sampled at Golden Pagoda in Canada where the dish was served with potatoes. In Myanmar this dish was rich, spicy, and full of flavour.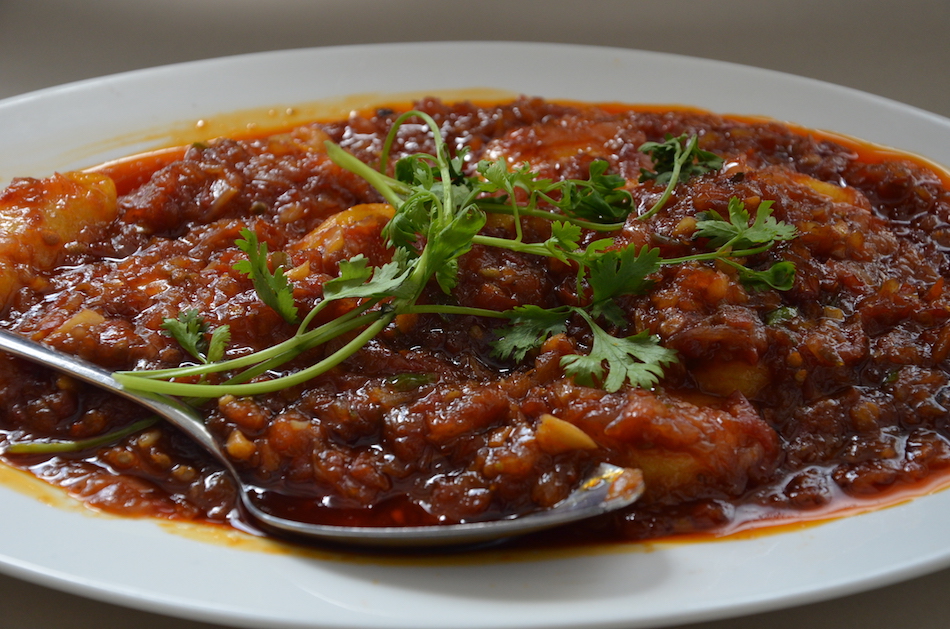 Made with finely chopped sweet onions, chilis, and oil, and served with warm tofu.
It is a dish I look forward to making when I'm at home.
COCONUT RICE
Our favourite place to eat in Saskatoon, Canada is a restaurant called Golden Pagoda.
It was there we got our first taste of Burmese cooking. They serve an amazing coconut rice that we always order, and we were happy to find that they stayed true to Myanmar cooking. Fluffy white rice, mixed with fresh coconut flakes, and a bit of sweetness. It's perfection.
MASALA DOSA, CHAPATI, and THALI
Yes, masala dosa, chapati, and thali are native to India, but Myanmar is such a melting pot, that these foods are also a part of the Burmese culture, and we are thankful for that.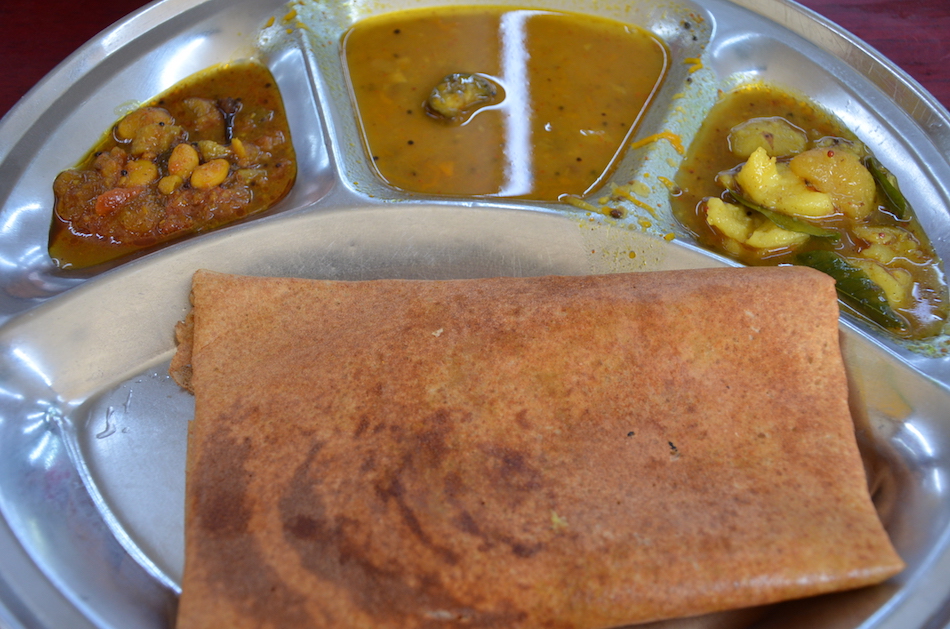 We enjoyed several dosas in Yangon for .80 cents a pop, and unlimited veg thali in Yangon was $1.
They keep filling up your plate, so make sure you're hungry!!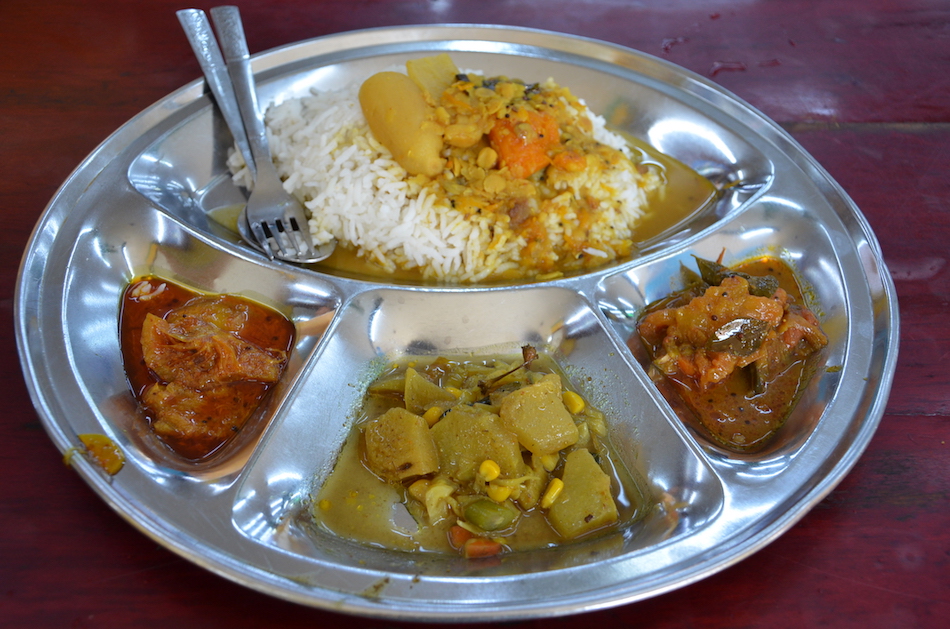 Chapati is available at most tea shops all over Burma. Dosa's, chapati, and thali are served with a pickled vegetable and dahl.
TOMATO SALAD
We could always rely on a tomato salad if there was nothing else we could eat. You can sometimes choose from either green or red tomatoes; both are excellent choices.
The tomatoes are mixed with peanuts, a drizzle of oil, and sliced onions. Always fresh, and always delicious.
SAMOSAS
Walk down any street in Myanmar and you're likely to spot a little indian man with a portable samosa maker.
We sampled many samosas during our 3 weeks in Myanmar.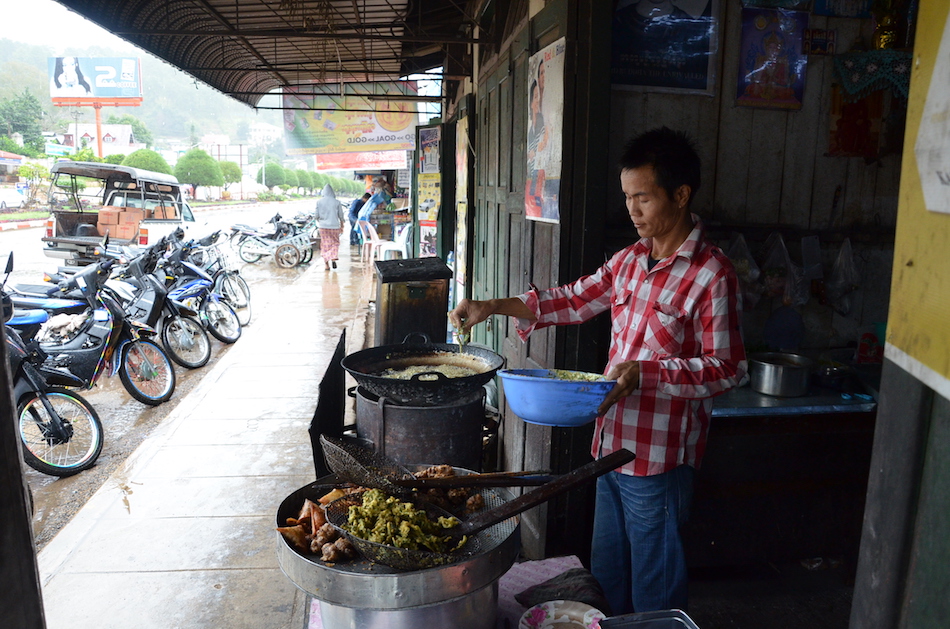 Our favorite was at a small tea shop in Kalaw, where we enjoyed unlimited tea, and fried goodies that kept on coming, until we said "please, no more". For the 3 of us, our bill came to $2.
TREATS
A wide variety of sweet treats can be found all over Myanmar, so if you have a sweet tooth, but are unsure of what the mystery in that package is, read on.
PEANUT ROLLS
These reminded us so much of butterfinger chocolate bars, but with much less ingredients, and no chocolate.
They are made from crushed powdered peanuts, and covered with barley malt. They taste like candied peanut butter. We'll be experimenting with them and dipping them in dark chocolate. We found ours in Bago at a small grocery store for .45 cents.
JAGGERY
These wonderous balls of sugar taste like maple syrup candy. They are made from sugar cane, and they are beautiful in a hot cup of tea or coffee; or just place one in your mouth and let it melt. A perfect small dessert. They will run you .30 cents a bag.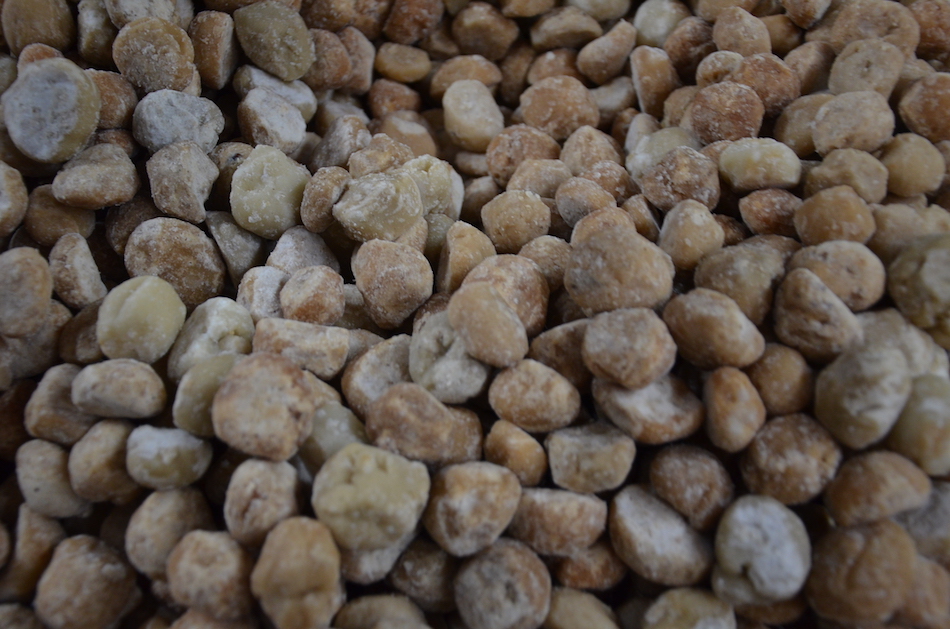 You can find them mixed with coconut flakes and black sesame seeds as well.
TAMARIND FLAKES
These are such a sweet treat, and something I would love to give away one year for Halloween (if I could ever find them in Canada).
If you love sweet and sour, you'll love these thin discs that melt in your mouth.
Made from tamarind-and yes, you guessed it- sugar, the chewy fruit and sugar is flattened into thin round discs, sprinkled with a small amount of flour, and about 6-7 pieces are stacked together and wrapped up in tissue paper, then stuffed in a small bag.
A big bag is about $1.
RESTAURANTS
SHAN MA MA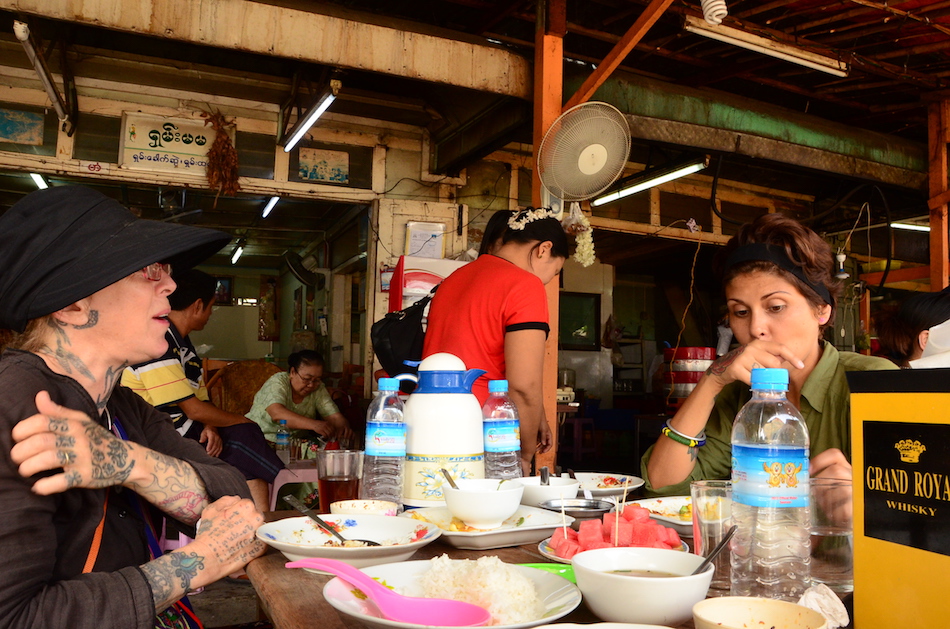 Shan Ma Ma is a great little place in Mandalay where you can pick and choose your food. They have a wide variety of delicious fresh dishes, from tomato salad, butterbeans, corn, tofu, pumpkin, and more.
It is a very inexpensive place to eat.
81st, Between 29-30 st., Mandalay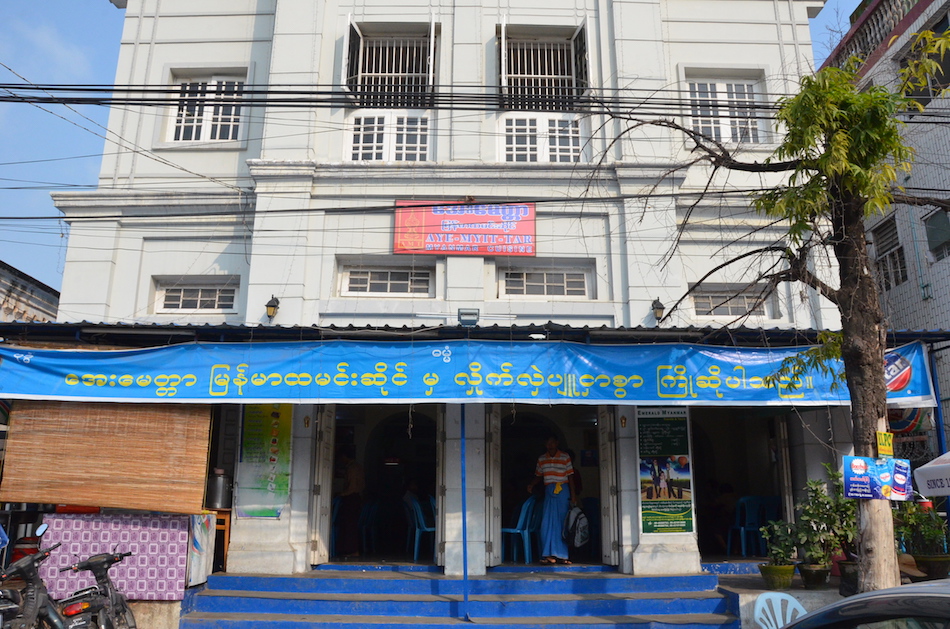 Another inexpensive restaurant that we really enjoyed was Aye-Myit-Tar. Located directly across the street from Shan Ma Ma, it is slightly a bit fancier with seating inside.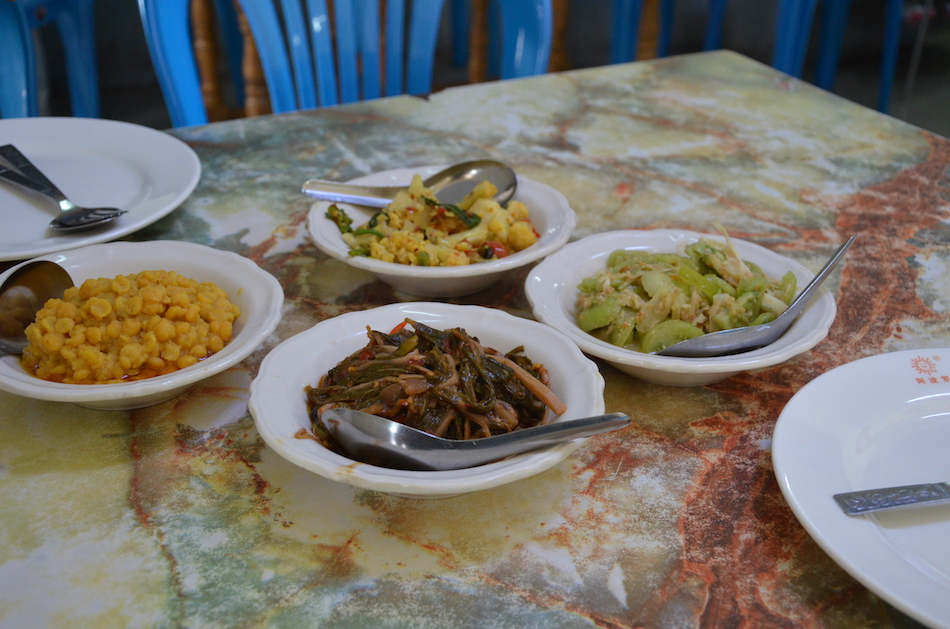 You are brought quite a few free dishes, so careful with how much you order from the menu. They also have jaggery in a plastic jar at each table, so you can sample it before you decide to buy a whole bag.
81st, Between 29-30th st., Mandalay
INGYIN NWE SOUTH INDIAN FOOD CENTRE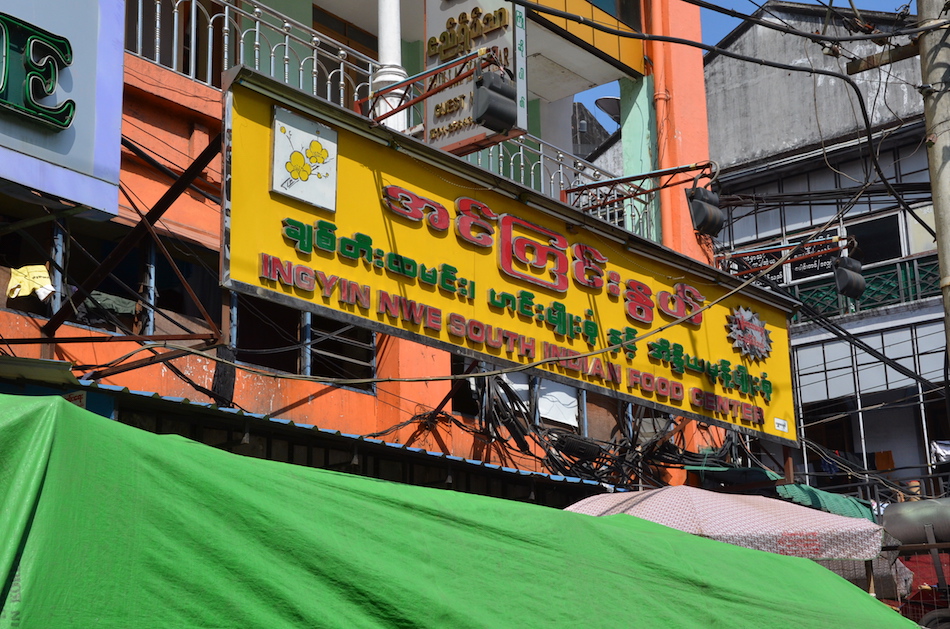 Delicious cheap South Indian food. Dosa, chapati, pappad, thali's, and more! Masala Dosa's were only 800 Kyat. We enjoyed several dosas and a water for under $3!!
No. (232), Anawrahta Rd. Corner of Bosoonpat st., Yangon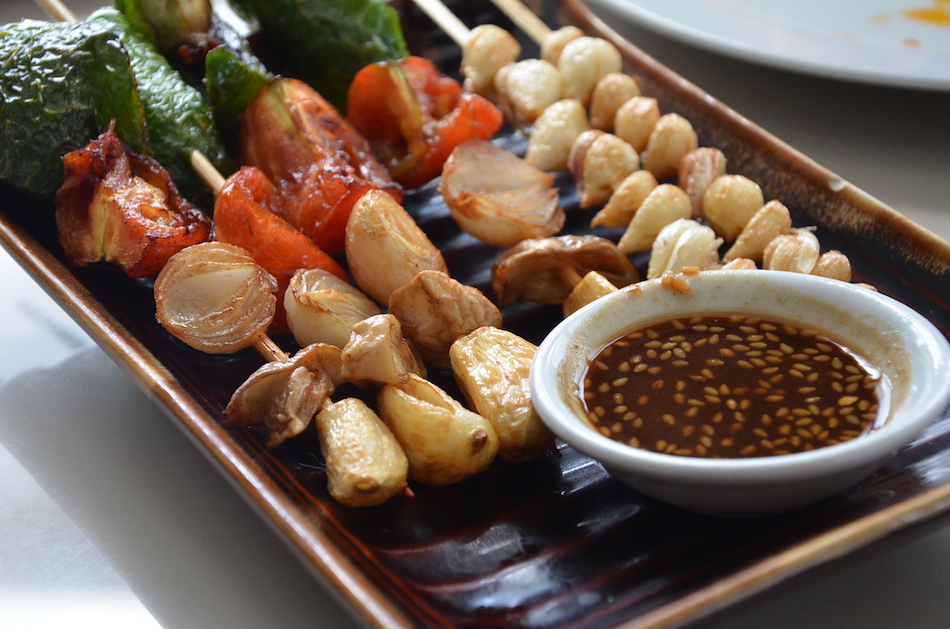 Unfortunately we had to stay a night in Mawlamyine, but at least we found a good place to eat!! More of a western style restaurant, YKKO is located along the water, and has a large menu printed in english. This is where we tried the sweet and spicy tofu.
We also really enjoyed grilled garlic, okra, and fresh squeezed watermelon, and orange juice. The prices here are also quite inexpensive. About $5 total for 3 to 4 dishes and drinks.
Dawei jetty, corner of Strand Rd. Dawei bridge St., Mawlamyine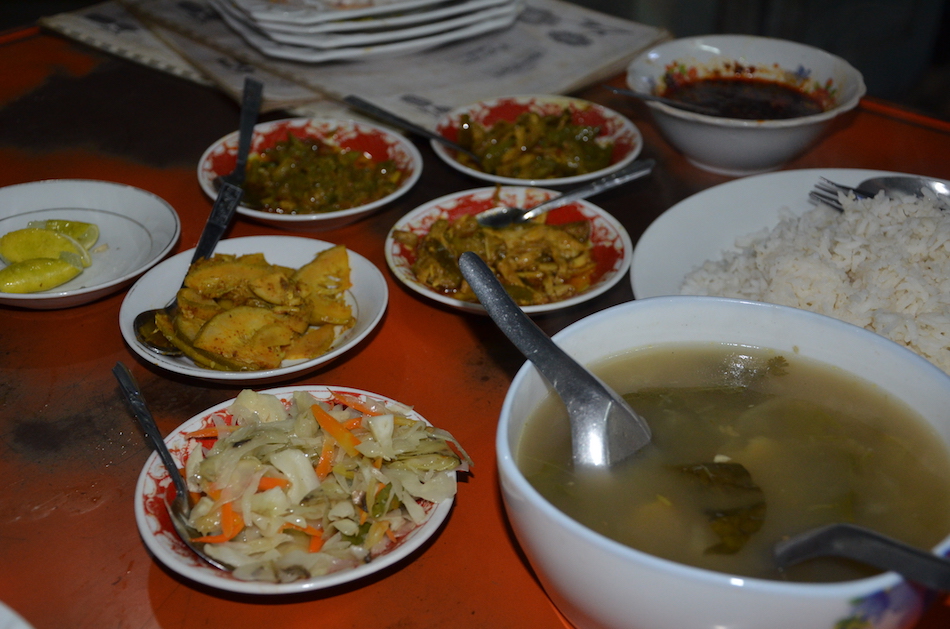 A slightly higher priced restaurant, but still delicious, Kaung Htat is located in Bagan.
They served all of our favorite fresh salads. If you ask for "Myanmar food" you will get all of the yummy side dishes that come with traditional Burmese food for $1.
No address, except for South of Market, Main road. Across the street from Eden Motel in Bagan
Other than exploring far off lands, learning about different cultures, and connecting with people; food is a big part of why we love to travel.
The food in Myanmar has been some of our favourite.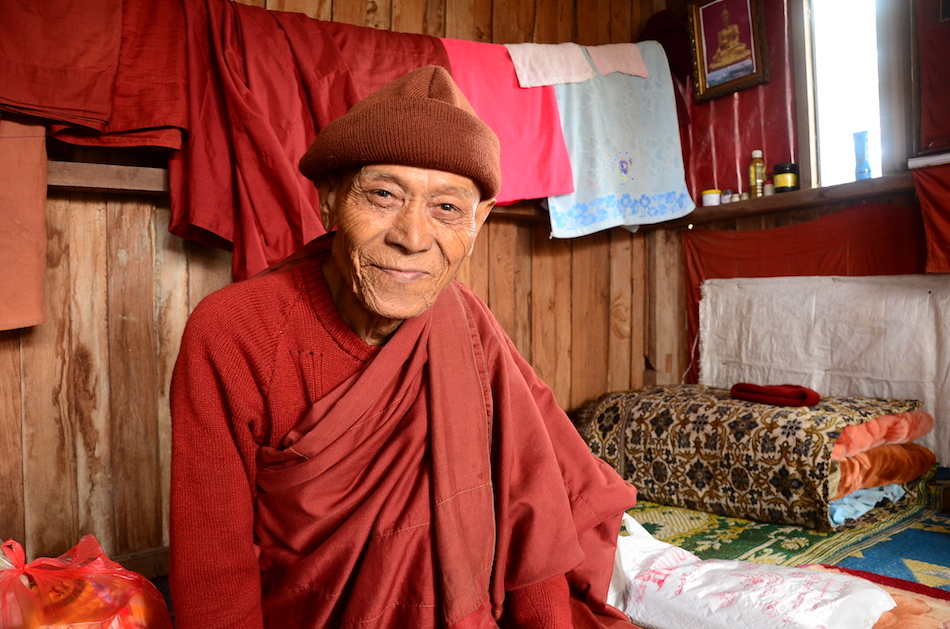 DISCLAIMER
We found Burmese food to be very oily. It is even in the salads.
They don't drizzle oil on things, they use heaping spoon fulls. We were not a fan of this, but all you have to do is ask for no oil, or little oil, and you'll be fine. (provided they understand english)