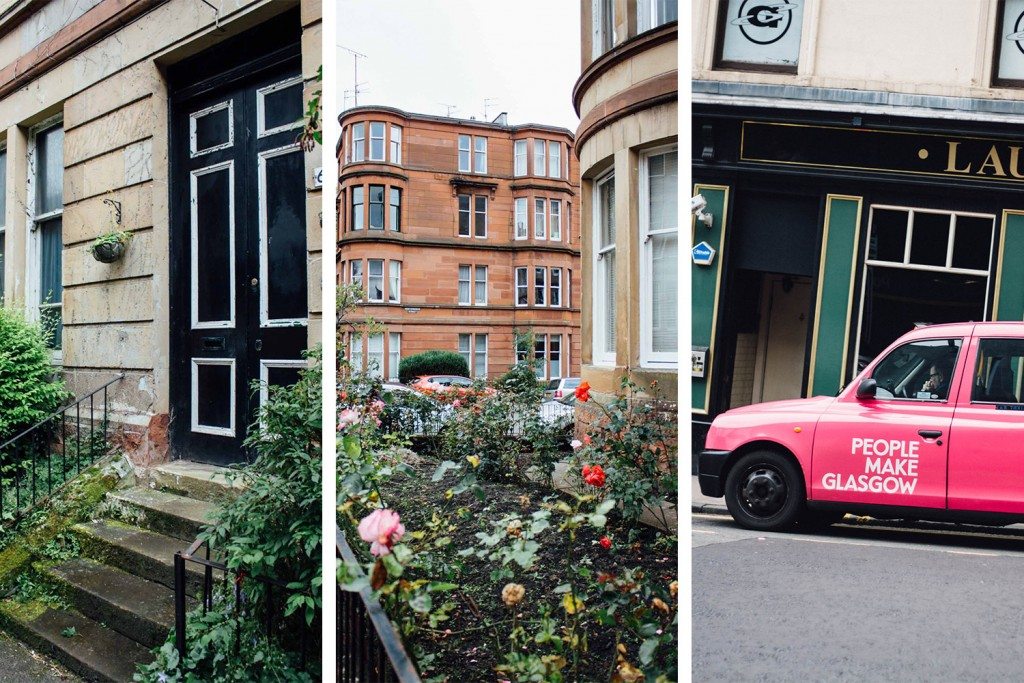 Day two visiting Glasgow began with a walk around the neighborhoods in the West End. We decided to visit a place called The Bay Tree Mediterranean Restaurant for a traditional vegan Scottish breakfast, falafel wraps, soup, soy lattes and more. This place was literally across the street from the hotel I was staying at, and I definitely recommend a visit. They even have vegan milkshakes, which I've heard are delicious! With food in our bellies we walked into town and did some sightseeing. One of the best parts of traveling is that everything you see is new, and there's always something interesting to look at. I highly recommend skipping the trains for the first few days and just getting from place to place on your feet.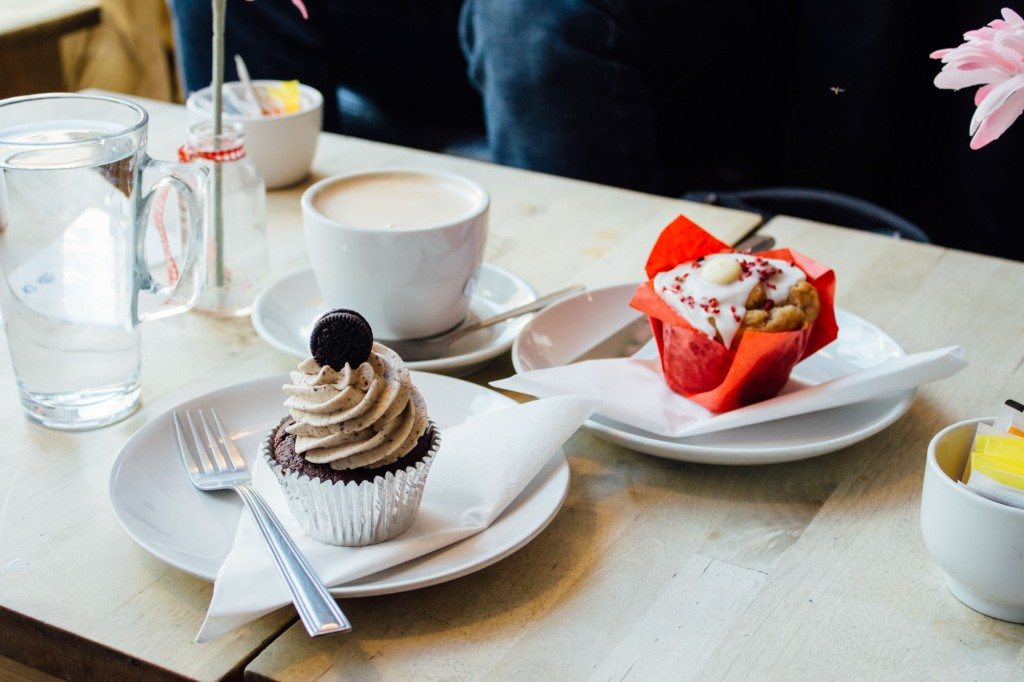 We stopped by a place in town called DeeliciousGeelicious after someone had told us that they had a vegan pumpkin spice latte. We were also delighted to discover that they had an assortment of vegan baked goods including cupcakes and muffins. They also had some savory options like a vegan Moroccan chickpea stew and a vegan pastie, which I guess is kind of like a pop tart or pie. I haven't had a pumpkin spice latte in forever, and this one sure was delicious! We stayed for a while to use the wifi at DeeliciousGeelicious to catch up on some blogging and other online tasks. After getting some work finished, we kept going along our journey further into town.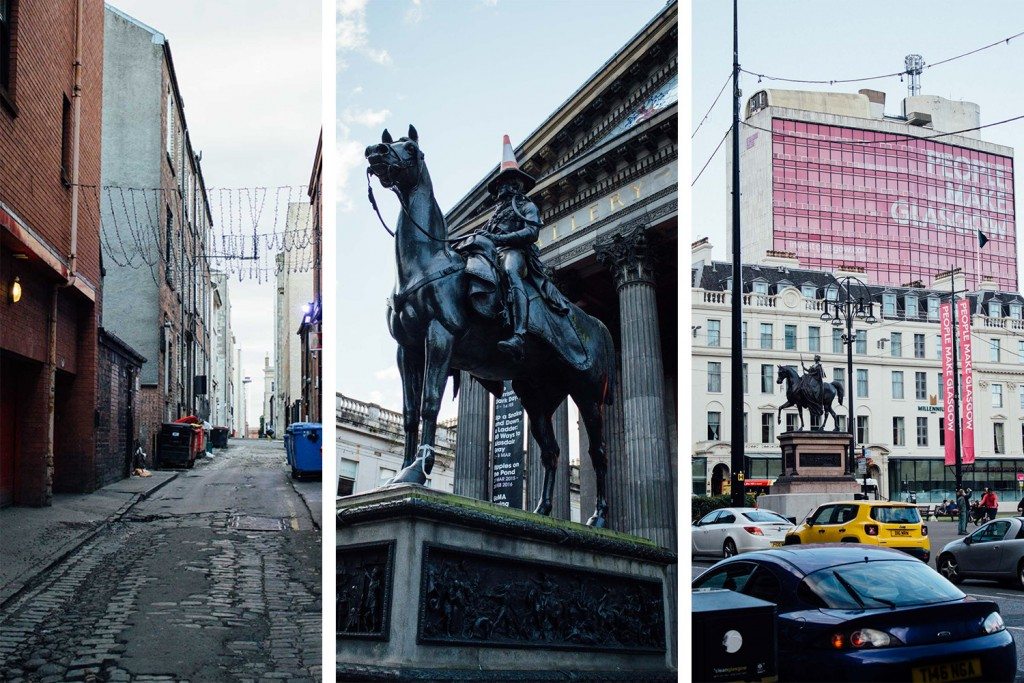 We went along many streets, passed a ton of shops and did some people-watching. By the way, if you're curious about the "People Make Glasgow" signs, apparently it relates to an online guide of the city. Glasgow was voted one of the world's friendliest cities and I can absolutely see why. The statue in the middle above photo is the Equestrian Duke of Wellington Statue. The traffic cone atop his head has become an iconic image of the city. This would be considered vandalism in places like Colorado, but in Glasgow it really is proof that the people make the city great.
We walked around, saw more people and popular places around town until our dinner reservation at 6:00pm. We went to a fancier restaurant called Red Onion and we were in for quite the treat. This upscale restaurant has an entirely vegan menu, along with some wine and other beverage options that are clearly marked "vegan" (which is unusual in many restaurants). The four of us in our group each ordered some different options so that we would taste each of the dishes. They offer a 2 or 3 course option, and I went with two while the others decided on three meals. I got the Maple Roast Root Vegetable Salad as a first course, and it has a lot more roasted veggies than greens. However, it was very filling and comforting on this chilly night in Glasgow. As a second course I ordered the Creamy Tomato, Mushroom and Spinach Ragu with Rigatoni. This meal was also delicious, and by this point I was glad that I didn't order dessert. My dining companions enjoyed sweet treats like pudding, banana fritters, and custard. My only complaints about the restaurant would be that it was very warm on the upper level that we were seated at, and the light bulbs were out in our section (which is VERY important when you are taking photos of your food).
I walked home feeling full of food and gratitude for this wonderful day. I was still pretty tired from all the activity and excitement over the last few days, but kept looking forward to the new opportunities that the next few days would bring.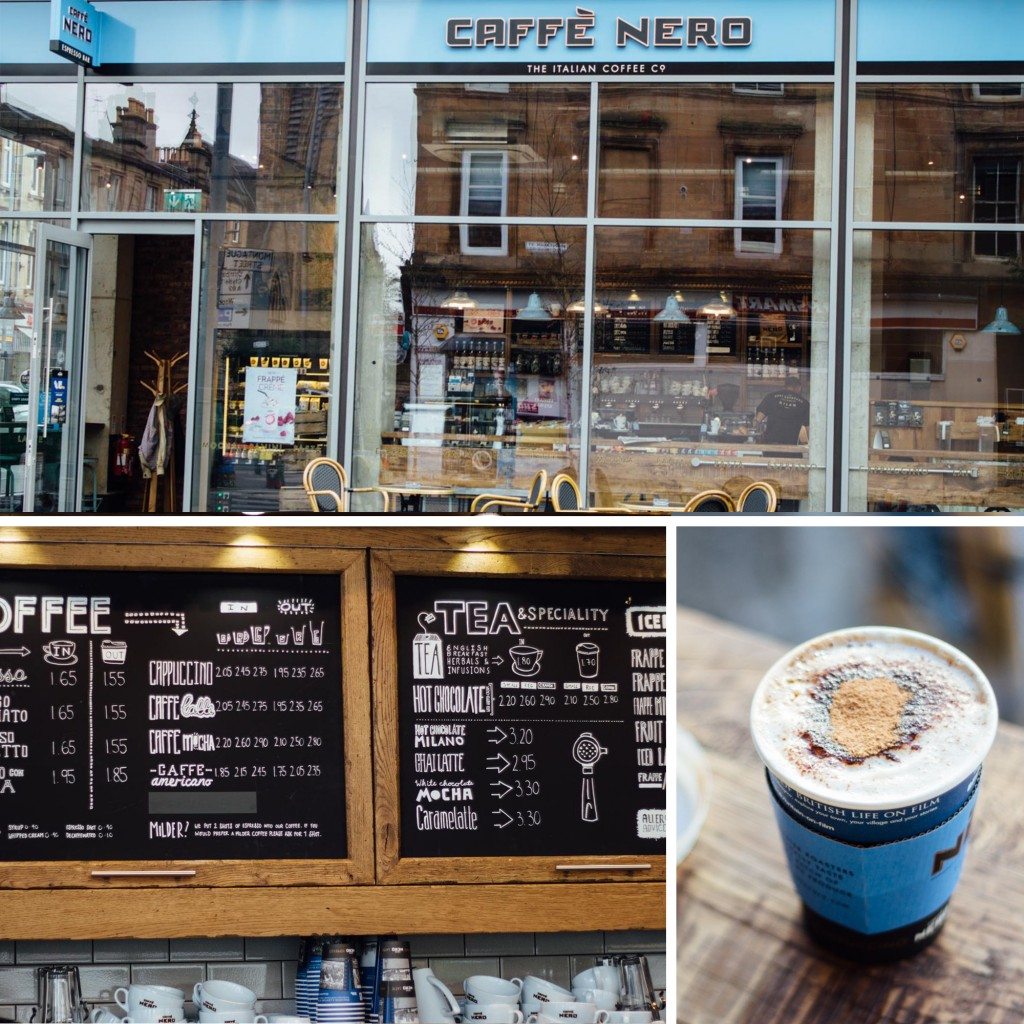 Day 3 was pretty low-key in the morning and afternoon as we were preparing for our Glasgow Soft-Launch Party for the website. I started the day with a vegan mocha from Caffe Nero, which is a coffee shop chain. I was delighted to see vegan options like fruit snacks and dark chocolate along with many drinks that could be made with soy milk. We went on our way on this cold, gloomy day just waiting for it to start raining. I happily sipped my mocha as we were getting ready for the party we had planned later on in the evening.
We did some filming and photographing with our first sponsored travelers for the website in the afternoon. I can't give too much away, but I hope to be sharing the video soon! Thank you to everyone who attended the VeganTravel Glasgow launch party that we had that evening. This was only our second pre-launch for the site, but we ended up getting even more interest in the site over the next few days. Stay tuned to hear about our trip to Edinburgh, the capital of Scotland that has beautiful buildings, gorgeous views and lots of vegan-friendly options!