While driving through Italy to arrive in Ljubljana, we weren't expecting Slovenia to be as green as it is.
This young nation is one of Europe's most forested countries (over 60%), and it is this year's European Green Capital.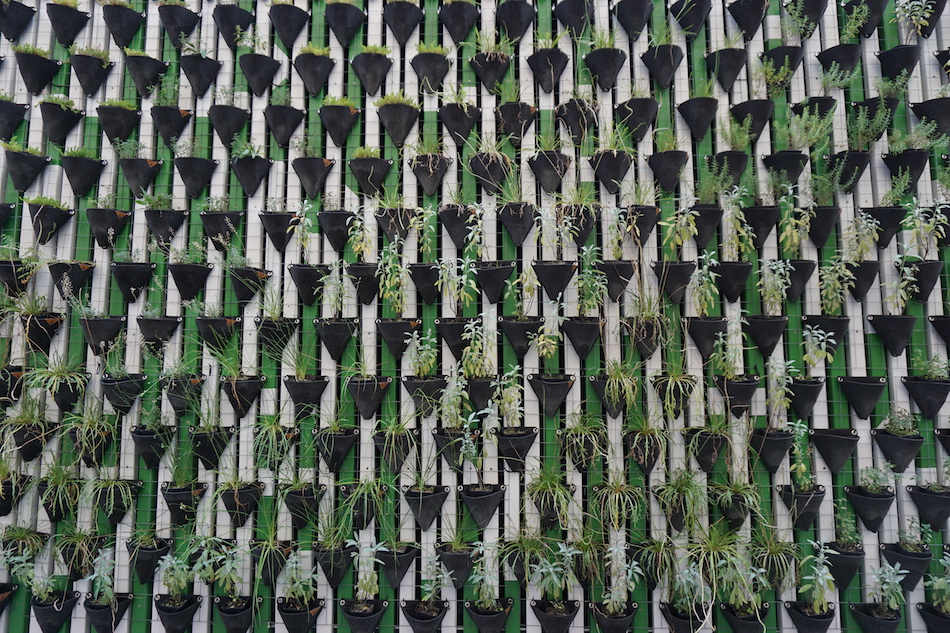 The green initiatives in this city of 300,000 are impressive. Ljubljana introduced a zero-waste programme where all around the city you will find clearly marked bins for paper, plastic, organic, and regular garbage.
Residents have a card that they swipe across the regular garbage bin, and the less non-organic, non-recyclable, non-paper/plastic they dispose of, the more money locals save.
The drinking water in Slovenia is among the purest in Europe and even the world, so the city is also working on eradicating all plastic bottles and encouraging residents and tourists to use the fresh water fountains throughout the city to fill up their own personal re-usable water bottles.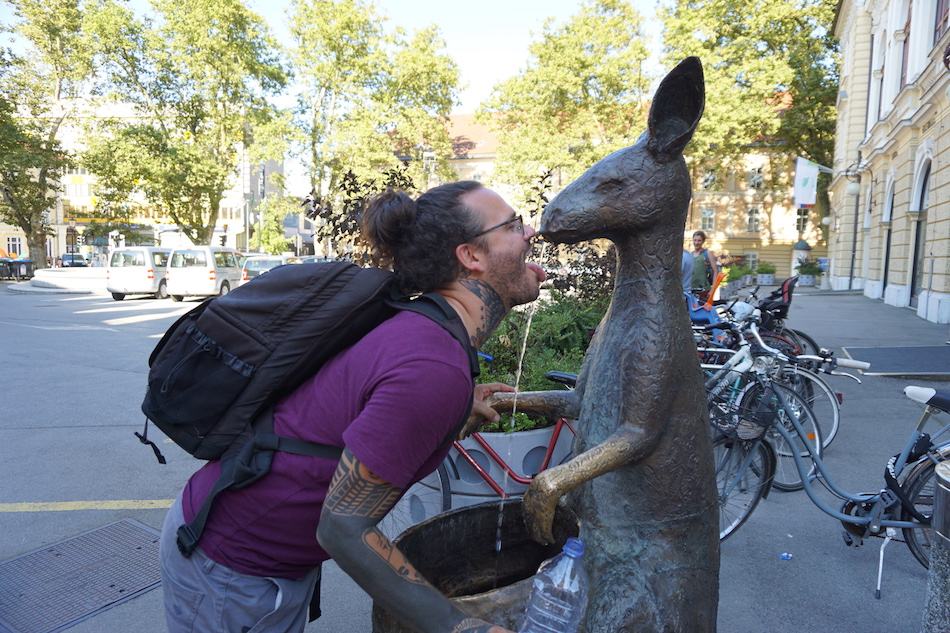 There are electric powered karts called kavalirs that offer free transport around the old town, that is otherwise closed to traffic.
More and more during our 72 hours in Ljubljana, we found it to be a charming medieval city that is very much under the radar. There is so much to see and do, from Italian baroque churches, to art nouveau inspired architecture, to plentiful riverside bars and cafes, large parks with outdoor libraries, art galleries, open kitchens, and much more!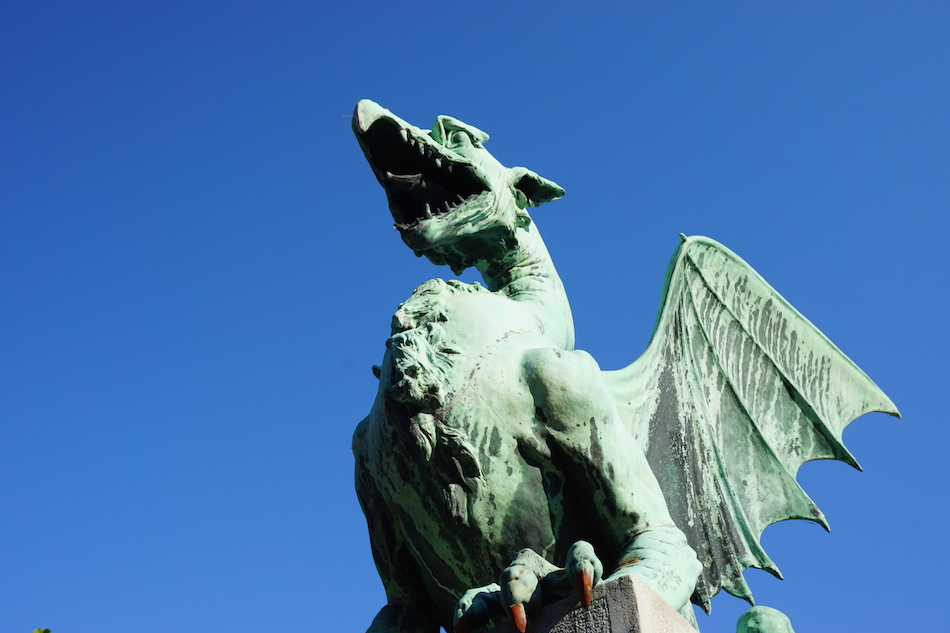 As we only had 3 days to explore, and knowing there was much to see and do, we decided to rent bicycles to see as much as possible.
LJUBLJANA CASTLE
The castle of Ljubljana is the star tourist attraction in the city.
Built in the 11th century, this structure is an architectural mishmash having been reconstructed several times over. The castle was used mostly as a military fortress. To reach the base, you can either take a walking trail and stairs, or ride the funicular railway.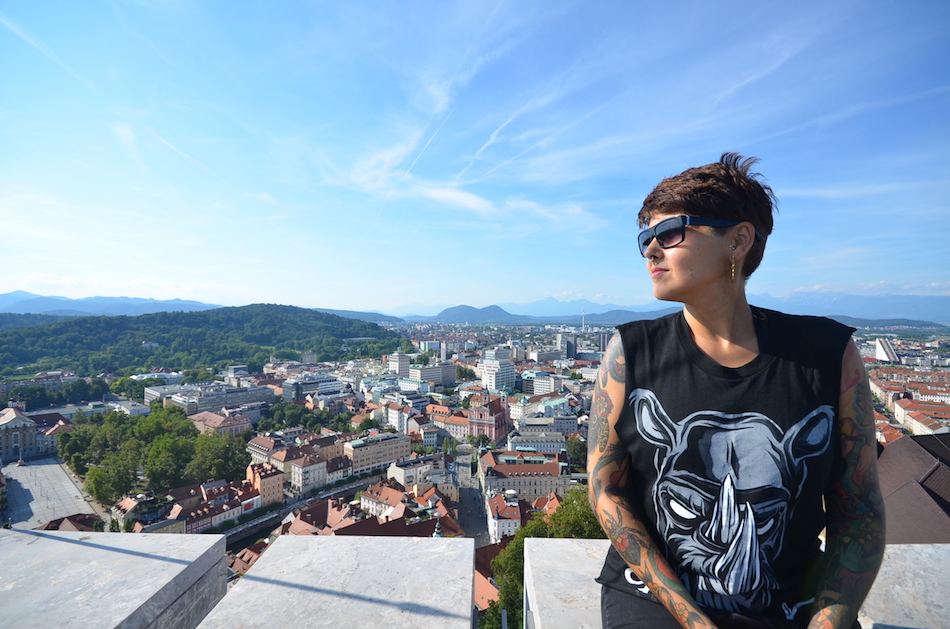 The view from the bastion of the castle is second best to the "skyscraper" (neboticnik), a building that was once considered extremely high in Ljubljana.
MICRO BREW, WINE, AND COFFEE
The riverside is lined with plenty of bars, and cafes to choose from. Whether you fancy wine, a good cappuccino, or local craft beer, you'll find it all here in the centre of this lively area.
METELKOVA MESTO
Metelkova Mesto is located on the site of the former Slovenian headquarters for the Yugoslavian army. It is now an autonomous zone inhabited by artists, musicians, punks, and other humans who generally have a distaste of the current system in Slovenia.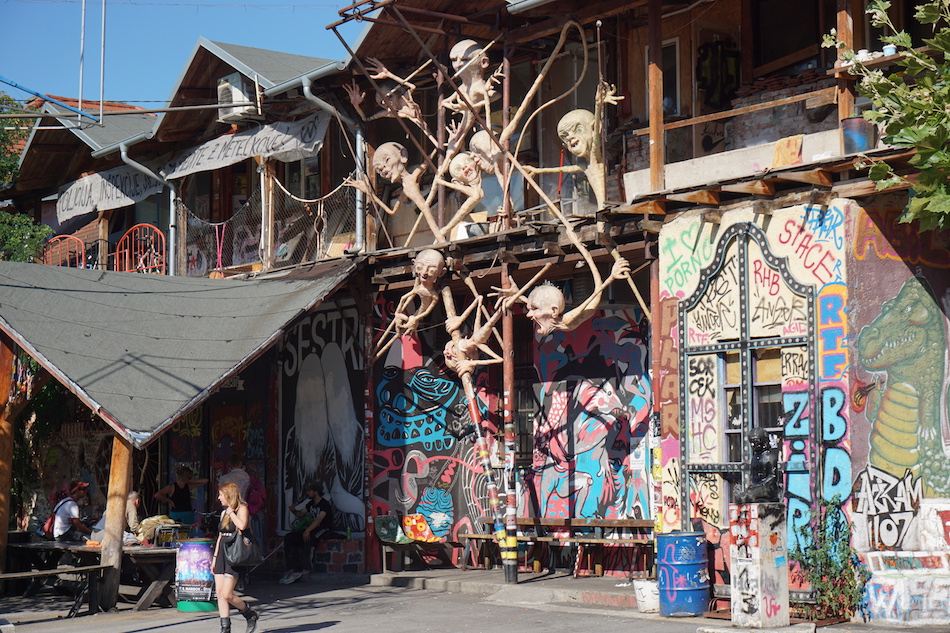 The 7 buildings were taken over by squatters in 1993. Graffiti covers most walls, there is a small bar where you can buy a 1.80 euro beer, and people come and go as they please.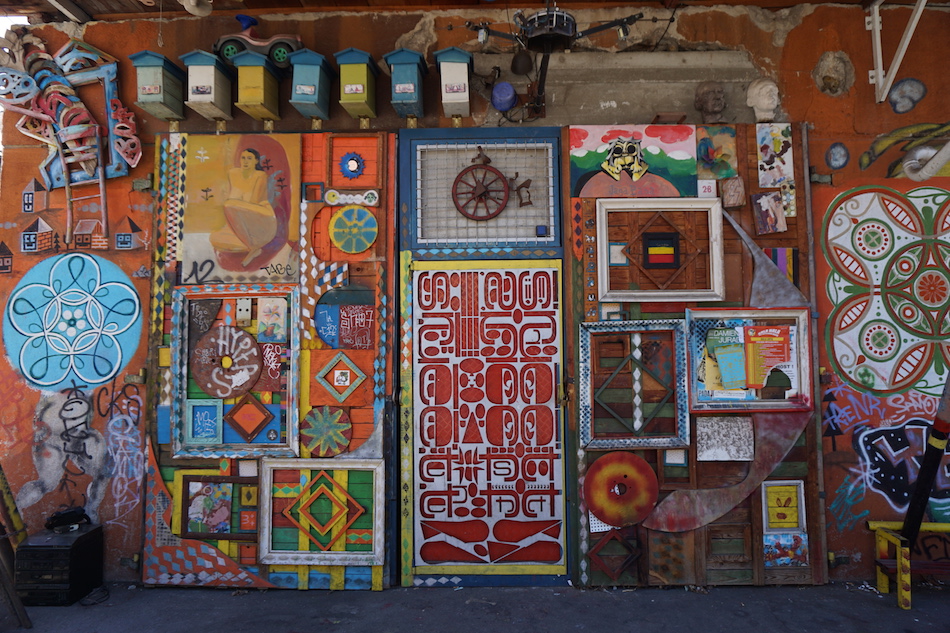 When we arrived, a musician was strumming his string instrument while an acrobat was spinning elegantly in the air from aerial fabric. It seemed a bit strange walking into the area as it felt like we were intruding, but this is a space for anyone who is interested in sitting and chatting with friends, and watching people create art and make music.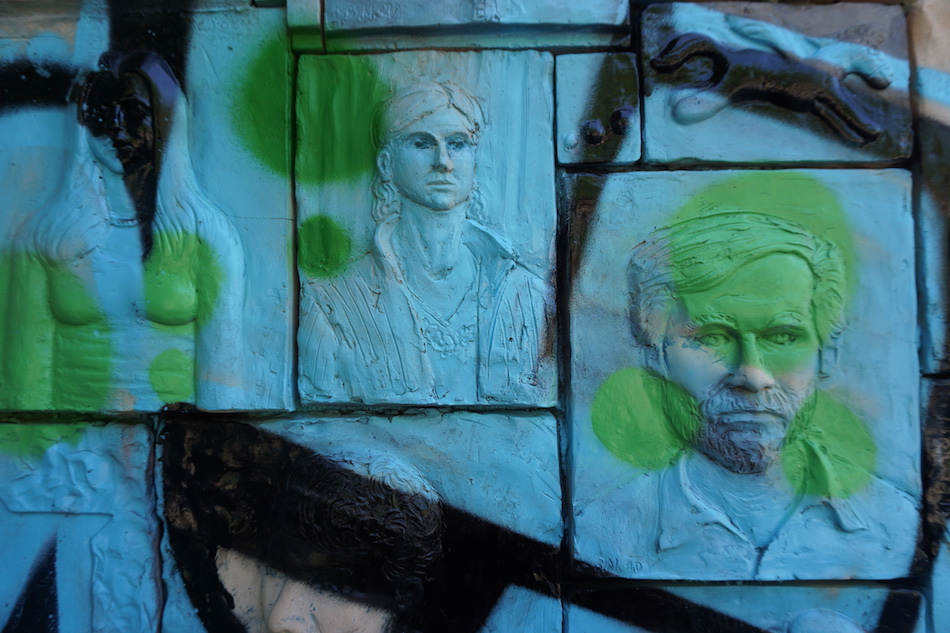 A very interesting anarchist space with a state of being we very much agree with.
OPEN KITCHEN
This food market is open every Friday for all to enjoy. Over 30 food vendors are set up including farmers, independent chefs, cafes, and modern restaurants.
We were looking so forward to trying Barbarella Bistro's vegan delights, but the open kitchen was cancelled due to storm warnings. So very sad.
TIVOLI PARK
This park was really lovely and is a must when visiting Ljubljana!
Before even entering Tivoli, we were met with a large outdoor National Geographic photo exhibit featuring awe inspiring images of nature from Slovenia and the United States.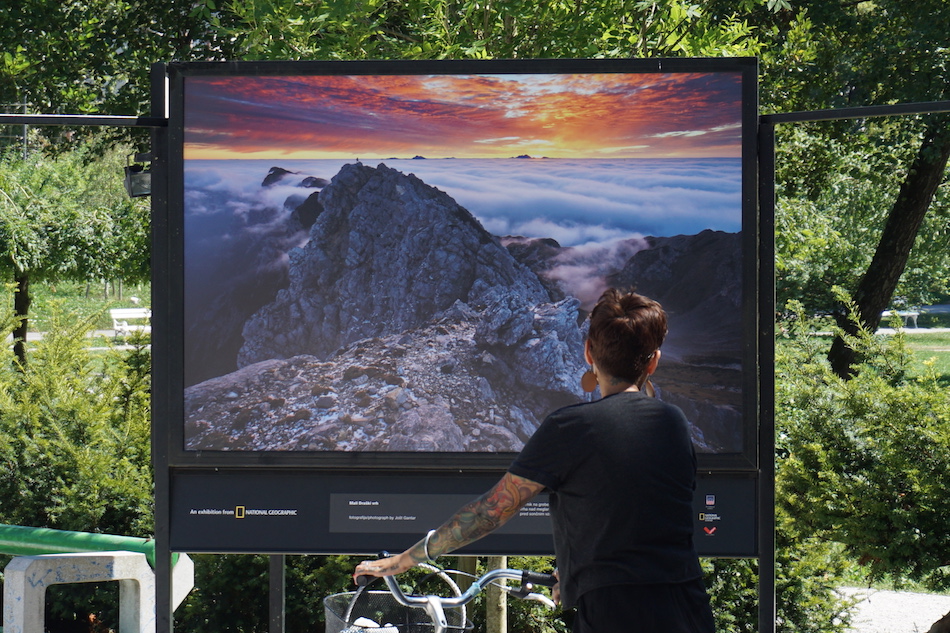 Tivoli park has several trails leading into forested areas, as well as large open grassy fields for sunbathers.
Visitors can also sit under weeping willows, watch the ducks in the beautiful pond dotted with lily pads, order a cold beer from the cafe and then move over to a reclining seat in the grass facing a beautiful view of a greenhouse and enchanting old homes, or catch up on some reading by borrowing a book from the outdoor library.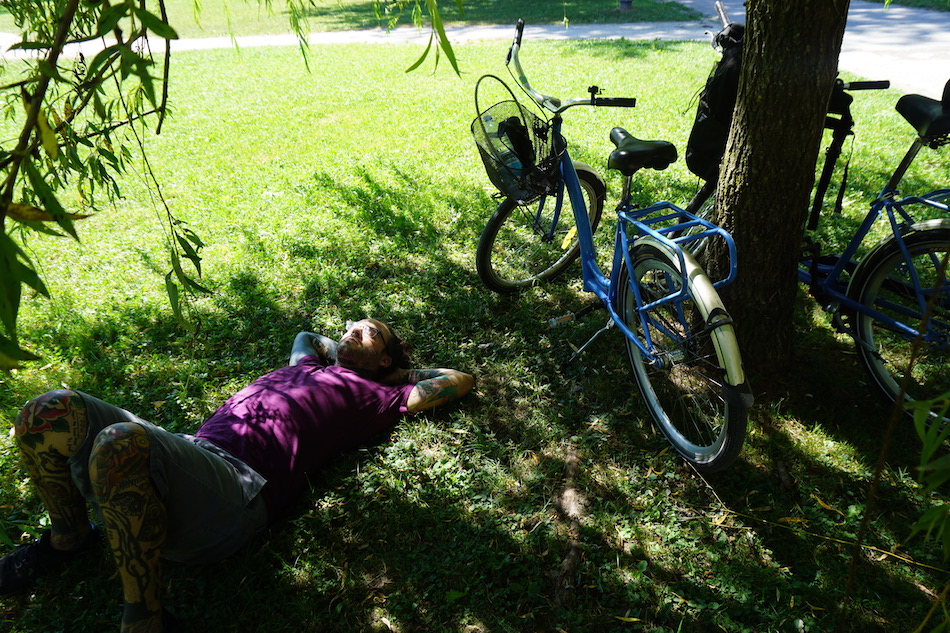 Everything done in nature. Incredible.
The amount of outdoor activities, and variety of seating available from cafes, to gelaterias, to bars, restaurants, and even parks, is the most we have seen anywhere during our travels. We especially loved this about Ljubljana. It is clear that the city encourages people to spend their time outdoors just enjoying nature.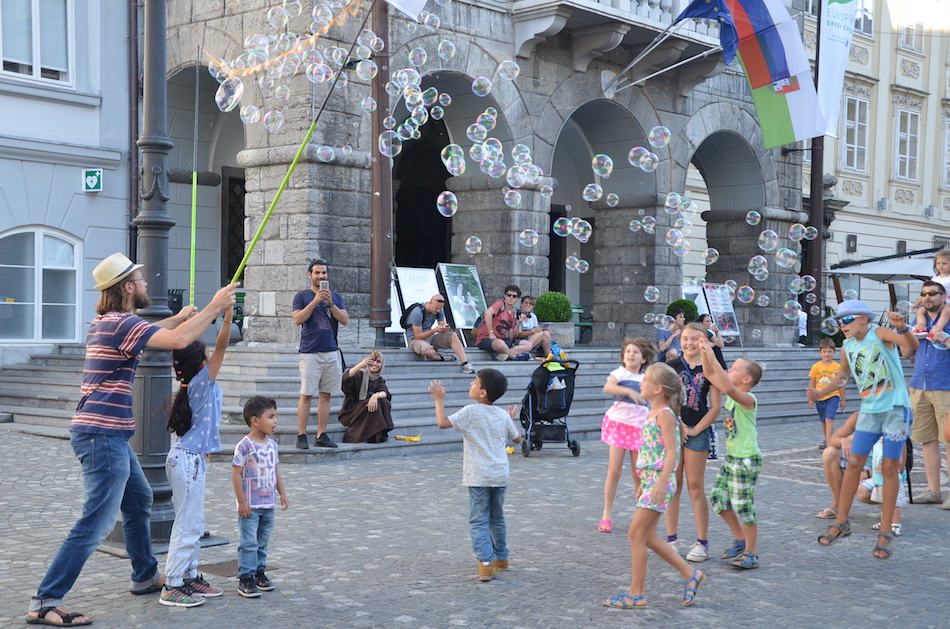 The city even converted a large parking space into a walkway and sitting area with a beautiful fountain where people can just lounge and be.
If you only have a few days to explore a city, you should absolutely visit Ljubljana! Everything is in walking or bike riding distance, and the growing green consciousness is something any responsible traveller will appreciate.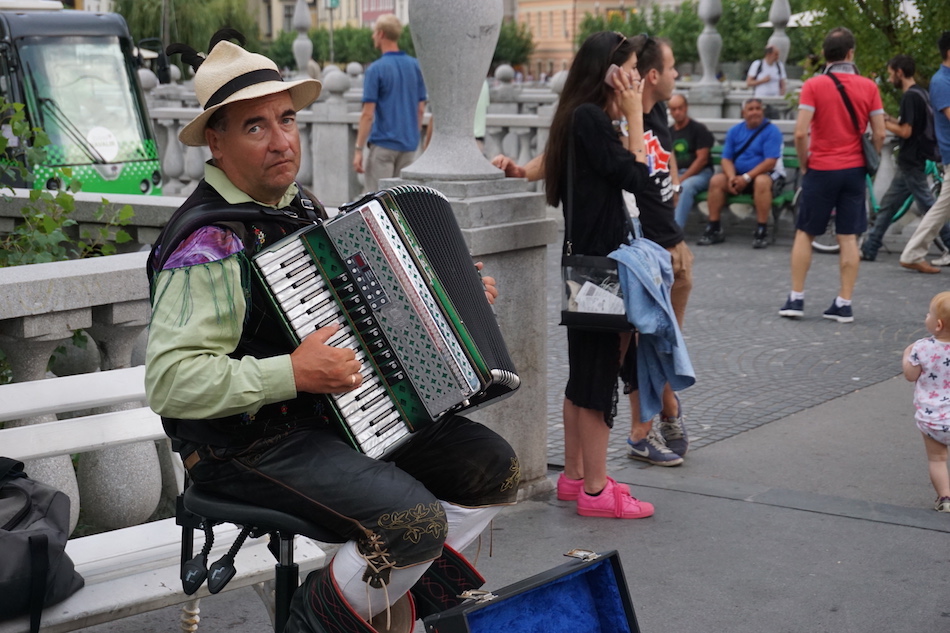 We only wish we had more time to explore the national parks and mountains in this hidden gem!