by Oxana Poberejnaia
Going to Saint-Petersburg for the first time
I was born and grew up in Russia, and yet I had never visited Saint Petersburg. I moved to the UK in 2002 to do my PhD in the University of Manchester and since then I have been living in the North-West of England.
Often, on hearing I come from Russia, people tell me they have been to Saint Petersburg, and I had to tell them that they were luckier than I. Finally, I was going to visit one of the most beautiful cities in the world, Russia's capital of culture and subculture.
A friend from a local vegan group expressed doubts that I would find anything to eat. "Isn't Russia one of those places where it is hard to be vegan?" "It depends on where you are," – I replied with pride. "Saint Petersburg seems to be filled to the brim with vegan and vegetarian establishments."
Doing my research
I have done my homework, you see. I was going to Saint Petersburg having thoroughly researched the online Vegan Guide to the city found here. All in all, the vegan guide lists three all-vegan cafés and one all-vegan store, in addition to 37 all-vegetarian cafés and 23 all-vegetarian stores.
Unfortunately, the guide is only available in Russian. It is an annotated zoomable map, with pointers marking vegetarian and vegan points of interest. Cafés are marked in green, and shops in yellow.
Even without Russian, you can at least know where vegan food can be found. When you click on the pointer, information about this particular establishment is displayed. You can then use online translators. Some cafés have a website in English.
Looking at the websites, I selected the cafés I was interested in. One, called Botanika, had the largest menu, divided into Russian, Indian and Japanese themes. Also, a family of cafés caught my eye. These comprise Mantra Bar, Teura and Chainyi Dom (Tea House). Their menus were smaller but included imaginative dishes: Tibetan Momos, Georgian soup harcho, and vegetarian shishkebabs.
I also noticed that one of the oldest vegetarian cafés of Saint Petersburg, Troitsky Most, expanded and even split into two companies, with two eateries each. I was curious to see what the difference between the two would be.
All-vegan Saint Petersburg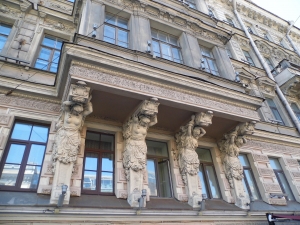 According to the online guide, vegan café Horizontal is located at the "Loft" project in 74 Ligovsky Prospect, by Ligovsky subway station, and serves vegan burgers, hotdogs and wraps. It is neighbours with another street food establishment called Hood with the same address. Vegan Shmegan offers a similar menu and is found at the "Third Cluster" loft at 4, 8th Sovetskaya, south of Chernyshevskaya subway station.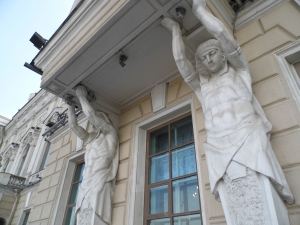 Bunker the vegan store stocks sausages and luncheon rolls, vegan cheeses, powdered wheat protein, tofu, plant milks, sweets and other food and non-food products. The store is situated in 12 Povarskoy Pereulok, lit A, pom 10H and open every day from 11 am to 10 pm. The closest subway stations are Mayakovskaya and Ploschad Vosstaniya to the north or Dostoyevskaya and Vladimirskaya to the south.
Arriving in the city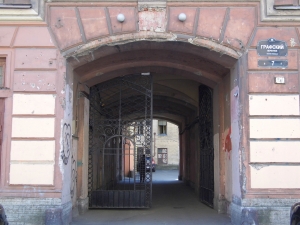 I flew from the UK via Minsk, Belarus. A word of warning: don't. Belarus is not called the last dictatorship in Europe for nothing. I am not going to describe the colourful details of what awaited me at the border (Russia and Belarus share international borders). I will just say: if for some reason you do decide to set your foot in that land, have all the documents for yourself and anyone you're travelling with: passports (obviously), birth certificates, marriage certificates for spouses, anything you can think of.
After this cold shower of state welcome, I got a cold welcome from the famous rainy climate of Saint Petersburg at the airport. However, once I arrived at my friend's place where I was staying, my magical vegan trip started in earnest. Masha and her family cooked delicious vegan dishes for me everyday: borsch (beet soup), buckwheat, potatoes, fried courgettes, salads and fruits were abundant. I drank my favourite cold malted bread drink called kvass daily, as you cannot find it outside Russia, Ukraine and Belarus or Baltic states other than in special ethnic stores.
Day 1
Masha and I went to Peterhof, a sumptuous palace-park complex where Russian Emperors went to have a break from the busy city life. Put plainly, there is no vegan food there. We brought snacks and water with us. We came by train from Baltiysky Train Station and then by bus to the entrance of the park. There are also shuttle buses that go there.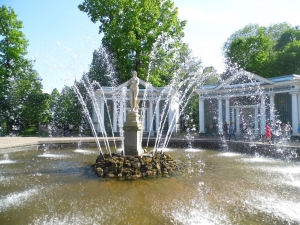 As we returned to Saint Petersburg we ran into a Funduk health foods store right outside the station. I got dried forest mushrooms that were made into a soup later, and "caviar" made with seaweeds, which I put on my bread for breakfasts.
Day 2
Having arrived in Gostiny Dvor subway station, a friend and I took a stroll to Troitsky Bridge along Nevsky Prospect, the central artery of the town and its high street, and then along Palace Embankment, behind the palaces that constitute the Hermitage Museum.
Across the Neva River there lies a small Hare Island, on which Saint Petersburg was founded in 1703 as Peter and Paul Fortress. Entrance is free, though if you want to see various museums, such as the cathedral, the prison and the mint, you will have to buy separate tickets or one pass to all of them.
Done sightseeing, a friend and I crossed the park to the north of Hare Island to reach "Velikan Park" entertainment and shopping mall, passing on the way an installation of Saint-Petersburg most notable buildings in miniature and a monument to the first revolutionaries of Russia, known as "Decembrists", who in 1825 tried to overthrow the Tsar.
Mantra Bar is on the ground floor of Velikan Park. I loved the place. Elegant décor and soothing music created an instant relaxation vibe. We were offered a secluded cushioned platform equipped with cushions and a low table.
I order a quartet of Momos, two of which were not vegan in the menu. I asked if they could be made vegan, and received a positive reply. So two of my huge Tibetan-style dumplings contained pumpkin, and the other two – samosa filling. They also substituted one of the two sauces for a vegan one. The momos were delicious, as was the fry-up at the centre – vegetables and potatoes – the most usual and tasty side I ever tasted. In addition, we were offered cold cowberry drinks on the house.
For afters, my friend and I both had Arabic coffee prepared on sand. I – with cardamon, and she – with orange peel. The coffee was beyond compare. I also had pumpkin cake, which was moist and delicious. I could not recommend Mantra Bar highly enough, and I hope its sister establishments are as good.
After lunch, we visited Russian Museum, with its extensive collection of the art made in Russia and surrounding countries. I especially loved the Folk Art rooms. Make sure you see the 20th century floor. The Museum is confusingly laid out, so if you cannot find it, just ask.
Day 3
I spent Day 3 mostly at Vasilyevsky Island, another cultural hub with its Stock Exchange, the University buildings, Menshikov Palace and the Academy of Art. All these are located along the Neva River, across which you can admire the landmarks of the opposite bank, such as the Admiralty and St. Isaac's Cathedral.
I turned in-land at the "7th line" street and reached the green boulevard in between the 7th and 6th lines. There I saw one of the four cafés of the vegetarian Ukrop (Dill) chain and not one, but two falafel take-aways. However, my goal was a café belonging to one of the Troitsky Most competing companies.
It turned out to be an order-and-pay at the counter sort of establishment. The girl at the counter seemed unusually wound up and spoke in short grunts. Nevertheless, I managed to establish which dishes from the blackboard were vegan, along with the desserts from a rotating glass tower. However, she forgot to give me the hot ginger drink that I ordered, or to include it in the bill – I had to stand up and ask for this later.
I had three salads from a salad bar and a ratatouille. The salads were OK. However the ratatouille looked like a splat of nuked aubergines and courgettes. For desserts I had a coconut cake, which tasted like a rubber eraser. Moreover, I felt hungry an hour after I had that meal. The portions were small. In addition, I failed to notice that you have to order your sides separately, and the girl did not point that out.
Which led me to look at my vegan map when I was back on the mainland. I decided to check out a vegetarian store Adi. A falafel take-away called Bodryi Nut was next to it, so I decided to grab a snack there. On Gorokhovaia Street by Spasskaya and Sadovaya subway stations, they have three vegetarian establishments in a row, the third one being a vegetarian café Rada & K.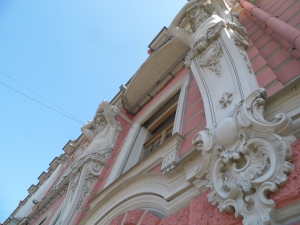 Adi store surpassed all my expectations. It had everything a hungry vegan can hope for: soya milks, yogurts and mince. Various packs of tofu and seitan. However, the most popular product seemed to be vegan luncheon rolls, which is something we Russian vegans love, being brought up in the Soviet Union. Then bread with a slice of a luncheon roll was our usual lunch, and fried slices of luncheon rolls with potatoes – our dinner. I grabbed literally the last roll in the shop, and two customers who came after me were told to wait until the next stock up.
I exited the shop burdened with the goodies, and hurried to the window of Bodryi Nut (Upbeat Chikpea), anxious to have my favourite food ever. What a disappointment it was. The staff – young woman and man – seemed courteous and well wishing enough. However, they took ages making the spicy falafel sandwich that I ordered. When it arrived, I was put off by a strange taste and texture in the sandwich. On visual inspection, the weird substance turned out to be humus, but as I have never seen or tasted in my life. It was grey and runny, with flavour of cardboard gone off. The falafel balls were all right, but the rest of the filling just felt bizarre.
Day 4
Day 4 found me south of Nevsky Prospect, in the streets running parallel to it west, in the direction of the Fontanka River. On my way, I saw many vegetarian establishments, such as Gautama, another Ukrop outlet, Ra Family the raw vegan café, and Teura, but as it was morning, I was not hungry yet.
Having caught a bus at Nevsky Prospect, I finally arrived at the most famous landmark of Saint Petersburg: Palace Square, and at its most famous Museum: the Hermitage, a home to thousands masterpieces of World paintings, sculpture and crafts. A word of advice: the museum is huge, so pick what you want to see in advance and see it.
As for the after-culture meal, I crossed the Moika River to end up at number 30 Moika, at the other Troitsky Most.
The layout was very similar: a blackboard, a salad bar and a hurried girl.
However, this time I was wiser and was sure to order the side (buckwheat) with my main (tofu fried with vegetables).
For starters, I chose "okroshka" – a wonderful Russian invention. It is a cold soup, with raw and cooked vegetables chopped and thrown into cold kvass together with bits of vegan meat or sausage. Delicious and refreshing in summer. I had a hot cranberry drink and a poppy seed cake for desert. All the food was delicious, and the poppy cake so filling that I could not finish it in one go.
My personal verdict: I like the Troitsky Most that is on Moika and 35 Kronkverksky better than the one on Vasilyevsky Island and 9/2 Kamennoostrovsky.
Day 5
One more out of town trip, this time to Tsarskoye Selo, another summer residence for Russian Tsars and Tsarinas. Ekaterina the Great in particular loved the place. You will find a ramp built for her adjacent to the palace, so that she could avoid climbing stairs in her golden years.
We took a train, out of Vitebsky Train Station, and a bus. There are also other transport options. Again, no chance of finding vegan food easily. I brought sandwiches I made with humus and luncheon rolls from Adi shop.
Day 6
On Day 6 we explored Nevsky Prospect a bit more. The luxurious Eliseyevsky Store might offer some vegan treats, like dark chocolate, but to be honest everything is too expensive there. We walked mainly to admire the over-the-top décor. Outside the store was a gelato stand with two sorbets on offer. Yay!
The Church of Our Saviour on the Spilled Blood is stunning outside and inside. I was mesmerised by its interiors, all done in mosaics of brightly coloured stones. Breath-taking. Then we went to stroll in the oldest public park in Saint Petersburg, frequented by the greatest Russian poet Alexander Pushkin: Letnyi Sad (Summer Garden).
We crossed the Fontanka River from the southern entrance to the Park, and walked a bit further along Pestelya Street to find a vegetarian café Botanika, across the road from the church of St. Panteleimon. The church is important, because its bells started ringing in the middle of our meal, and rang for at least three minutes. The tune of the ringing reminded me of the popular song about Chizhyk-Pyzhik, a little bird, whose statue now graces the wall of the embankment right by the bridge in the vicinity.
I ordered Asian noodles with peanut sauce and tofu – a kind of thing that I would often make at home, and a brownie for dessert. I especially enjoyed the hot berry-based drink with spices called "Lakshmi". The main dish was fine, but the brownie was unfortunately a little dry, and not saved by an imaginative but not very tasty tofu-based chocolate sauce.
Overall I applaud Botanika for having the most extensive menu I have seen in any place. However, I personally vote for Mantra Bar.
After the meal we caught one of the River boat cruises, which was entertaining and educational. Ours departed from the Moika Embankment opposite Field of Mars and went through inner rivers and canals of Saint Petersburg, without going out in the Neva.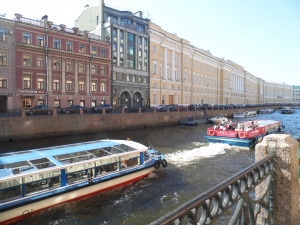 I recommend this type of tour, because both sides of the Neva River can be easily accessed and seen on foot, whereas you will find it hard to explore all the little canals of the city by yourself.
Day 7
On Day 7 I listened to some poetry at the Book Fair by the Singer House, also a bookstore, with its distinctive Art Nouveau architecture. The bookstore is extensive and I spent the most money in one go there.
Then I covered the sights that I had missed previously: Admiralty, Bronze Horseman (monument to Peter the Great), and St. Isaac's Cathedral. I then walked along Konnogvardeysky Boulevard in order to reach New Holland Island – a strange but beautiful ghost town.
Right at the point where the Boulevard ends and you have to go to the subway to cross to the other side, I found a café called Horas that served a very good falafel sandwich (albeit took a bit preparing it – honestly, Russian falafel makers should take an educational trip to the Middle East or at least to Manchester).
The address of the café is: 4 Trud Square, phone 922-53-03. The café is open daily from 6 am to 1 am and also serves vegan side dishes, such as potatoes and vegetables. Horas is the second falafel place reviewed on this blog.
In the evening I still had time to check out Yelagin Island with its park and palace. In addition, they had a street theatre festival that weekend.
Language tips
A little tip regarding Russian language and vegan vocab. Vegan is pronounced VEh-gahn in Russian. It looks like this: ВЕГАН. Also, you can ask for the food that is "pah vEh-gahn-oo" (ПО ВЕГАНУ) , which means "made after vegan requirements".
In addition, some people now follow Orthodox fasting and eat vegan food during fasts. This is why if you ask for "pOh-stnah-yeh" (fasting) food, you'll get a vegan option. In Troitsky Most on Moika vegan options were marked with the Russian letter П (P) for "postnayeh" (ПОСТНОЕ).
Falafel is written ФАЛАФЕЛЬ in Russian.
See you, Jewel of the Baltic!
Thus ended my trip to Saint Petersburg. On the one hand, it was an undeniable success and a huge pleasure. On the other, I don't think that even a month in that magical city would be enough to start to know it truly. Nevertheless, I made a good start and I do hope to return to see more and to eat more vegan food!
Oxana Poberejnaia is a frame drummer, an author and an artist. Her works can be found here: https://poeticoxana.wordpress.com/