So, you're looking for vegan food in Romania, eh? You're probably wondering what are your options in an Eastern European country you know little about, except that it's heavy on meat if you believe blogs on the internet.
Indeed, walking into a Romanian restaurant and asking for 'vegan', 'vegetarian' or 'animal-free' food will get you worrisome, questioning or even disappointed looks from usually friendly staff unsure how to help. Before feelings of dismay and anxiety set in – whether in real-life or pre-trip, keep in mind what I'm about to tell you next. It's going to make your trip to Romania easy and delicious!
The most important thing you need to know is…
Romania is a vegan's paradise. The reason for this is so simple yet so convincingly strong there's no arguing about it: religion. With 85% of the population Eastern Orthodox (a conservative branch of Christianity), thoroughly attached to the Bible's teachings, priests' sermons and traditional customs since the 13th century, Romanian folks thoroughly abide their religion's prescription to fast – that is to exclude any and all products of animal origin from their diet.
And here comes the best part: the Orthodox calendar requires Romanians to fast no less than 100 days each year. There are two major fasting periods which last for 40 days each before Easter (variable dates in Spring) and Christmas. Fasting also takes place during regular Orthodox holidays such as name days of various saints, and, as a general rule, every Wednesday and Friday on any given week. Yes, thanks to religion, Romanians have been eating healthy and helping the environment for quite a while, long before Western culture spawned the 'vegan' term.
So here's my biggest advice, tip and insight to any vegan traveller out there who wants to visit Romania: you don't ask for vegan food; you ask for 'mancare de post' (fasting food). All of the sudden the hesitant waiter's face will light up and say "Yes, of course, we have a selection of that, including today's specials. Here, let me show you."
And just like that you'll gain access to Romania's food paradise for vegans!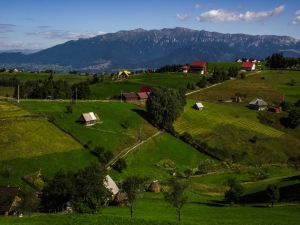 One thing you should know: Romanian cuisine is based on our historical rural culture, where agriculture, harvesting nature's fruits and caring for livestock played an important role in daily people's lives. In the countryside, meat was rare, even considered a delicacy, and eaten only on special occasions – such as Easter and Christmas, when after the long and challenging fasting period a spectacular feast is prepared.
So it should come as no surprise that Romanians have created and perfected many dishes into simple, hearty and healthy delicacies vegans never thought of. Let me give you some suggestions of traditional Romanian 'de post' dishes – remember, that's the keyword for vegan.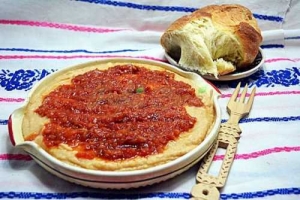 'Small' dishes
Let's start with some appetisers. Iahnia de fasole (beans mash) is a staple you will find anywhere, anytime. It's made out of white beans baked and then mashed with garlic and oil, topped with lightly-fried onions and served cold. It's so filling and delicious most of the time you won't need anything else after!
The next favourite appetisers is salata de vinete (eggplant salad), similar to the Middle East's baba ganoush but without the tahini. Fire-baked eggplants, peeled and mashed with onions, especially delicious during summer when made with fresh eggplants. You just spread it on a piece of bread with some tomatoes on the side and that's it – you won't stop eating until the bowl is empty. Sometimes it's mixed with mayonnaise, which makes it no longer vegan or as tasty, in my opinion, so be sure to ask first.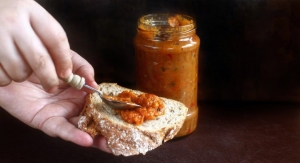 A variation of eggplant salad is zacusca which is red because it has tomatoes, red peppers or mushrooms added for more taste, boiled in a stew and served cold as a spread. You can even find jars of zacusca in supermarkets or groceries stores and take it with you to make sure you won't starve.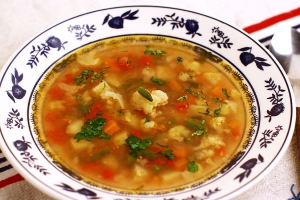 Another thing you didn't know is that Romanians are big on soups. Steaming sour soups called ciorba, to be more precise. While most contain chicken, pork or beef meat, there is the ciorba de legume option (vegetable soup) which will delight your taste buds and stomach, particularly if you're visiting Romania during the cold season. Think of 10 vegetables, pick 5-7, boil them, add lemon juice and there's your Romanian ciorba.
Hard-core vegan dishes
Now, let's move on to the mains. You may or may not know that sarmale (pot cooked cabbage rolls stuffed with minced meat and rice) served with mamaliga (polenta) is one one of Romania's most representative and delicious dishes. This all-time-favourite was, of course, adapted to match the requirements of fasting so now instead of meat you have mushrooms. Voila – just as delicious, but this time vegan! Erm, de post.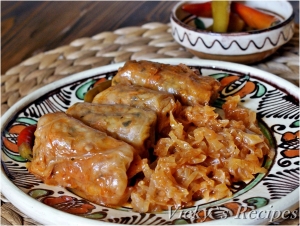 If by now you're not already full – low chances of that happening in Romania – you can try the various vegetables stews (tocana) made specifically for fasting periods. There are various combinations depending on seasonal vegetables, but they always include the staples: potatoes and onions. There's also a stew-like rice with vegetables dish which is just as delicious and filling called pilaf de orez. Or single-vegetable dishes made with spinach or mushrooms which are very popular. They may not look appetising, but they're delicious, creamy and healthy!
And just in case you need food that's more familiar to your stomach, then go for vegetarian pizza. Really, there's NO pizza place in Romania without a vegetarian option, and most of the time it's delicious too! Even fast-food chains like McDonald's or Springtime have vegetarian options.
Dessert anyone?
Yes, as much as religion is important for Romanians, satisfying the sweet tooth is no joke for us. There are various fruit pies, strudels or tarts with apple, sour cherries or wild fruits, fruit compotes (pre-boiled jar-served) or the simple all-time-classic pancakes with jams. They're easy to find too, even in street pastry shops. Just remember the keyword!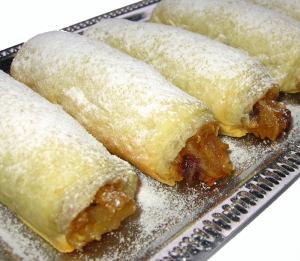 So there you have it – one piece of info few vegans will know about. I hope this was helpful and you will consider planning a trip to Romania because my country has much to offer and I want to help you find its beauty!
Just remember – in Romania you're not a vegan; you're religious and want to fast – how's that for a way to connect with locals? 🙂
Marius Iliescu is the founder of Romanian Friend, a locally-run platform connecting travellers to handpicked local guides and recommended tours, promoting authentic Romanian beauty & local travel. Read more of our local insights on our website and follow us on Facebook to stay in touch!
VeganTravel.com is a place where vegans from around the world can share their passion for travel and adventure, help promote and grow interest in going vegan, shed light on the issues animals are facing around the globe, and help build a more sustainable and compassionate world. By sharing our collective experiences, we believe we can show the world how easy it is not only to travel as a vegan, but also spread a message of compassion with those we meet along the way.