To celebrate my 30th birthday I knew I had to something special, and the Romanian Ice Hotel perfectly fitted my idea. I went with my sister and used the company Untravelled Paths who were amazing, they were very quick at responding and had a very small-company feel about them.
To order vegan food is not complicated in Romania because 81% of the population are Orthodox Christians and when they fast (or "de post") they become vegan, even though they do not call it vegan, or fully understand the word. If you tell them you are fasting or de post they will understand, and on menus you can normally find de post items. Even in the petrol stations there are snacks labelled as de post and vegan.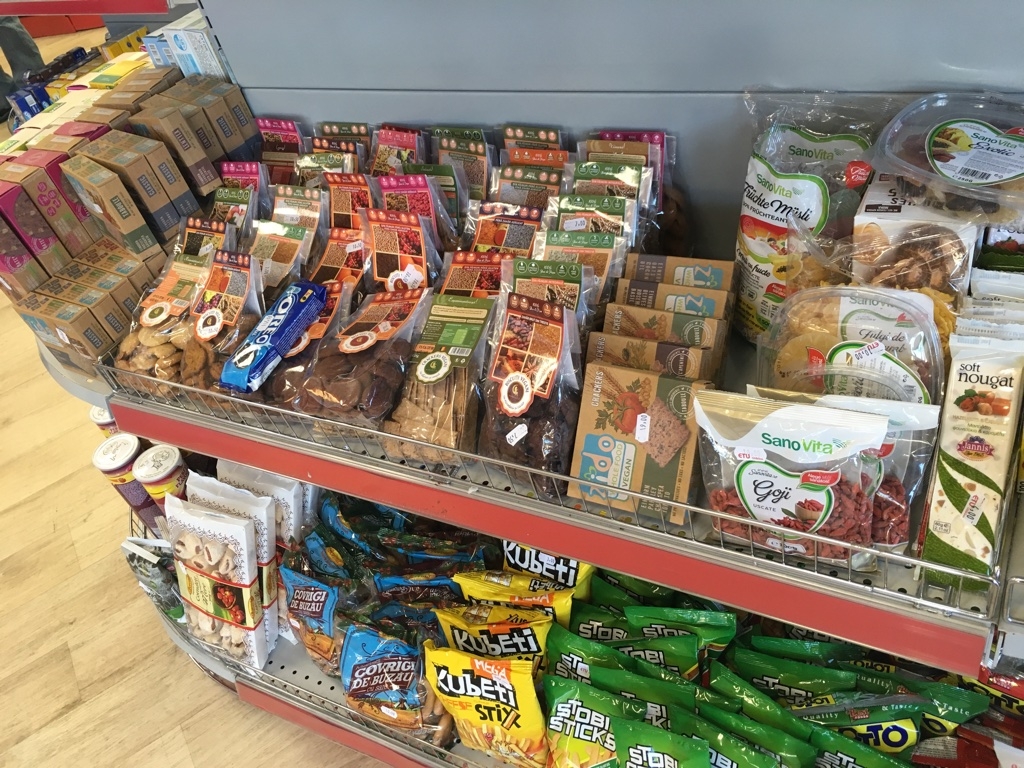 We started in Bucharest and had a walking tour around the old city, seeing sights of St Anthony church, Stavropoleos Church, University, bank, the old court. We also went to the Revolution Square and the Palace of Parliament, which is the second largest administrative building (it is massive!), on the 1hr30 tour we only saw 5% of the building.
We ate at Aubergine restaurant where we ate homemade bread, three types of falafel, vegan aubergine, mediterranean salad-it was amazing!
We also ate at VanFrukt and had lovely coffee and vegan waffles, we tried the tofu/avocado one and the fruit one, both were instagram worthy and tasted delicious.
We also tried Caru'Cu Bere and on Friday and Saturday nights they have traditional dancing that was fun to watch, they have a separate menu just labelling the vegan options, we tried the aubergine mash, beans, cabbage and polenta, and it was good food and definitely filling!
The next place was Brasov and on the way we went to Peles Castle, which is beautiful. In Brasov we had a walking tour to see the square, medieval gate, old city walls and even their own Hollywood sign on the mountains, the smallest street in Romania. We ate at Sergiana and had grilled peppers, starters of mashed potato, mashed aubergine and mashed aubergine with tomatoes, cabbage, fried mushrooms. The food was ok nothing special. We also tried Bella Musiza, which is a fusion of Mexican and Hungarian, we tried the vegetable soup, grilled vegetables, bread, cabbage and nachos. The best bit was definitely the bread!
Next stop was the Ice hotel and it was beautiful in the mountains. We drove along the road that Top Gear said was the most beautiful road in the world. Then to reach the Ice Hotel we went on a cable car. We tried ice rafting, ice tubing, ice banana boat, snowmobiling and they were all really fun, and we even did a tunnel trek to a beautiful mountain view.
We ate at the Chalet and had cabbage rolls filled with rice and vegetables and polenta-again very filling. We also tried the Ice Restaurant and they made a vegan menu for me. I had mushrooms, carrot soup, grilled vegetables and then a fruit salad, the food was good if a little boring. Sleeping in the ice hotel was fun, before sleeping you can drink and dance in the Ice Bar to warm yourselves up. Surprisingly it wasn't that cold to sleep on a bed of ice, as you are given a warm sleeping bag. The rooms were all decorated in pop stars, and we slept in the Madonna room. The beds all have sheep skins on the top, but you can remove them and not sleep on them. The breakfast in the morning was just fruit and bread/jam-not the best. We got to see the workers harvest the ice blocks, build an igloo and ice church.
We could not miss on seeing Dracula's castle, Bran castle. It was not the most interesting castle I have ever been too, and the man the legend was based on never lived at that castle. It is famous because Bram Stoker who wrote the book based Dracula there. We ate at one of the tourist restaurants in town, Galeriile Bran and we tried the potato pancakes and apple sauce and cabbage, but it was all very greasy and not good.