It's been a while since I first came to Curitiba, but it was probably one of the most disappointing experiences of all my travels. After having spent 5 weeks on the beautiful island of Florianopolis, of which I wrote in a previous blog, I now arrived in this city where there was no sea, no nature, just high buildings. And heat, it was very hot. It's interesting, therefore, that I have been living here for over 9 months now.
In Europe, Brazil equals beautiful beaches, clear blue water, Rio, São Paolo, Samba and Neymar. If you are well educated you know about the Amazons as well. However, this country, one of the biggest in the world, has a lot more to offer. In Curitiba, I didn't really see that at first, but this changed over time. There is a lot of cultural activity, an organized public transports system and a lot of vegan and vegetarian options if you want to eat out.
On My Way to Curitiba
On my way to Curitiba initially things went quite wrong. My Airbnb host in Florianopolis dropped me off at a good hitchhiking spot that I left after 20 minutes. These good hitchhiking spots of others never seem to work. At the time this might have been because of lack of experience from my side as well, but I always ended up at impossible locations. In this case, a crossing where cars were coming from all sides. Everything was so small that every driver needed it's full attention to make sure he wasn't driving into another car.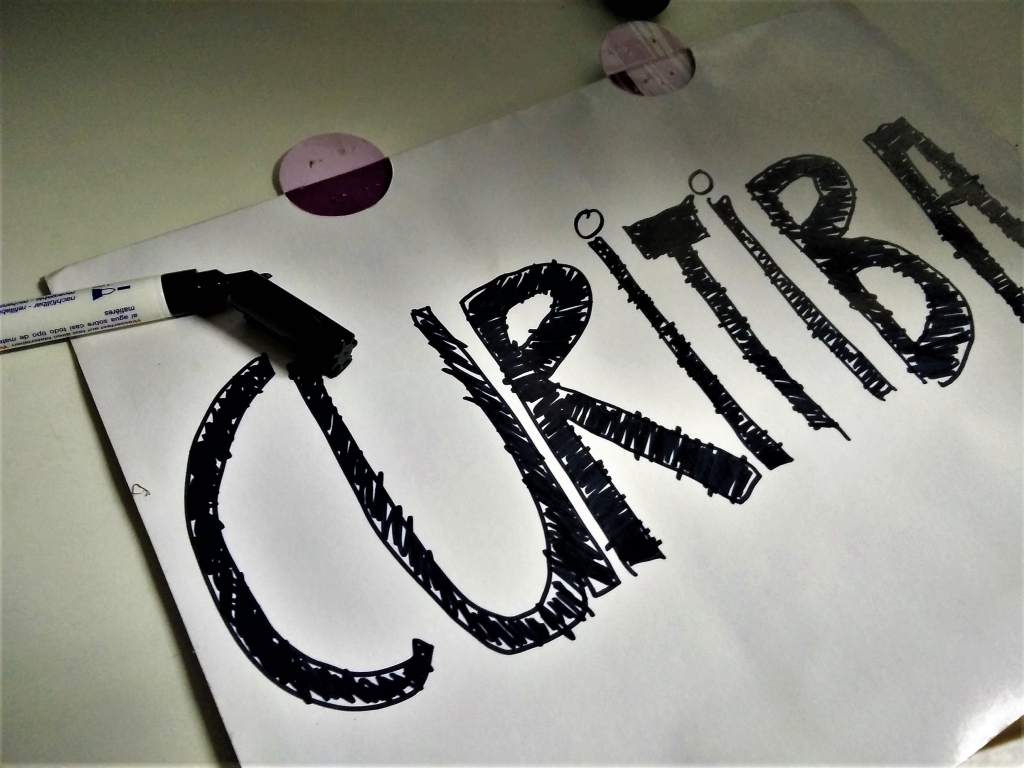 I crossed the street, I walked around the busy streets and I looked at my Google Maps a couple of times. 30 minutes later I finally arrived by the side of a 3 lane road. It was connected right with an entry to the highway that went to Curitiba. I was standing on a big unpaved shoulder that was wide enough for a heavy loaded truck to stop. The only problem, everybody was passing by with 80km/h.
Tricky Situation
After an hour a tricky situation occurred. Two guys both wearing a cap, a Bermuda, a shirt, and flip flops came walking up to me. They had a tired unpredictable aura to them that you see more often in people that have nowhere to live. As I was standing there alone by the road with two backpacks worth a fortune to them I felt all but comfortable. As my heartbeat increased I pretended to be busy with my hitchhiking all the while eyeballing the two guys intermittently. I was happy I had clicked my two backpacks together so it would be hard to steal the lighter one with just a grab. In my head, I was calculating my chances if I had to fight these two. I was a lot taller and I wore hiking boots. It would definitely hurt if I managed to kick their shins, however, these two guys were marked by life.
When they finally were a couple of steps away, one asked if I had some water for them. Two 1.5 liter bottles with water were sticking out of the sides of my backpack, but I denied. I denied a second time when they asked again. After they walked away and went down to their own things under a nearby bridge. In retrospect, I could have easily given them the water. Nevertheless, at the time the language and the discomfort made me decide otherwise.
A Car Stopped
Another two hours later, finally, a packed Fiat Uno stopped. Where I was going? Curitiba. These two surfers just came back from the beach and could take me half way. If I wanted to help out with the gas? Sure. Big relieve, I was finally on my way to Curitiba.
An uneventful ride later, where I exchanged the usual with my new friends; where are you from and what are you doing here. Good for my Portuguese at least. They smoked their weed behind the wheel, I politely denied. They dropped me off one and a half hours from Curitiba. After a couple of hours, I realized, at the wrong intersection. Nobody stopped. Frustrated as I was I decided to walk to a nearby bus stop and head for the central bus station to take an intercity bus.
Frustration in the Dark
If that wasn't enough, I arrived in Curitiba around 20:30 in the dark. I had written down all the bus numbers that would take me to my Couchsurfing address. I walked up to one of the people working at the bus terminal. This man two heads smaller than me with a black mustache looked puzzled at the numbers. I wasn't getting any further here. He asked a colleague that looked just as puzzled. I started getting anxious.
When I finally stepped onto a bus there was a man in a wheelchair talking to me, because he had heard what directions another person had given me. Unfortunately, I didn't understand him. My sense of direction told me I had to change buses after two stops. The man in the wheelchair waved his hands and said something. Again I didn't understand. All I know is by now, my sense of direction is really bad.
10 minutes later I ended up at another bus station. This one was a wide road with bus stops on either side. It was dark and I was getting really impatient. I couldn't communicate with my host somehow and I asked somebody by the road. I showed the 10 bus numbers to a man with black hair glasses and a dark blue uniform. Again, a puzzled look followed.
Fuck this, I stepped into one of the yellow buses that read one of the numbers I wrote down. 10 minutes later I arrived at my destination. Wise lesson, nobody, really nobody knows bus numbers, only names. And for that matter, nobody in Brazil cares about north, south, east, and west either. Nobody knows, nobody cares. So much for my "European education".
Discovering Curitiba
In the week after I took the opportunity to visit a couple of the many parks in Curitiba, hide from the regular late afternoon rain torrents, meet some people and went hiking at Morro da Anhangava. Curitiba is situated at an altitude of 900 meters and has mountains around. According to Brazilian standards, it's a small city with 2 million inhabitants but it still takes one to two hours to reach the nearby mountains. In these mountains, there are a lot of trails to be found (go by car), and close to nearby cities like Ponta Grossa are waterfalls, and the Vila Velha State Park with amazing rock formations. The latter is world heritage and therefore übertouristy and is far from what I prefer. Rather go check out waterfalls like Buraco do Padre near Ponta Grossa (don't get a ride from the same person like me, this will save you a car accident), check out the many trails around the city, and visit Morretes by train.
Botanical Garden Curitiba

Botanical Garden Curitiba

Morro de Anhangava
This train ride to Morretes of 3.5 hours offers you spectacular views of the mountains and it's an insane amount of green vegetation. If you are lucky you can pick a banana along the way. When you arrive don't forget to try the Vegan Barreado (typical Paranense meat stew made with Jackfruit in this case) in Restaurante Manacá da Serra, and explore the mountains around by bike, car, or by foot. Furthermore, from here you are already near the coast where there is the possibility to visit Ilha do Mel.
Vegan Barreado

Morretes

Morretes
Vegan and Vegetarian Restaurants
Then back to Curitiba, with its big avenues and iconic historic center São Francisco. This city is one of the safest and best-organized state-capitals of Brazil. However, it can also be freezing cold, the weather is unpredictable like street dogs, and the vegetarian/vegan movement started out here for the Brazilians. Proof of this is its wide variety of vegan and vegetarian restaurants.
To name a few of my favorites Semente de Girassol, Veg e Lev, GreenGo, Dom Veggie, Veganetes, Clorofilia, Botanique and Natural da Ordem. There is everything from cheap to expensive, a la carte to all you can eat buffet.
If you want to know more about me;
Blog: Quest for Authenticity
Instagram: @joelsqfa