Below are some airline travel tips provided by your fellow vegan travelers who have collectively flown several hundred thousand miles – multiple times around our lovely planet.
The Enormous Impact Aviation has on Climate.
Airplanes burn billions of gallons of fossil fuel each year emitting around 2% of our total global CO2 emissions. And sadly, sustainable alternative fuels for airplanes are still a long way off. These days airlines appear to be banking on convincing potential flyers to purchase "carbon offsets" to help ease our conscience about our travel footprint, but many consider offsets greenwashing intended to falsely reassure the flying public.
Our community is faced with an ethical conundrum when it comes to air travel. On the one hand, travel opens our eyes to so many wonderful experiences and contributes to our overall understanding of our place in this amazing world. On the other, in choosing air travel we may be contributing to climate change and to the current extinction crisis (over 200 species are going extinct every day).
Travel by air is often the only realistic way to travel to another continent. But there are far more eco-friendly ways to travel within our home continent or once you arrive at your initial destination such as trains, coaches, and even electric vehicles as they become more affordable. Some in our community have pledged to completely stop flying, while others choose to fly less and travel more by public transport. Whatever you decide, we hope you will choose to better inform yourself about climate change and make your voices heard.
Ordering Vegan Meals for your Flights
Most airlines let you order vegan meals for long-haul flights (for example, transatlantic and transpacific flights). However, some, like the American airline carriers, don't offer any special meals on any of their North American or the North America to South America routes. And their websites are notoriously unhelpful so as a precaution we strongly recommend calling your airline to confirm that you can order a vegan meal. Below are tips for both scenarios.
Before you fly you should check to see how vegan-friendly your airline is. We have several airline reviews on this site, and there are other sites that  blog about the vegan food experiences they have had. We also hope you will consider reviewing and sharing your airline travel experiences here or on another site to help inform your fellow vegans as to which airlines best deserves our business.
If your airline offes vegan meals, they usually require that you order your meal at least 24 hours in advance of the first leg of your flights. Vegan meals are sometimes called "Strict Vegetarian," but most airlines use the code VGML for Western style vegan meals, (which sadly are often quite boring and kind of remind us of bland hospital food, but at least they are vegan).
Someone has to teach these airlines about adding tofu or seitan to their limited menus. And it also wouldn't hurt them to realize that we vegans still have tastebuds, and we like sauces and seasonings as well! Sorry, personal rant 🙂
We have also had success in ordering the AVML, which is usually only vegetarian, but we asked the airline to check if the departing airport caterer can provide it with "no dairy, cheese, fish, and no fish or oyster sauce" (we know, redundant, but we always want to be sure they are ordering it correctly).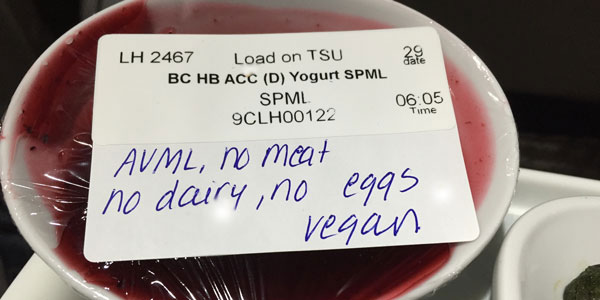 The AVML is a vegetarian Hindu / Indian vegetarian meal so it usually has more spices and is often much tastier, especially if you like curries. The AVML vegan meal shown to the left was provided on a Lufthansa flight.
When the flight attendant serves your vegan meal, please be sure to verify that any condiments served along with your meal are also vegan. Too often, less knowledgable flight attendants will serve a non-vegan bread spreads, creamers,  or snacks along with your pre-ordered vegan meal. The ingredients can be tiny or in another language, so be sure to ask your flight attendant to confirm that they are vegan.
Bringing your own Vegan Food with you on the Airplane
If a vegan meal is not offered on your flight, it is easy to bring your own meal with you. And it can often be tastier and healthier as well. You can carry most meals through security lines. And you can even bring sauces and salad dressing with you as most airport security allow you up to take containers with liquids up to 100 ml / 3.4 oz. Here for example are the TSA Liquids Rules for all U.S. airports. Security in the USA usually has stricter traveler requirements than airport security in most countries, so as a general rule their rules are a good guideline of security requirements for most international and domestic airports worldwide.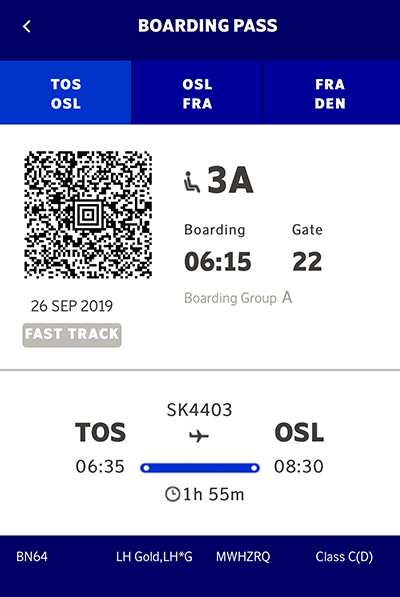 Downloading vs Printing your Boarding Pass?
For environmental reasons as well as convenience, we always try to download our boarding pass to our phone rather than printing them. It's especially time-saving if all you have is carry-on luggage and have the option to just go to the security line without having to check in at a ticket counter. Boarding passes from many airlines can easily be stored on free apps like Wallet on the iPhone or on the airline's own app. But with some, the airline emails you and asks you to click on a link to view your boarding pass. While this is fine if you have good cell phone coverage, that is not always the case. A helpful tip in that situation is to view your boarding pass when you do have good connectivity (before you leave your home or accommodations), and then taking a screenshot of it. That will save a copy in your photos folder so when you get to the security line, all you need to do is pull up that image to show them so they can scan its QR Code.
Want to Bypass Long Security Lines?
Several countries and regions offer security lines that are far faster for their citizens, and for others who have consented to a basic background check and gone through the necessary paperwork. Europeans, for example, breeze past the longer international lines by going on the EU-only security lines. In the USA, there are a few "fast track" options both for domestic flights and when arriving on international flights. Other countries also have quick-entry programs available, so be sure to check for those as well.
TSA Pre-check allows passengers to go through security lines for domestic airline flights in the USA without having to take your laptop out of your bag, take liquids out of your carryon bag, or take off your shoes. Some airlines offer TSA PRE for free to their frequent flyers, but you can also apply for it here.
Global Entry lets international travelers flying into a U.S. airport to quickly bypass security lines by scanning their pre-approved passport into a specialized kiosk. It is currently only available to Americans, Mexicans, Germans, Dutch, and South Korean citizens who have applied and been approved. You can apply here.
What are the best days to fly?
If you have flexibility, you can save quite a bit of money (security lines are usually shorter as well) by traveling during non-peak seasons. Lots of people fly during the holidays and during fall, spring, and summer school breaks. If you can, try to travel during less crowded travel periods.  The airlines usually overbook their seats during peak season, and they charge the most when their seating is at full capacity. But if you need to fly during a peak season and don't mind flying on the actual day of a holiday (Christmas day, New Year's day, 4th of July, etc.), you may find some additional availability and discounting on those days.
Flights on Tuesdays & Wednesdays
As many people work Monday thru Friday they often start their travels on Friday afternoon or Saturday. Tuesday and Wednesday are usually less congested travel days so airlines often offer extra discounts for departing and arriving on those days. On the other end of the scale, Friday and Sundays are usually the most expensive days to fly on, so try to avoid them if your schedule permits. Business travelers want to get home by Friday so they can spend the weekend with their families, and many travelers try to get home from vacations on Sunday, just before they have to go back to work the following Monday.
Carryon luggage vs. Checking in luggage
Do yourself a huge favor and travel as lightly as you can. Besides the physical toll in lugging heavy luggage or carrying heavy backpacks on your back, you can also avoid the horrible inconvenience of baggage theft and lost luggage. And when you are traveling, why waste precious travel time waiting on line to check in your luggage at your departing airport, and the even longer wait for your luggage at the baggage carousel at your destination airport.
When not on a business trip or having the need to dress formally for a special occasion, we highly recommending taking carryon luggage. It is well worth considering taking enough clothing for 3-5 days, washing them during your trip, and then rotating what you wear. And consider layering your clothing for colder climates.
If you decide to carryon, also consider very carefully your luggage dimensions, as many countries have very strict size restrictions for carryon luggage. For example, the size allowance for anything you carry on in Asia and Europe is far less than in the USA.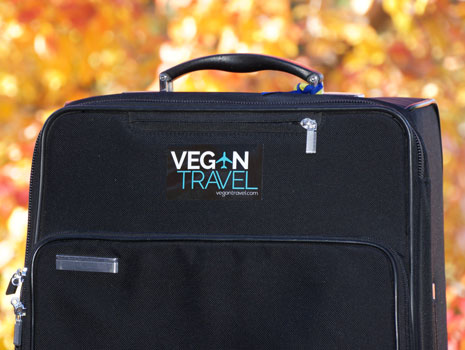 In some geographic markets with more than one competing budget / no-frill airline, flying from one country to another is incredibly inexpensive. For example, flights from the UK to another European country on Ryanair often costs little more than a restaurant meal. Budget airlines are a fantastic way to travel inexpensively if you don't mind the following trade-offs:
Not being able to reserve a seat in advance, check-in luggage and large carry-on luggage usually costs extra, the budget airlines usually don't offer refunds if you miss your flight nor let you make free flight changes, and the box meals they offer onboard cost extra. The last one is easy since we probably wouldn't be able to order a vegan meals on their flights anyway, so we would just bring our own food.
Aligned vs Non-Aligned Airlines:
Most of the world's larger consumer airlines belong to one of the 3 major airline alliances (shown below), allowing you to accrue millage points on both their flights and on their alliance partners' airline flights. They also usually allow you to use alliance member lounges and benefits if you are a frequent enough flyer with accrued status on their or their partner's mileage program. And those lounges and benefits can be ridiculously nice if you fly a lot. Those benefits attract lots of travelers (especially business travelers) to "loyally" fly almost exclusively on one alliance's partner members. But are they worth it?
Frankly, it depends on each individual's comfort goals, as well as on your budget. A couple of our favorite international airlines; Icelandair and Norwegian Airlines provide excellent customer service and currently have inexpensive fares on several direct transatlantic flights for a fraction of the cost of any of the major alliance airlines. They also offer often offer great connecting flights, and extras like the free WIFI on many of Norwegian Airline's flights. And there are many other independent regional airlines around the world also worth considering.
Overall the choice to fly on non-alliance vs alliance airlines usually comes down to significant airfare savings, versus the possibility of earning enough alliance program miles for perks like lounges, priority boarding, milliage award flights and free upgrades.
There are currently three major airline alliances, Oneworld, Star Alliance, and Skyteam. The benefits of using the alliances and their member airlines are convenience and accruing usable airline mileage.
The main benefits the airline alliances offer to all travelers are:
Each airline within each alliance allows you to accrue mileage on their partner airlines in addition the mileage you accrue on them.
If you are a frequent traveler accruing enough of these miles earns you certain benefits on your primary airline. Mileage benefits include:
Award Travel on the alliance airline partner of your choice.
Note: the airlines still require you to pay taxes and / or fees on award travel. These vary greatly depending on the airline you use and the airport they are flying in to or out from. For example, one airline charges over 3x as much in taxes and fees when you redeem miles on a round trip to London Heathrow Airport, than their partner airline charges for that same exact route. So be sure to compare airlines.
Mileage award upgrades to Business or First Class.

Some airlines let you use your accrued miles to purchase various goods and services

Some airlines let you donate your miles to benefit various charities.
Note: unfortunately, we haven't seen any animal sanctuaries or AR charities on any airline's charitable organizations donation options yet.

If you accrue sufficient miles within a year, some airlines will raise your flyer status for that airline to a premier level status.
Benefits the airline alliances offer vegan travelers are:
The ability to easily book all your vegan meals for any of your connecting flights from a single contact regardless of which airline partner you will be flying during your international flights.
You can book your vegan meals automatically when you login to their website if you have a profile set up with your primary airline.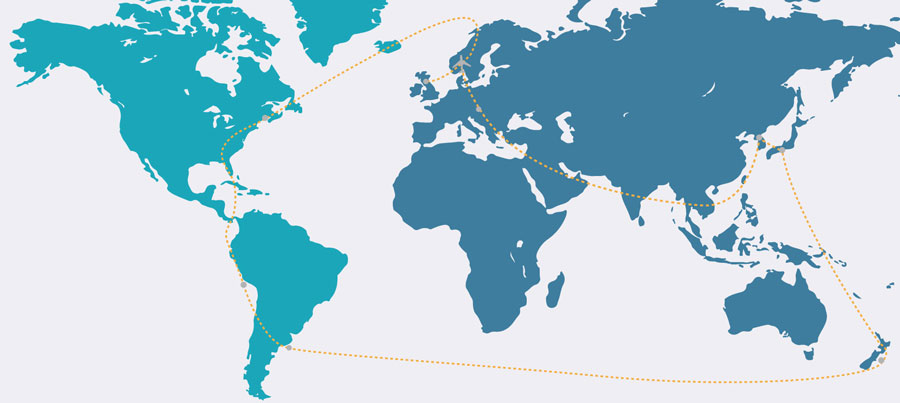 Traveling around the world can be the adventure of a lifetime. Each airline alliance offers special fares allowing you to depart from your home city, travel for weeks or months as you choose, stopping in the global cities you select along your way, and enjoying all the sights and wonders those cities and countries have to offer before returning home.  If you are considering which airline alliance to use for your around the world fare, following are some considerations to keep in mind.
The Around the World trips available today from the major alliances require you to choose to either travel in a roughly East or West bound direction for your flights. Their rules require you to continue traveling in that same general direction after each stopover, and end your around the world trip in the same city you originated in.
They are quite flexible in the length of time you can stay at any location, so you can travel as much as you like in each country or region. For example, vegan travelers Ross & Ellie started their Around-the-World fare in Oslo, Norway by flying over the Atlantic to the USA, so they had to continue in an eastward direction. You can fly on any airline in their alliance, and they allow you to take some North and South bound flights as long as you keep going in the same general direction. Ross & Ellie booked their around the world trip on Star Alliance and their 6-month itinerary was as follows:
Oslo, Norway to Washington, DC USA on Scandinavian Airlines
Washington DC to Kingston, Jamaica on Air Canada
Kingston to Lima, Peru on Copa Airlines
Lima to Auckland, New Zealand on Trans American & Air New Zealand
Auckland to Osaka, Japan on Air New Zealand & Air India
Osaka to Seoul, South Korea on Asiana Airlines
Seoul to Bangkok, Thailand on Thai Airlines
Bangkok to Vienna, Austria on Austrian Airlines
Vienna back to Oslo on Austrian Airlines
In addition to your around the world fare, you can also supplement your travels by going over land, or taking non-fare flights.  If the world fare flights don't get you exactly where you want to travel, you can also supplement them in the locations of your choosing by renting your own car, taking trains, buses, boats, and adding local flights. For example, at several of their destinations, Ross & Ellie took long side trips. They landed in Auckland but also traveled to the South Island of New Zealand. They also traveled extensively within Peru, Jamaica, Thailand, Europe and the USA.
You will be accruing miles on the airline in the alliance of your choosing. You can add those miles to an existing airline milage account. Trips around the world will earn you more than 25,000 miles, which by itself is usually enough to qualify for free domestic award travel.
Each alliance has different airline partner members. Depending on the alliance, some will fly to all your desired destinations, and some may not.
The price each airline alliance charges for around the world fares differs, so be sure to go to each of their websites to try them all out to see which one works best for your itinerary.
Below are links to Around the World fares and planner pages from the three major airline alliances:
Airline Alliance Member Airlines
SkyTeam Member Airlines:
Aeroflot
Aerolineas
Argentinas
AeroMexico
Air Europa
Air France
Alitalia
China Airlines
China Eastern
China Southern
Czech Airlines
Delta
Garuda Indonesia
Kenya Airways
KLM
Korean Air
Middle Eastern Airlines
Saudia
Tarom
Vietnam Airlines
Xiamen Airlines.
Star Alliance Member Airlines:
Air India
Air New Zealand
ANA
Asiana Airlines
Austrian
Avianca
Avianca in Brazil
Brussels Airlines
Copa Airlines
Croatia Airlines
EGYPTAIR
Ethiopian Airlines
EVA Air
LOT Polish Airlines
Lufthansa
Scandinavian Airlines
Shenzhen Airlines
Singapore Airlines
South African Airways
SWISS
TAP Portugal
THAI
Turkish Airlines
United Airlines
Oneworld Alliance Member Airlines:
airberlin
American Airlines
British Airways
Cathay Pacific
Finnair
Iberia
Japan Airlines
LAN
Qantas
Royal Jordanian
S7 Airlines
oneworld affiliates include:
NIKI
American Eagle
Dragonair
LAN Argentina
LAN Ecuador
LAN Peru
oneworld members-elect include:
Malaysia Airlines
SriLankan Airlines
Kingfisher Airlines.
Should you consider getting an airline credit card and accruing miles with your credit card purchases?
Credit cards are accepted almost everywhere these days, and in some developed countries, they are used more frequently than cash. All major airlines offer credit cards that let you accrue mileage for their airline for every purchase you make. And some offer double and triple miles if you use that card to book on their airline or you make related travel purchases. Several cards even offer large amounts of incentive miles just for opening a credit card account with them. But they do all come with a costly annual fee. If however, you are someone who will be traveling a lot, they could provide you with "free flights" (they will still often have taxes and fees), and free upgrades, whose normal costs could well exceed their annual credit card fee. Determining if opening one of these airline credit cards makes sense for you depends on the amount you expect to purchase annually on the credit card, and how exclusively you would like to fly on any one airline. Conversely, it may not make sense if you are in a geographic market that has a lot of competing airlines that you would rather fly on.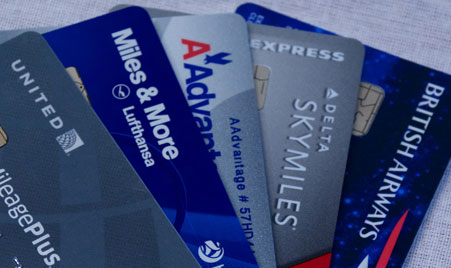 Please Share Your Air Travel Tips in the Comments Below