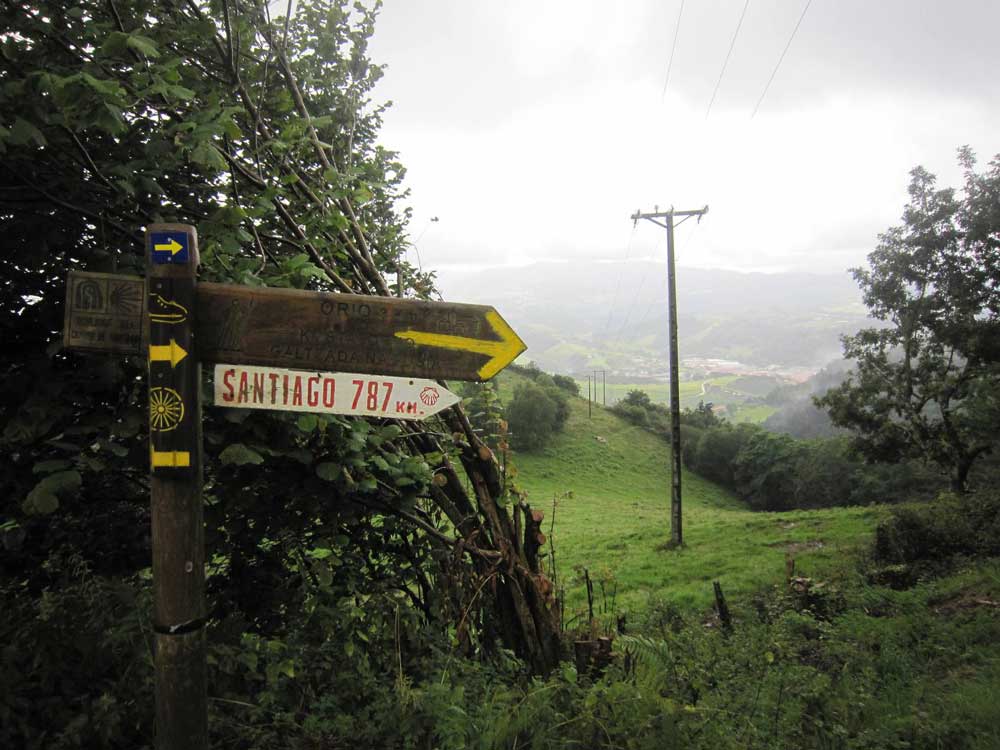 Walking is a great way to enjoy and get close to nature, and some of the finest of all walking routes can be found in the most beautiful parts of Europe. The glorious, varied and unspoiled landscapes that we are lucky enough to have within close reach offer a variety of ideal routes, some of which have been established for a long time.
Many such walking routes have their origins in pilgrim ways that came about as Christian pilgrims walked to the resting places of saints and to places of holy interest. Rome and Jerusalem, for example, can be reached by many such ways. One of the most popular and beautiful of all pilgrim routes is the Camino de Santiago, or the Way of St James.
A series of walks that takes you though the very beautiful landscape of Northern Spain, the Camino de Santiago leads to the cathedral of Santiago de Compostela. It is here that, so legend has it, the remains of the Apostle St James the Great were brought from Jerusalem to rest, making it one of the most important Christian religious sites in the world.
Listed as World Heritage Sites by UNESCO, the Camino de Santiago, and one of its routes, the Camino Frances, are among the most wonderful places to walk – either solo, as a couple or as part of a group – but what do you do when you want to walk these glorious routes and happen to be vegan? We've got some ideas on that, so read on.
Why Walk the Camino de Santiago?
The Camino de Santiago is a broad term given to a large number of routes walked even today by Christian pilgrims. Of course, you don't have to be of religious persuasion to walk there, yet the feeling of historical importance is one that cannot be overlooked. The various routes include some of the most beautiful you will find anywhere in Europe.
The Camino Frances, or the French Way, is a route that is among the most popular ones, retracing the steps of the many pilgrims who have made their way to the resting place of St James from France. The Camino Portugues is also popular, and leads from the cathedral of Porto, in Portugal, to Santiago by way of some spectacular and idyllic landscapes.
Other routes include the Via de la Plata, which is the oldest of the routes – first used in the 9th century – and the Camino Primitivo, and each is worthy of exploring at your own pace. These routes can sometimes be arduous, but most are suitable for walkers of all levels of experience, and there are walks that are passable by bicycle too.
Tips for Vegans
It is not an exaggeration to say that finding eating places for vegans is not always easy, and when you take a route such as the Camino de Santiago, which may take you to some remote places, the chances of being catered to are slim! For example, you will be offered a 'Pilgrim's Meal' at restaurants and inns – this is of course a money-spinner, and if you are on a budget it is not only expensive, but very rarely will it be vegan-friendly!
The answer is to be able to cook for yourself, which means planning your stops at hostels or guesthouses with a kitchen available. Fortunately, accommodation along the many routes of the Camino de Santiago is plentiful, and you will have no trouble finding places that are suitable for self-catering.
You should also make sure you have places where you can stock up on supplies. It is recommended you buy plenty of pasta – you will find it is in great supply in Spain and of a fine quality too – and also look for fresh vegetables and fruit on your route. Bread is also plentiful, and if you want home-made there will be plenty of opportunity in the small towns and villages en-route.
As you will be limited in your choice of meals, you might want to look around for vegan-friendly restaurants. You will find them in the larger towns but you might have to go off-route to get to them; some are very much worth it, however, as this is a region abundant in fresh, quality produce, and the food is often very impressive.
Walking the Camino de Santiago as a vegan is not a problem, it simply means planning ahead. There are plenty of opportunities for obtaining good food for cooking, and you can check in advance whether your accommodation has cooking facilities. Whatever you do, don't miss out on the chance to walk what is one of the most important and rewarding routes in Europe, as you will find it to be very much worth the effort.