show less
show more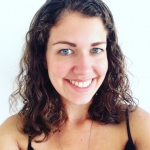 @eatyourselfgreen
Hello! Just joined and I'm on a transition from veggie to vegan, currently in Chiang Mai and travelling for a year…suggestions are super welcome to make an easier transition considering that I can't cook at the moment :/ Thanks!
View
Basic Info
My Name

Larissa
Terms & Conditions

I accept all Terms and Conditions
About Me
Introduction

Vegetarian Blogger at Eat Yourself Green and transitioning to Veganism while I travel the world with my partner.
Countries Visited
Countries