We are Viktoriya and Oksana Gruzdyn, Vegan Nutritionists, Immunotherapy Cancer Researchers, and PhD Students. Over the last several years, Oksana has co-authored numerous research articles and presented at various national and international conferences. Attending conferences and business meetings has been extremely valuable towards extending our education. However, many conferences that we attend do not always provide full vegan meals. Over the years, we learned how to manage to eat vegan despite being away from our usual routine and environment. In this article, we will highlight how we managed to eat vegan without breaking our budget, while traveling for business and work to these well known cities: Los Angeles, Miami, Las Vegas, Montreal.[/vc_column_text]
Los Angeles, California
Los Angeles is a city full of food, so much food that sometimes it can be hard to choose where to shop and eat. The one thing that we love the most about LA is that it is full of international supermarkets where you can get lots of fresh and exotic fruit and vegetables at wholesale prices. With a little research and preparation, you can stock up your hotel fridge with lots of delicious and healthy vegan foods.
The first thing that we always do while traveling to conferences or on business is stop by local markets and grab some fresh produce and water. 
On our way to the hotel, we stopped by Al Hoa Market in Chinatown in Los Angeles to get some cheap, yet good produce and water! Ralph's (similar to Kroger in the Midwest) and Trader Joe's also have great affordable vegan foods.
Erewhon and Whole Foods Markets are other, yet more expensive, alternatives for vegan grocery shopping in LA. Erewhon has everything you could think of: from raw vegan desserts to cold-pressed juices! This market is like a candy shop for vegans!
The next morning, while Oksana was busy preparing for her presentation, I went to visit LA Whole Sale Market in downtown Los Angeles. This is a huge market where you can get a case of fruit and vegetables at a whole sale price! We were able to get a case of papaya for only $10 and a case of organic tomatoes and bell peppers for $10-15. LA Whole Sale Market is usually open to the public from 2 am – 8am. The best time to shop is between 5-7am. If you plan to stay in Los Angeles for at least a week, then this is a good place to go for your grocery shopping.
For dinner, Oksana and I went to Au Lac, located in Los Angeles, CA. If you are into Vietnamese food, then this place is for you.  Everything is vegan at Au Lac and they even have a lot of raw vegan options! The food is delicious at Au Lac.
There are so many vegan options in Los Angeles that it doesn't matter whether you are visiting for business or pleasure, you will definitely be able to find something good to eat as a vegan!
If you have been to LA before, please share with your favorite vegan-friendly shops and restaurants in the comments below.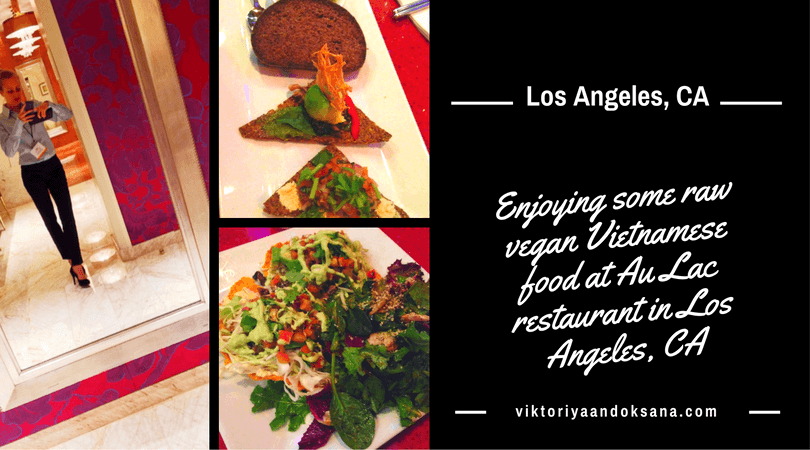 Las Vegas, Nevada
After several days in Los Angeles, Oksana and I flew to Las Vegas for another conference. We packed our suitcases with papaya, cucumbers, and celery that we purchased at the LA Whole Sale Market. Our second tip how to eat vegan on a budget when traveling for business is to pack your suitcase or a carry-on bag with vegetables and raw snacks. These include celery, bell peppers, apples, citrus fruits, and raw nuts and seeds. Nuts and seeds are high in energy (calories) and they have a long shelf life.
Even if you don't feel like packing food with you, finding vegan food in Las Vegas is not difficult. We stayed at the Wynn/Encore hotel which offers vegan and vegetarian-friendly menus at nearly all of their restaurants and rooms. Even the owner of these hotels, Steve Wynn, is vegan! There are also many vegan restaurants and bars around, such as the Violette's Vegan Juice and Smoothie Bar and VegeNation located in Downtown Las Vegas on Carson Ave. Could you recommend your favorite vegan restaurant or bar in Las Vegas in the comments below?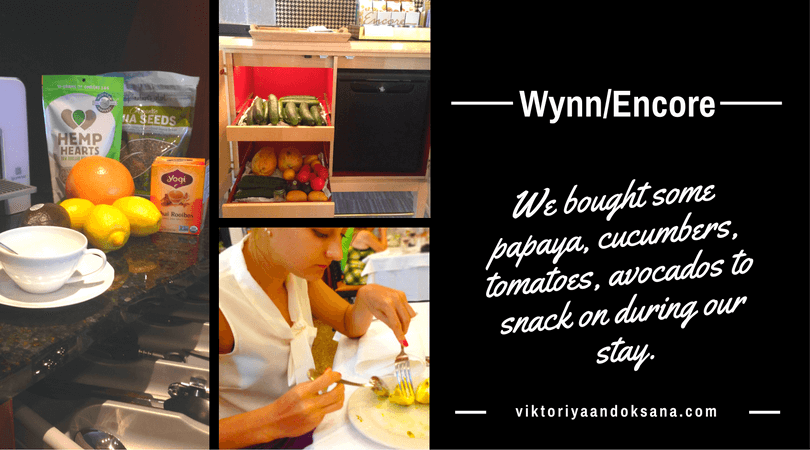 Miami Beach, Florida
You can't help but eat tropical fruit in the high-heat Miami weather. Before going to our hotel, we stopped by La Playa Supermarket on Miami Beach to pick up some water and mamey sapote. We also found a very rare fruit, Soursop, at the Lincoln Road Green Market! We definitely recommend checking these places out whenever you are visiting Miami Beach.
This brings us to our third tip how to eat vegan on a budget while traveling for business. We recommend stopping by local markets or shops to grab 1 to 2 gallons of water on your way to the hotel. Water in the hotel often costs 2-3 times as much as it does at the store. Also, a round trip taxi cab can cost up to sixty dollars in Miami just to get a twenty minute ride to the local grocery store. It saves a lot of money if you can get everything you need on your way to the hotel. In addition, you may also fill your ice bucket with ice and let it melt overnight.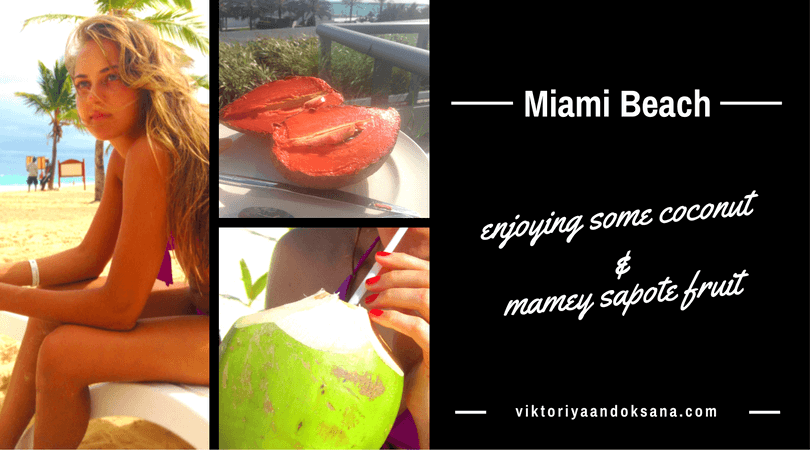 Montreal, Quebec
It was a cold spring day when we arrived in Montreal, and we weren't sure where to get fresh produce until we asked our driver, who recommended Atwater Market. At the Atwater Market, we were able to pick up a few grapefruits, celery, bell peppers, and tomatoes which happened to be on sale! The produce is generally cheaper in Montreal than in the states, so it was nice to find great vegetables to snack on right after our flight.
While at a conference in Montreal, Oksana and I also went to La Panthere Verte and Le Frigo Vert, which were about a 15 minute walk from our hotel. They had raw goodies such raw chocolate, granola, and fresh produce at an affordable price.
Crudessence is a vegan/gluten-free restaurant where we got a delicious salad with a creamy nutty dressing, coconut water, and an Om Burger. The place was very cozy and the prices were affordable and cheaper than we had seen in some LA raw vegan restaurants.
Coming back from Montreal, our flight got delayed by 5 hours. We were not prepared for it, since we didn't bring much food. Walking around the airport, we found a little sushi place with a very friendly staff and the waitress was able to sell us two ripe avocados, English cucumbers, and a cold-pressed ginger/turmeric shots.
Avocados are incredibly nutritious and satisfying. They contain more potassium than bananas. They are loaded with heart-healthy monounsaturated fatty acids and fiber. We simply cut one in half and eat it straight with a spoon when we are traveling.
Cucumbers contain enzymes, calcium, magnesium, sulfur (beauty mineral) and they are 96 percent water. It is common to get dehydrated while flying, so it is very handy to have some type of hydrating fruit to eat.
Celery is one of the most underrated and most beneficial vegetables of all types. It is a great source of natural water for hydration. Celery also regulates the body's alkaline balance and aids in digestion.
Our fourth tip how to eat vegan on a budget while traveling for business is to ask the airport restaurant staff if they can make a special order for you. Even if you are stuck somewhere where vegan food is scarce, you might still be able to find something to eat if you just ask. In addition, we often carry our own organic tea bags and ask for hot water at the airport cafes.
Traveling breaks us free from everyday routine. The best part is that it also increases our levels of creativity. We get creative when it comes to trying new food while still maintaining our healthy lifestyle and values. It teaches us how to master our budgeting and develop creative thinking. No matter where we are in the world, we love eating healthy vegan foods that primarily include vegetables, fruit, nuts, seeds, legumes, and starches. These are easy to find anywhere if you know what you're looking for!
What are your favorite foods/snacks to take with you while traveling? Let us know in the comments below! And share this post with your network of friends!